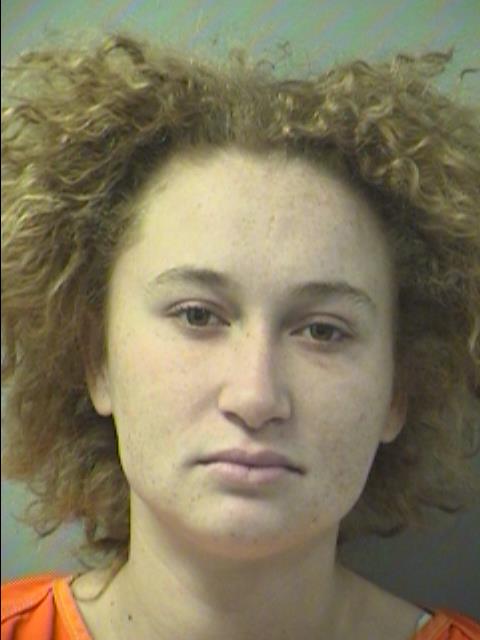 The Okaloosa County Sheriff's Office yesterday arrested 19-year old Kaitlin Skrivanie in connection with an August 5, 2017 home invasion robbery in Shalimar. Skrivanie had also been wanted by Santa Rosa County Sheriff's Office for six criminal mischief charges related to December 2 graffiti vandalism in Navarre.
Investigators say Skrivanie helped plan and orchestrate the August robbery at 43 Fawn Lane by going into the house with the victims, then telling co-defendants Dominic Dyett and Anthony Jackson how many people were inside, where they were located, and whether or not there was any property of value.
According to police, she then switched off an outside light to signal the go-ahead for the home invasion robbery. Dyett and Jackson came in armed with guns. They stole jewelry, a weapon, and a mason jar with marijuana, along with other items.
During a fight with one of the victims Dyett bit the man. He also struck another one in the head with the end of a firearm.
Investigators say Skrivanie drove the pair away from the scene.
Both Dyett and Jackson were arrested by the OCSO earlier this month on charges of home invasion robbery, grand theft of a firearm, and grand theft. Dyett is also charged with aggravated
battery with a deadly weapon.
Skrivanie, 19, of 101 Harding Road in Niceville, was booked into Okaloosa County Jail last night around 8 p.m.
She's facing six counts of criminal mischief with property damage for which a $7,500 bond was issued. However, she being held without bond on the charge of residential robbery – home invasion with a firearm or other deadly weapon.
Another suspect in the graffiti case, Tyree Travon Hawkins, 21, of the 9500 block of Brentwood Drive in Navarre was booked into Santa Rosa County Jail around 10 p.m. Sunday night — also on six counts of criminal mischief with property damage.