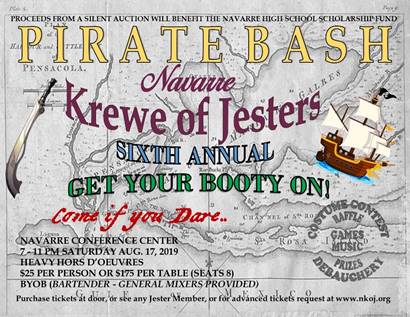 The Navarre Krewe of Jesters plan to host two annual community events to help fund their scholarship fund and annual Mardi Gras parade.
The first event is the Sixth Annual "Get Your Booty On Pirate Bash." The party will take place from 6:30 – 11 p.m., Saturday, August 17 at the Navarre Conference Center, located at 8700 Navarre Parkway.
"We look forward to seeing you for a night of Debauchery at the Pirate Bash," said Janet McMonagle, adding that attendees must be at least 21 year of age to enter.
Tickets are $25 per person or $175 for a table of 8 or $225 for a table of 10. Food will be provided, and it is a BYOB event. "We will supply all the mixers," she said. Music will be provided by Steve Hall, and there will also be door prizes, a costume contest, fun games and a silent auction in which all proceeds go to benefit the group's scholarship fund.
A block of rooms for the event have been set aside at the adjacent Days Inn & Suites, and a discount is available by stating it's for the Krewe event.
For tickets call or text LeAnn at (850) 382-1143 or Debbie at (850) 586-3537 or contact any Jester member.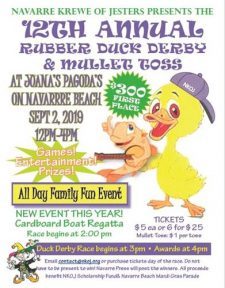 The second upcoming event is the Navarre Krewe of Jesters Annual Labor Day Rubber Duck Derby, Mullet Toss and Cardboard Boat Race which will take place from 11 a.m. until 4 p.m., Monday September 2 at Juana's Pagodas, located at 1451 Navarre Beach Causeway.
"The event is fun for the whole family, and is a fundraiser for our scholarship fund and Mardi Gras parade," said McMonagle.
Duck Derby Tickets are $5 each, and can be purchased the day of the race or from any Jester. "This event is popular with children. And every year, our Mullet Toss is popular with adults and children who want the bragging rights for tossing their mullet the farthest," she said.
Additionally, this year the Krewe has added a cardboard boat race to the lineup.
For more information visit www.nkoj.org.