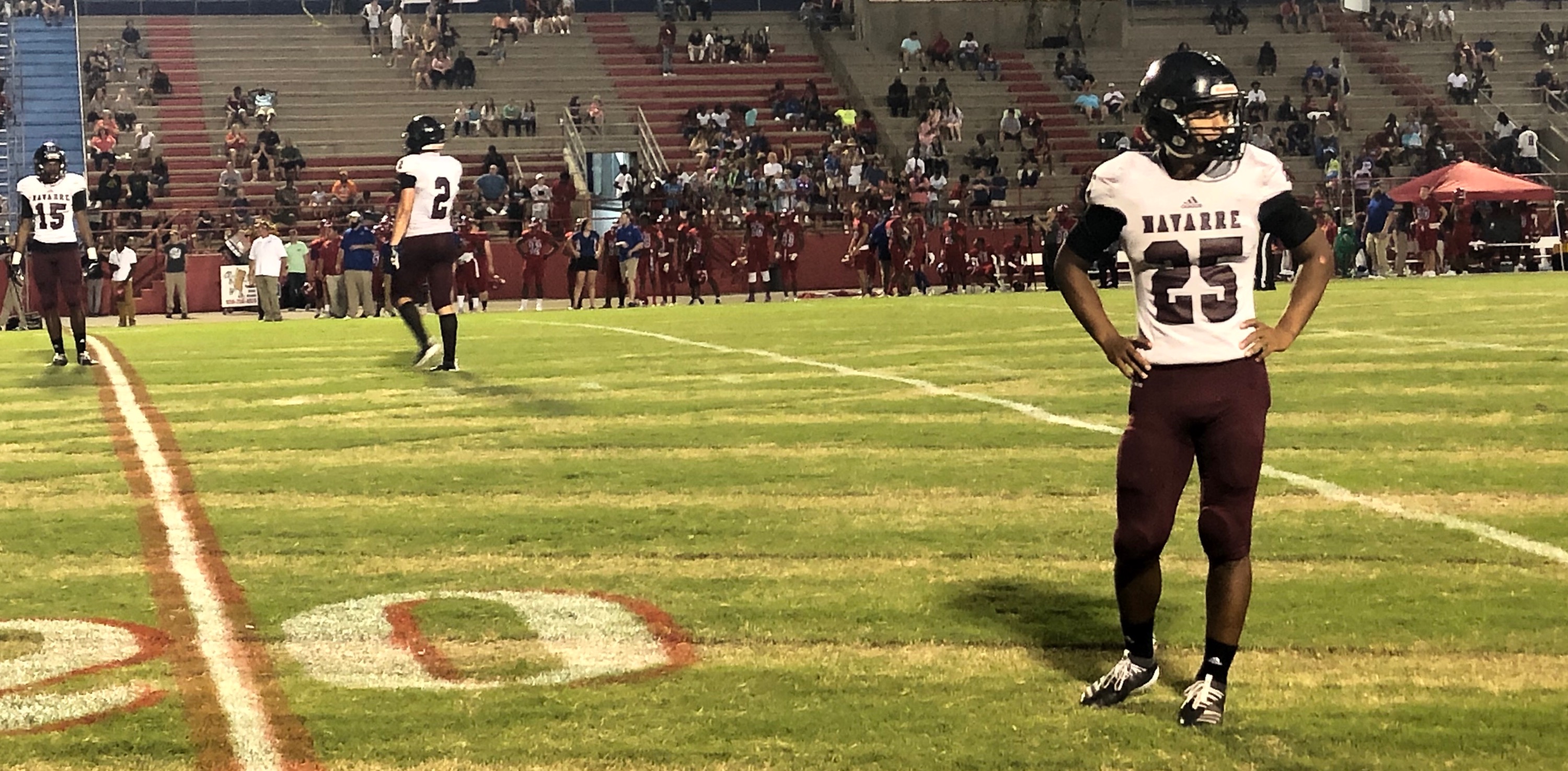 Gave Davis (25), Tyler England (2) and Jaden Rivera (15) made plays for Navarre on offense, defense and special teams.
Navarre traveled to Pensacola and lost to Pine Forest 24-6 on Friday night.
Pine Forest (2-2) was the third opponent in a row that Navarre (3-2) had to make a road-trip to meet, after the Raiders traveled to Tallahassee last week and to Milton the week before.
"We have about two days and then we have to move on," Navarre head coach Jay Walls said. "On Monday we have to move on and start getting ready for Niceville."
Navarre's offense was shut down throughout the game, aside from their kicking game. A 53-yard pass—from senior quarterback Marlon Courtney to sophomore receiver Trenton Hall—set up Navarre's first score, a 38-yard field goal for junior kicker Preston Penton with four seconds left in the first half.
Penton was the only Raider to score a point against Pine Forest.
On the other side of the ball, Navarre's defensive line continued to play the same disruptive style of play that has made Navarre's defense so hard to move the ball against.
Junior defensive end Grady Kelly had two sacks in the first half and finished the game with three.
Sophomore linebacker Devin Wright and senior linebacker Jeffrey Mattox added to that disruptive play by picking up two tackles for losses each.
Senior receiver Tyler England also made his presence felt on defense, causing two pass break ups and making multiple tackles from his secondary safety position.
"At halftime it was anybody's ball game," Walls said. "Going into the fourth quarter they had the lead, but it wasn't over, so you gotta stay motivated. We have to keep working and pull together."
Unfortunately for Navarre, the second half featured much of the same for the Raiders' offense and a tired defense that started to give up big plays to Pine Forest.
"Our defense has spent a lot of time on the field," Walls said. "We've forced teams into third and longs, but we're still having problems with the big play here and there."
Navarre's second half field goal was set up by a big kickoff return from senior defensive back Gabe Davis, but Pine Forest's offense stole any momentum that Navarre had back.
Pine Forest's senior quarterback Ladarius Clardy scored on a 33 yard quarterback keeper moments later in the third quarter that extended Pine Forest's lead to 24-6 and helped put the game away.
Navarre will return home for a game against Niceville next week. Kickoff is scheduled for 7:30PM in Navarre.