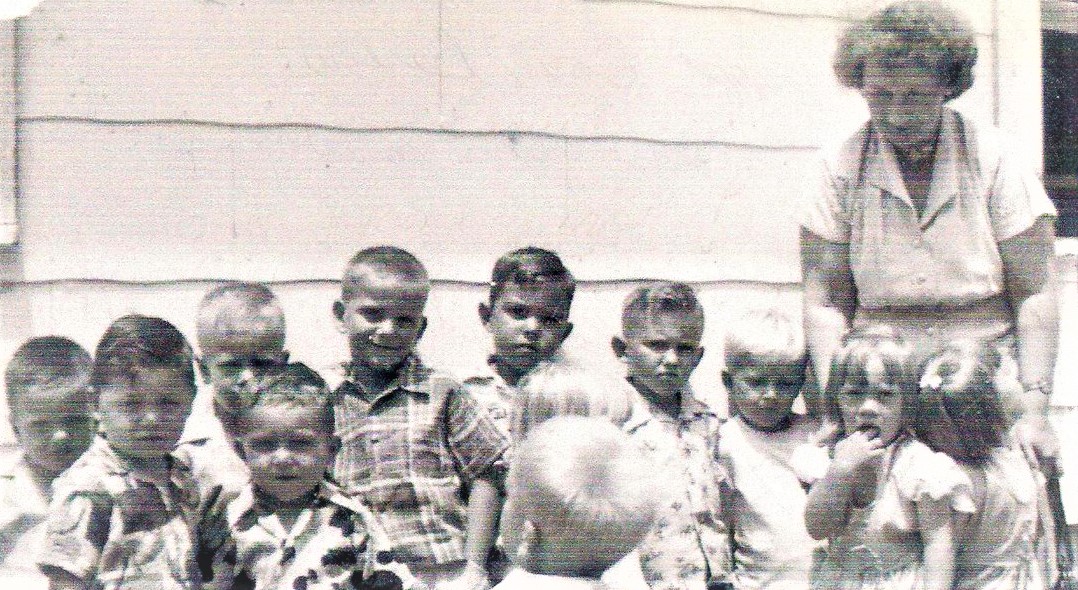 Mrs. Tipton's class at Billory Baptist Church – pictured left to right are Doug Beyer, Phillip Barnard, J.E. Blankenship, Chester Beyer, Johnny Hurst, Doug Barlow, Scoot Harvell, twins Carolyn (Wells) McLaughlin & Marilyn (Wells) Koch. Billy Frank Wells is in the foreground with his back toward the camera. Photo courtesy Audrey Harvell McWaters
I remember the old church bells at Billory Baptist Church years ago. Ringing their bells throughout Holley for all to hear that it was time to come and worship.
There was a great feeling in the air when those church bells were ringing. Those bells made it quite special.
Billory was a place where people would gather in fellowship together for prayer, worship, and many dinners on the grounds.
We lived near East River and we could hear those bells so loud and clear. I sure miss those old bells!
God has a way of moving us on to new places and new friends, and I will always have a special place in my heart for all of my friends and loved ones that I was with the years I was there at Billory Baptist Church. Not many are left. All are gone.
Out of 9 children in our family, there are only 2 of us left. Time has a way of taking its toll on everyone. We are not to live on this earth forever. Thank you, Jesus!
I have attended Midway Baptist Church now for the past 28 years, and I am thankful for all my wonderful Christian friends and all the friends I have made in the past that have moved away. The Lord has blessed my life with great friends that are brothers and sisters in the Lord.
Sometimes I just want to go back to my treasure chest of memories and visit with some of the special people and things that have been a part of my life. Little memories that sometimes hang on by a thread and the more I think about them, the stronger they get.
Little things and amazing friends make this area a great place to live. This is a place we can always call home. Many memories were made in places and buildings that can never be destroyed as long as we remain on this earth.
Memories are a blessing from God. He made us in the most unique way. What a Creator we have! I look at the sky a lot and it amazes me so much to see that God is the greatest artist of all times. The sky is always painted with different colors and the designs are always changing as are the colors. What a great and mighty God we serve!