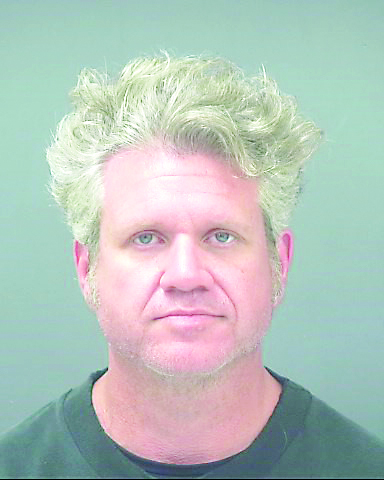 A Navarre man is being charged with an open-count of murder of a 55-year-old Pensacola Beach sports bar hostess who was found dead behind the Bridge Bar in Gulf Breeze proper last Monday night.
The body of Lorie Musil, a Gulf Breeze resident was found on the shoreline behind the Bridge Bar last week.  An autopsy revealed that the woman died from Intentional Facial Submersion (drowning). After over a week of investigating the case, law enforcement officers arrested 43-year-old Christopher Lindsay of the 2200 block of Palo Alto St.
The suspect, who has an extensive criminal history in both Santa Rosa and Okaloosa counties, was arrested by Gulf Breeze Police a week prior to the alleged murder for a string of drug charges, including Possession of Methamphetamine with Intent to Sell, Possession of Cocaine with Intent to Sell, Possession of Marijuana with Intent to Sell and a weapons violation.
Lindsay was pulled over by police on Nov. 15 and was found to be in possession of a felony amount of drugs. He was later booked into Santa Rosa County Jail on $157,500 bond. When a GBPD officer asked Lindsay what he did for a living during the traffic stop on Nov. 15, the man said was "self-employed." The officer noted in the report that when an individual who has an extensive drug arrest history like Lindsay's, usually makes a remark like that to officers, it generally means they are a drug dealer.
The family of the victim called police Monday night, nearly a day after she went missing. When an officer responded to the Bridge Bar in response to their concerns, the officer found the body of the woman behind the bar.
GBPD Chief Robert Randle originally said the death looked "suspicious". The Florida Department of Law Enforcement was called in shortly after the discovery of the body to perform an autopsy.
An autopsy report was conducted on Musil last Wednesday by the Medical Examiner's Office.
According to Santa Rosa County Jail View records, Lindsay has been arrested in Santa Rosa County once (back on Nov. 15). Lindsay has been arrested a total of 14 times in Okaloosa County since 2001, a majority of which were drug offenses.
According to Okaloosa County's Jail website, Lindsay was arrested on Oct. 6 for Driving with a Suspended License. When he was pulled over in Gulf Breeze proper on Nov. 15, the man admitted to officers he had a suspended driver's license. Lindsay posted the $157,500 bond and was released from Santa Rosa County Jail back on Nov. 18.
Originally, Randle said the victim was spotted on the bar's security cameras leaving that night, and said a man was with her when she left. He later confirmed that the man was Lindsay. Randle said officers tried to talk with Lindsay following incident and he refused to cooperate with law enforcement. According to a press released from the police department, there is no indication that Lindsay and Musil were acquainted prior to the night of her death.
Following his arrest, GBPD executed a search warrant on Lindsay's sail boat, which was docked at the marina behind the Bridge Bar.
Lindsay was booked into Santa Rosa County Jail at 9:20 a.m. Friday morning. He remains behind bars without bond.
More information will be posted as it becomes available.
A GoFundMe account has been set up for the victim at: https://www.gofundme.com/6rccguek. The account has already helped raise over $5,000 for the victim's family.