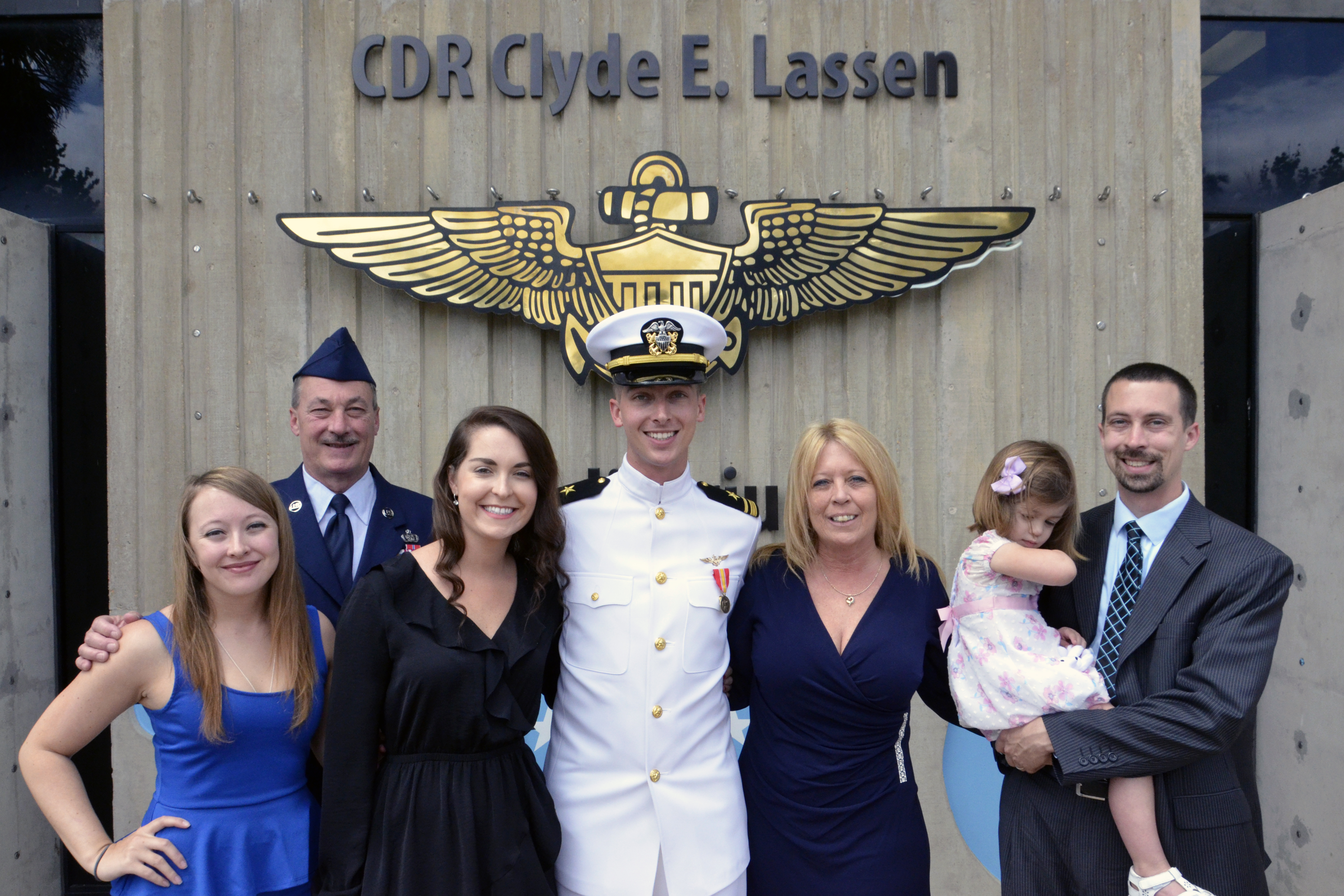 Lt.j.g. Tyler Mayor (center) with his family, left to right, his sister, Kaitlyn, father, retired SMSgt Robert Mayor, girlfriend, Mical Wahl, mother, Lisa Mayor, niece, and brother, Robert Mayor, onboard NAS Whiting Field on Friday April 13, 2018. Photo by Lt.j.g. Luke Rague, NASWF Public Affairs Staff.
Lt.j.g. Tyler Mayor, earned his Wings of Gold onboard Naval Air Station (NAS) Whiting Field on Friday, April 13 after growing up in Navarre, Fla., where he was cradled by military aviation.
Surrounded by NAS Pensacola, NAS Whiting Field, and Eglin Air Force Base (AFB), Mayor says it was the exposure of aircraft and flying operations that helped steer him into aviation.
"As a kid, you always have aspirations to have an 'awesome job' like astronaut, doctor, firefighter, or pilot," Mayor remembers. "Seeing aircraft from both the Air Force and Navy flying around on an almost daily basis just further inspired the idea of becoming an aviator."
Mayor didn't immediately pursue his dreams of flight. He graduated from Navarre High School in 2010 and went on to earn a Bachelor of Science degree in Biology Sciences from Florida State University in 2014.
"I had the dream to fly when I was a kid and it slowly faded away growing up," Mayor said. "I never thought about applying until my dad asked if I had thought about it when I graduated college. The next week I reached out to the Navy and started the process."
After commissioning at Officer Candidate School in Newport R.I. in early 2016, Mayor began his road to winging in the same place Naval Aviators have started for decades, with six weeks of classroom academics and physiological training in Aviation Pre-flight Indoctrination (API) onboard NAS Pensacola. He then moved to Corpus Christi, Tex. for Primary Flight Training in the Training Squadron 27 (VT-27), flying the T-6B Texan II.
Mayor was selected following primary flight training for his top choice, flying the TH-57 Sea Ranger helicopter onboard NAS Whiting Field, under Helicopter Training Squadron Eight (HT-8).
"Flight school has definitely increased my personal discipline," Mayor says. "This is, by far, one of the most challenging experiences I have undergone. The amount of time and effort that goes into training, including mental and physical readiness is overwhelming."
Mayor recognized early on that naval flight training requires more than raw intelligence out of students. "All of this," Mayor reflected, "including maintaining a healthy work life balance, was a steep learning curve that got progressively more natural over time." But once Mayor had a chance to rest and look around, he was struck by the uniqueness of his position and how strong the bond is among students. "Being trusted with a multi-million dollar aircraft is a humbling thought in its own," Mayor said.
"While that is an extraordinary thing in itself, I'm awed by the camaraderie the students have with one another during flight school. I would argue that flight school is almost an impossible feat if you tried learning it on your own," Mayor said. "Students who have their individual stressors will drop what they are doing to explain in depth any questions you may have. It truly is a no man left behind mindset."
Mayor was joined Friday on stage by his mother, Lisa Mayor, and was pinned with his Wings of Gold by his father, retired SMSgt Robert Mayor, an Air Force veteran with 28 years of service in logistics planning.
"He has been my role model my entire life," Mayor said. "I would not be where I am today without his guidance and support."
Mayor is headed to Jacksonville, Fla. for advanced training in the MH-60R Seahawk, looking forward to being a part of something that is greater than him. Mayor aspires to "being a person who can inspire those around them and make an impact on their lives. Not only do I feel this will increase mission readiness by creating an intrinsic desire to put in one-hundred percent, but it will also allow for a higher morale which is huge during stressful times."