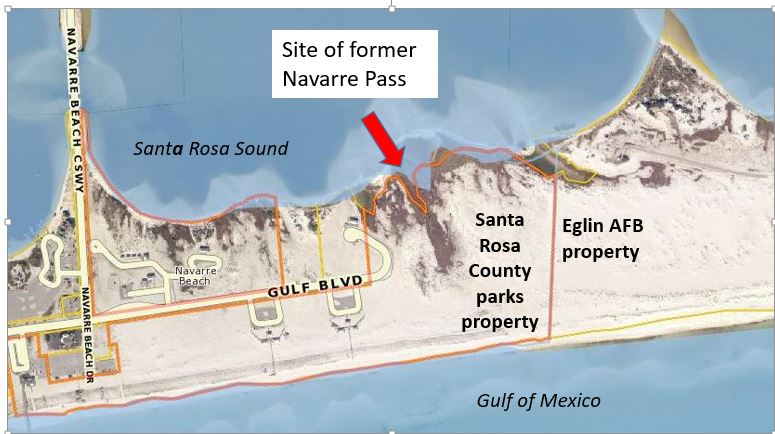 Hope that Navarre Pass could be re-opened diminished on Monday when U.S. Senator Bill Nelson issued a press release saying more needs to be done to prevent its reopening.
"The Air Force has made it clear that reopening Navarre Pass would interfere with its testing and training missions," Nelson said.
Earlier this year U.S. Congressman Matt Gaetz said he supported reopening the pass and hoped that another attempt to pass fee simple title legislation for Santa Rosa Island could move forward without a caveat precluding future reopening of the pass.
But that isn't going to happen. "Fee simple is an issue that has attracted more consensus than the Pass at this time," Gaetz told South Santa Rosa News on Wednesday.
A revised draft of the legislation is expected in the coming weeks
"The legislation filed earlier this year doesn't go far enough to prevent future cutting of the pass and needs to be changed in order to protect our national security interests," said Nelson, who has always opposed reopening the pass.
Nelson says he sponsored the bill with Rubio to give those holding a 99-year lease on Santa Rosa Island full ownership rights of the property, while also preserving the current land conservation areas and public access to the beach. "While Escambia County has agreed to keep the current conservation areas in place, the current legislation, as written, doesn't go far enough to prevent Santa Rosa County from developing the conservation areas or reopening the pass," he said.
According to Gaetz, he had a "very productive" meeting Tuesday with Nelson.
"We have exactly the same desire to issue fee simple title to leaseholders while preserving public access. We also give the utmost important to the military mission and would never do it hard," Gaetz said, adding, "This is how bipartisan legislating is supposed to work – deliberately and in the best interest of our citizens and our Nation."