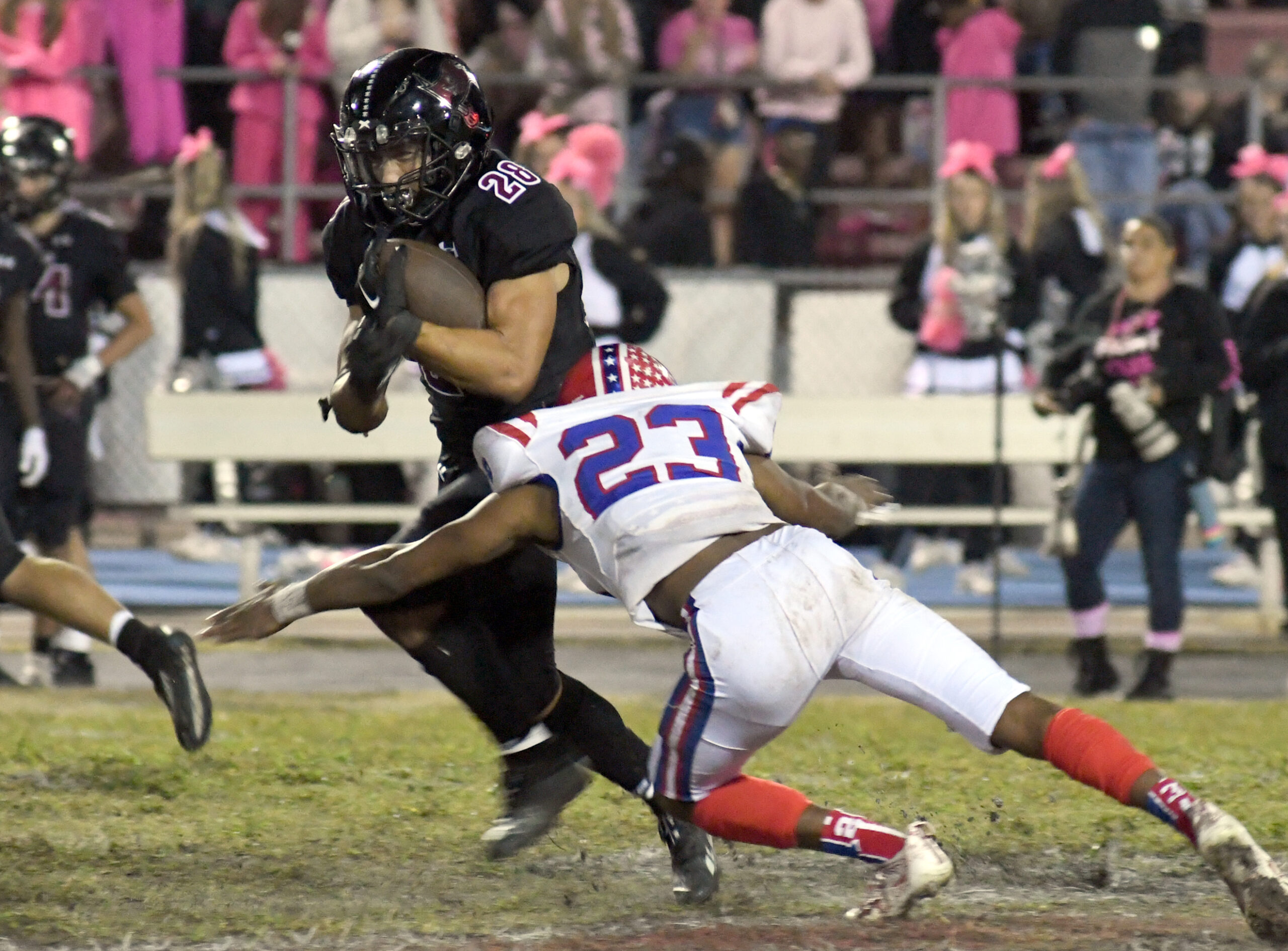 Connor Mathews stepped into the lineup and through Brayden Gates' tackle attempt on his way to nearly 200 yards rushing against Pace. (Photo by Stuart Camp)
Navarre is on the cusp on its first district title since 2018. They edged the Pace Patriots 23-21 in Russell Stadium Friday night to remain undefeated in league play with only Gulf Breeze (5-3 overall, 3-0 in 4S-1) standing in their way.
The title goes to the winning school of this week's Beach Bowl, to be played at Dolphin Stadium. Oddly, it was the same scenario in 2017 where the Raiders-Dolphins met to decide it all. Navarre won 29-23.
This year, both Gulf Breeze and the Raiders edged the Patriots. The Dolphins used a fourth-quarter touchdown for their win, 35-28, Sept. 30 at Pace. Navarre fended off a late surge by the Patriots to preserve the title opportunity.
Raider head coach Jay Walls needed to platoon his running backs while leading rusher Eddie Love Jr. rested his injured ankle, which he suffered in the Milton game two weeks ago.
"A big key was success running the ball. We really didn't have a question mark … we knew we had guys who could step up and get it done," Walls said. "Connor (Mathews) had a big night. So did Anthony Gassaway, who came out and ran physical. That's what we talk about — if someone goes down, let's have their back. Let's get in there and get after it. We did that tonight."
Preliminary stats show Navarre grinding out 260 yards. Gassaway got the start, and rarely-used sophomore Mathews folded into the lineup.
"I knew I had to step up," said Mathews, who racked up nearly 200 yards on 20 carries. "After that first big break off, I just knew it was going to be a big game."
While the Raider ground game surpassed its 220 plus-yards-per-game average, the Raider aerial attack accounted for two scores – both on short tosses to Jadon Reese – and 90 yards. Gassaway notched the third touchdown, and eventual game-winning score, on a three-yard run late in the third quarter.
Both aspects of the Navarre offense, however, factored heavily in the outcome of the game. They chewed up the clock. A pair of 80-yard scoring drives had more than 12 snaps each and accounted for better than five minutes of clock apiece.
Pace's respected quarterback Nick Simmons couldn't run his offense if they weren't on the field.
"We knew it would be a dog fight coming in. Pace has a strong o line (offensive line) every year. It frustrated us. It was very important for us to win at the line," said linebacker Dwayne Clark Jr. "We knew this was a run-heavy team. And the only way to beat Pace was to be aggressive and be nasty each and every play."
Decisive defensive stops in both halves kept Pace off the scoreboard. First, there was a forced fumble recovery in the first quarter. When Pace seemed to gain steam in the second quarter, Joshua Wilson blitzed and batted down a pass attempt on fourth and four at Navarre's 42-yard line. On their first possession after the halftime break, the Patriots were marching – already picking up 40 yards on the drive – but Navarre held and took over when Pace missed a 50-yard field goal attempt. Then C.J. Hill broke up a deep toss into the end zone with four minutes left on the clock. That play forced Pace to consume another minute of the game clock before Simmons dashed into the end zone, bringing the Patriots to within two of the lead in the fourth quarter.
Also working against the Patriots were fumbles and penalties.
"We just made dumb mistakes. Three turnovers, and shot ourselves in the foot," said Simmons, who ran for 97 yards on 17 carries.
The Patriots only completed four of 13 pass attempts for 51 yards and were held short of their rushing average of 230 yards-per-game.
"They (Navarre) handled the line of scrimmage and we made too many mistakes on offense," Pace head coach Kent Smith said. "We put the ball on the ground two times. Finally, we got it going there at the end, but it was a little too late. We battled, stayed in it, and had a chance."
Kickoff for the Beach Bowl is 7:30 p.m. It's déjà vu times two, because in 2017 the Raiders reclaimed the Beach Bowl trophy from the Dolphins. Last year, Gulf Breeze won 38-26. This year, Gulf Breeze comes into the game fresh from crushing Tate 49-21 Friday in Cantonment. As a comparison, Navarre beat the Aggies 38-20 in mid-September.
Historically speaking, Navarre has a 12-6 record against Gulf Breeze, dating back to 2004.