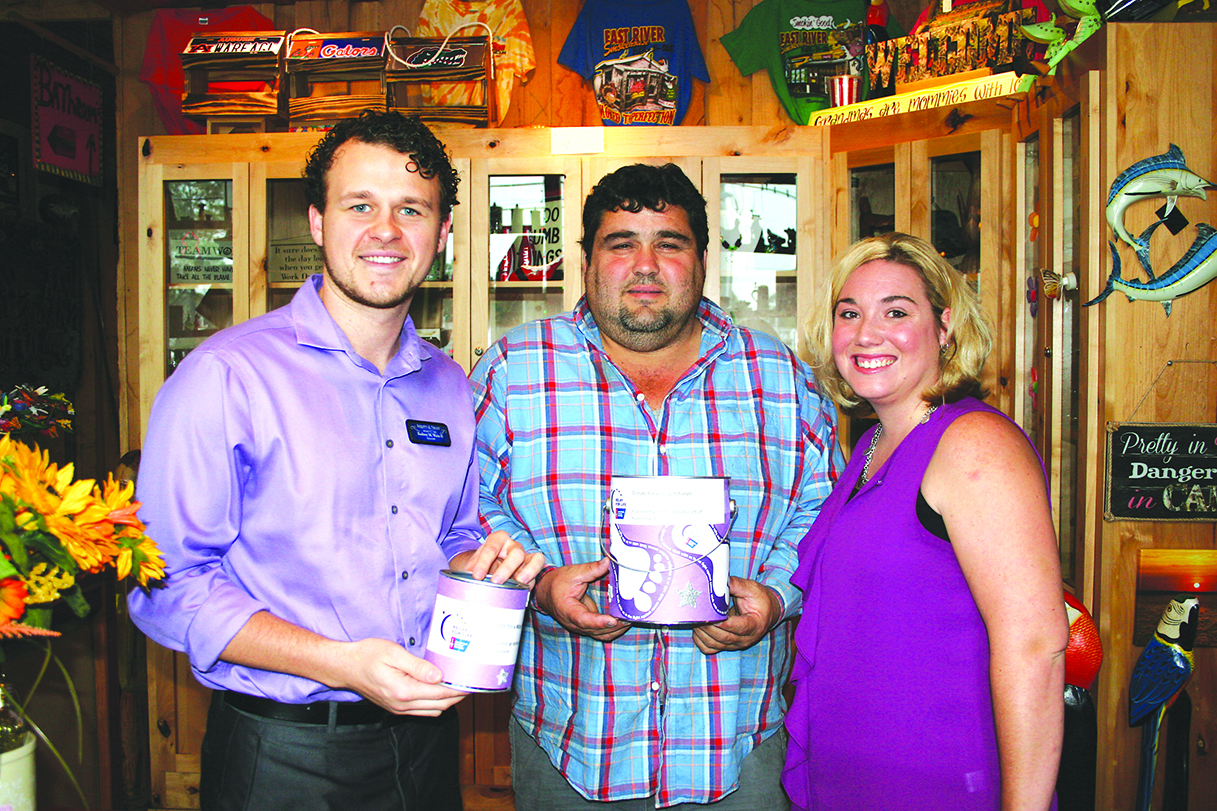 Rodney Waits II, left, is leading the American Cancer Society's 2017 Relay for Life effort for Navarre. He's teamed up with East River Smokehouse Owner James Dabney and Jenn Miller of Emerald Coast Painters to collect "Day of Change" donations. Dabney made a $1,000 contribution to the effort in memory of his mom, who lost her battle with cancer last year, and his restaurant is accepting change donations in paint canisters provided by Emerald Coast Painters, who is offering free canisters to local businesses willing to participate.
Rodney M. Waits II, Navarre's 2017 event lead for the American Cancer Society's Relay for Life, has a strong passion for the cause.
At the young age of eight years old, Waits lost his father to a malignant brain tumor. But he's channeling his childhood pain from the loss into fuel to drive the event further than it's been before.
According to Waits, last year around $76,000 was raised. He's set a goal of $85,000 for this year's event, which will take place Friday, May 5 through Saturday, May 6 at Navarre High School.
Proceeds go toward cancer research and programs such as Roads to Recovery, which helps transport cancer patients to treatments, and Look Good to Feel Better, which provides wigs to chemotherapy patients.
"Cancer never takes a holiday" is this year's theme for the Navarre Relay. So Waits is encouraging teams to sign up and come dressed in favorite holiday attire.
In addition to overseeing the overall effort, Waits is also working with his mom, Realtor Rhonda G. Musch, serving as co-chairpersons for the Navarre Area Board of Realtors Relay team.
NABOR has set a goal of raising $18,500 and selected Veteran's Day as their holiday theme. Participants will be dressed in patriotic attire.
"NABOR is immensely proud to have been the lead fundraiser for the Navarre Relay For Life effort for the past two years," said Angela Campbell, the NABOR Executive Director. "We look forward to emulating our success again this year. With an ambitious goal, Rodney and Rhonda are drawing inspiration from their own personal experiences to muster the NABOR membership's cooperation. We're confident that together we will achieve our target at this, the world's largest fundraising event against cancer."
"It's a fun way to raise funds for a cause that's impacted so many of us, directly or indirectly," Waits said, adding, "If one other family doesn't have to suffer the way my family did…that's my whole purpose in helping."
To sign up a team, contact Christie Reid at (850) 736-7472 or Christie.Reed@cancer.org. More information is available at www.relayforlife.org/navarrefl.
Call Jenn Miller of Emerald Coast Painters to get a "Day of Change" canister for your business (850) 490-3612.