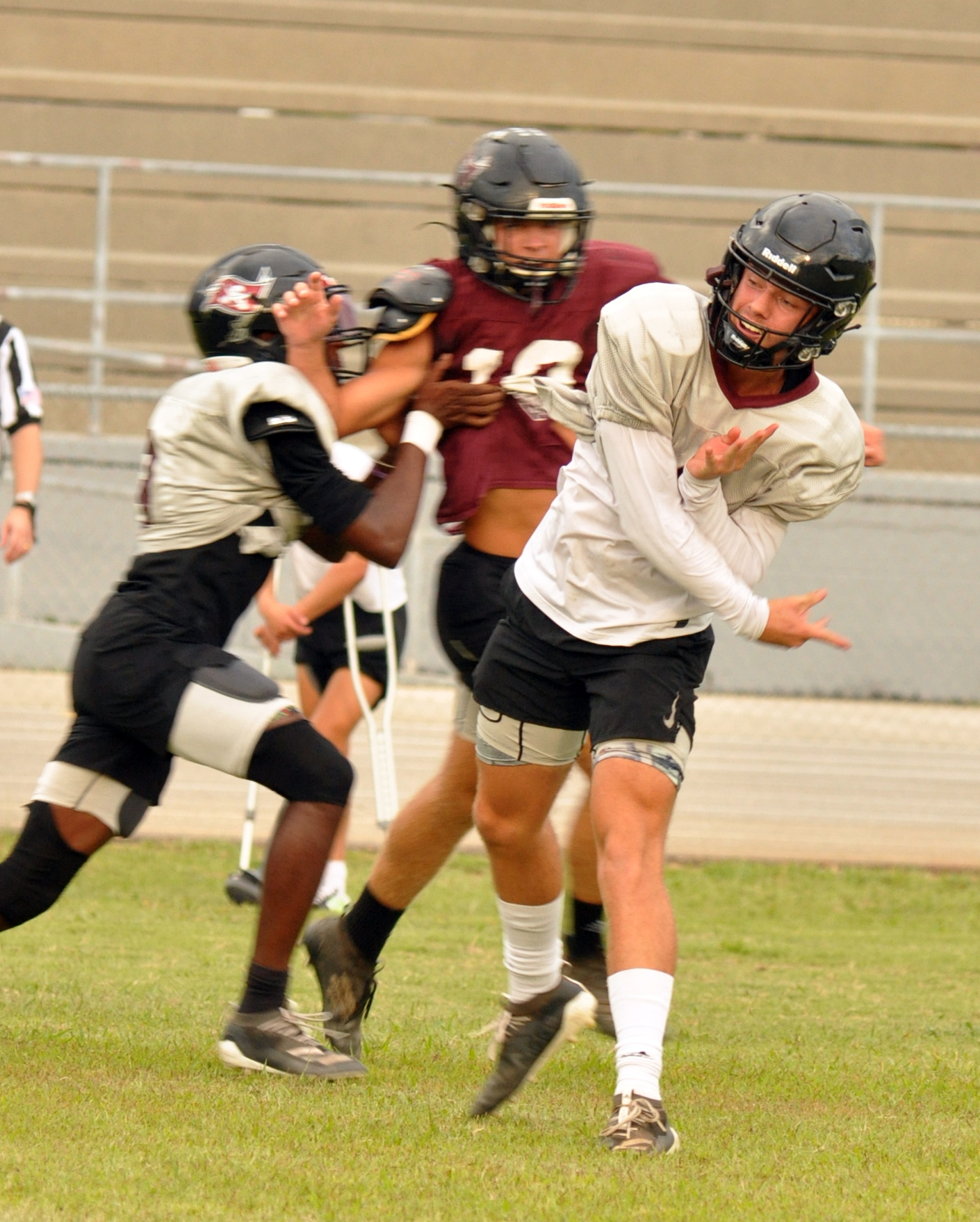 Quarterback Jason Deal finishes his follow-through under pressure in Friday's brief scrimmage in Russell Stadium. (Photo by Stuart Camp)
The elements forced Navarre to cancel their scrimmage in Bennett C. Russell Stadium. They were able to get a handful of snaps off outside in front of a small crowd of parents and classmates.
On the second play, Senior safety Bailey Houston picked up a loose ball in the offensive backfield and rumbled to a near-certain touchdown if it weren't a scrimmage.
Two plays later, Jason Deal found a receiver cutting toward the left sideline and picked up better than 20 yards.
The Raiders' offensive line features a massive, veteran group of seniors. (Photo by Stuart Camp)
But observed lightning sent the team indoors just ahead of the 20-minute storm, which rendered the field unplayable.
So, in 2020-esque fashion, head coach Jay Walls moved the Raiders' 100-plus players into the gymnasium to make do with the planned workout.
With the season kickoff set for 7:30 p.m. Friday at home against Milton, players' parents are cautiously optimistic of the Raiders' playing all eight scheduled games.
Prince and Temeka Miley, parents of senior running back Joseph Simmons, were the last to leave the stands after the team retreated into the fieldhouse. They explained their optimism for the season ahead, despite its wacky beginnings.
"I'm looking for them to do big things," Prince Miley said. "But it's hard considering the uncertainty of everything going on with the pandemic."
Charla Hawkins, a nurse and mother of junior offensive lineman Caden Hawkins, addressed the delayed beginning to practices, Coronavirus Disease 2019 protocols, and a parent's perspective on players' mindsets at this juncture.
"We're definitely finding a balance between getting them out on the field, getting them together with the other players, doing what they need to do, putting in the work, but keeping them all safe at the same time," she said.
As for the season, she wouldn't hedge any bets. Hawkins said: "We'd love to have a full season. We're hoping for the best, but it's one day at a time. I think all of these boys are making the best out of a scary situation. They're all handling it well."