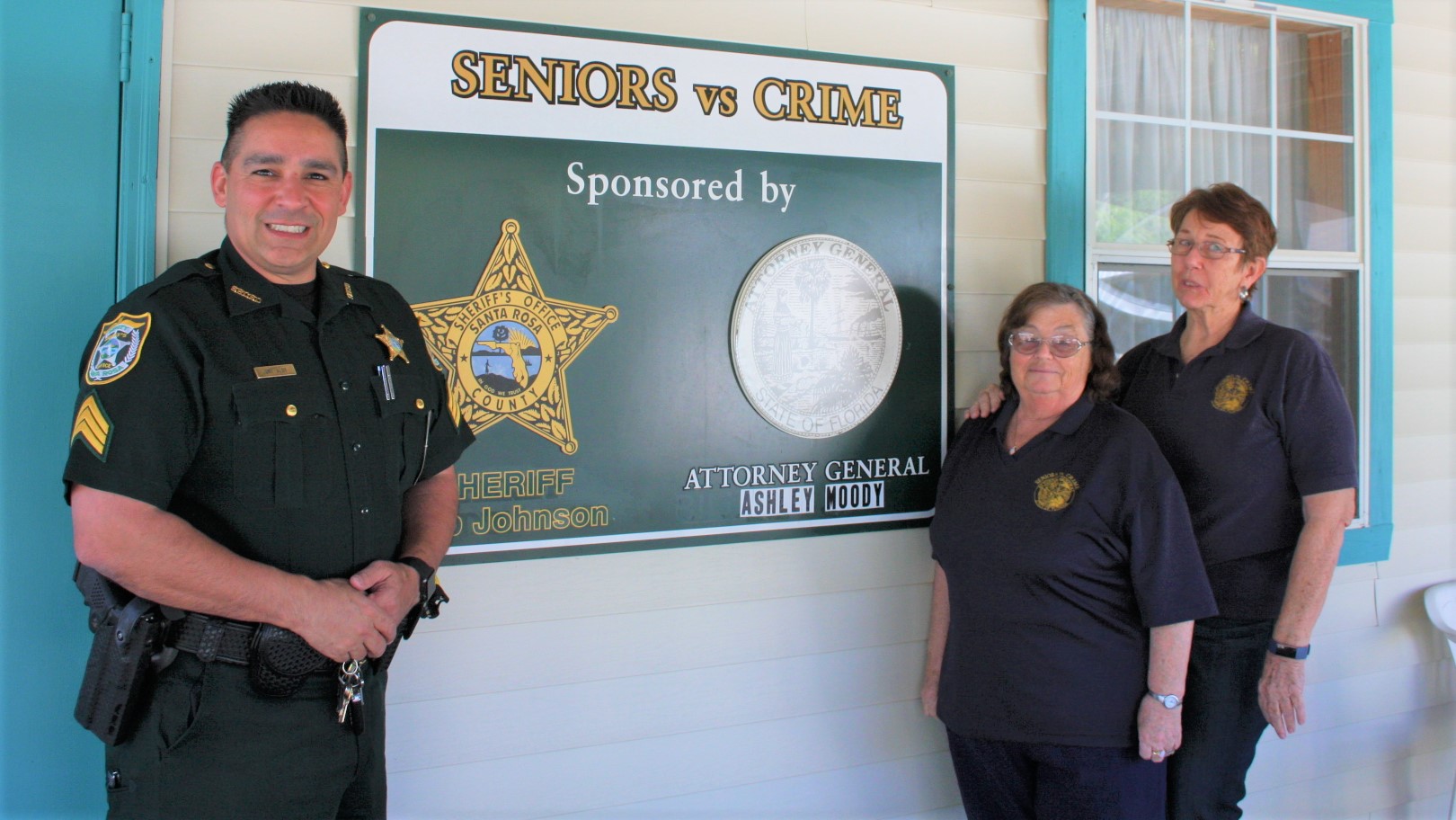 Santa Rosa County Sheriff's Office Spokesman Sgt. Rich Aloy pictured with Seniors Vs. Crime volunteers Judy Ertl and Bobbi Conrad at the group's Navarre office, which is located adjacent to the Holley-Navarre Senior Center.
Con artists should think twice about trying to scam the elderly in South Santa Rosa County. Seniors Vs. Crime, a volunteer group aimed to protect seniors from crime, is active and seeking more volunteers.
Seniors Vs. Crime Region 5 Director Judy Ertl helps coordinate the Navarre office, a special project of the Office of the Attorney General of Florida.
"Our goal is to assist any senior who feels that they have been taken advantage of and try to resolve their problem. We also go out and speak to groups on financial fraud, Medicare fraud identity theft, and the latest Scams and how to better protect oneself against being a victim of a fraud. We are also a mandatory reporting agency for Senior Abuse," Ertl said.
Ertl, who has been a volunteer since the Navarre office opened in 2004, said those 55 years of age and older can volunteer, and training on policies and procedures is provided. She said there is also Seniors Vs. Crime support staff available to provide information and advice on handling issues.
"They are a huge support," said Santa Rosa County Sheriff's Office Spokesman Sgt. Rich Aloy, who pointed out law enforcement agencies are unable to get involved in civil disputes.
Aloy noted an example of a WWII veteran who had prepaid for $5,000 worth of contracting work which wasn't being done, stating volunteers help resolve the case.
Ertl said in another instance an elderly man paid $10,000 for repair work and waited months with nothing being done until volunteers stepped in to advocate on his behalf.
"They intervene on behalf of the potential victims," Aloy said.
Also, if a situation rises to a criminal level, the volunteers can turn over the issue to law enforcement.
For more information visit http://www.seniorsvscrime.com/ or call (850) 939-8400.