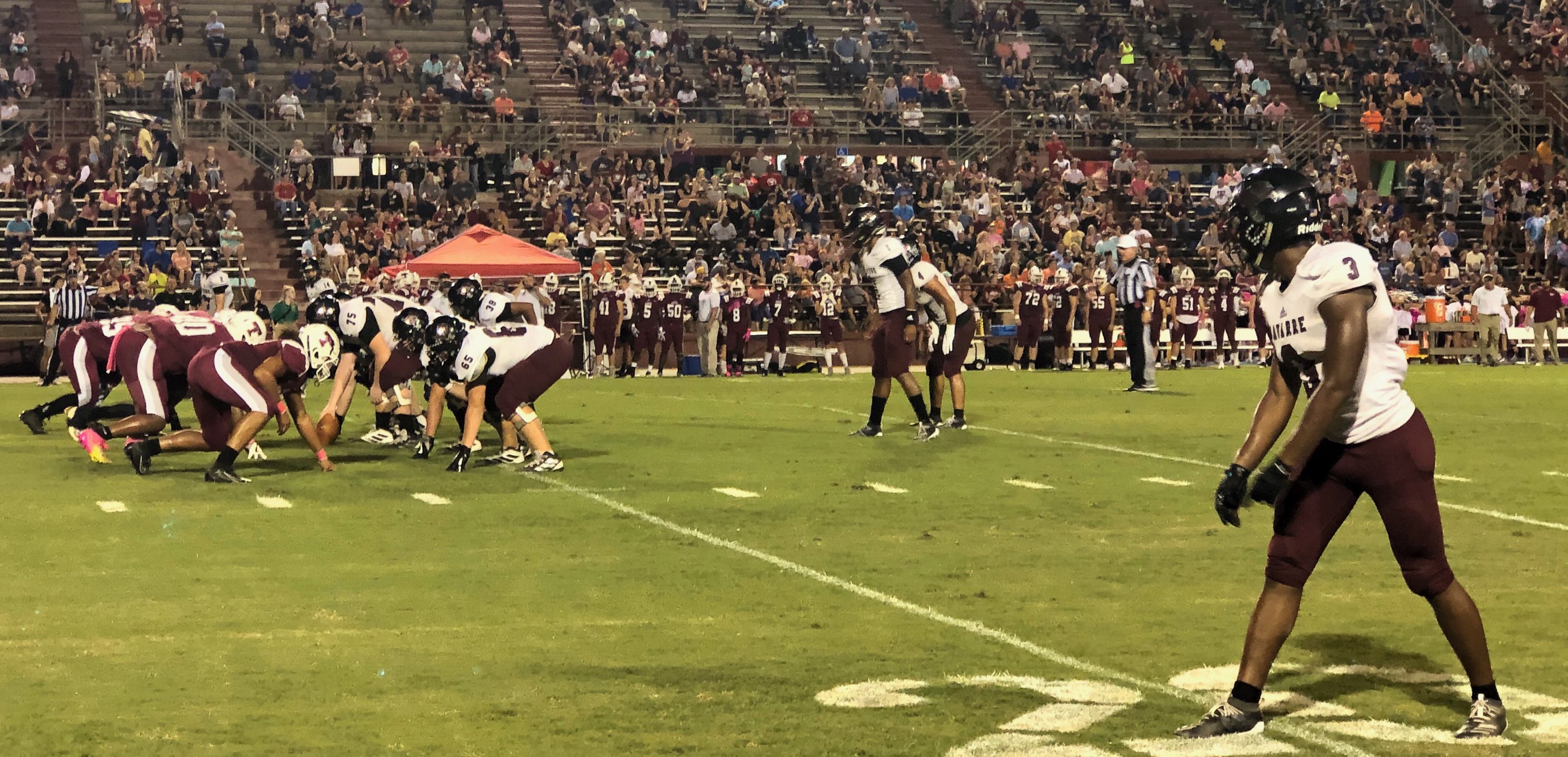 Xayvion Thomas (3) lines up wide as Navarre drives the ball into Tate territory
Navarre travelled to Cantonment on Friday night and beat Tate 10-0 in a district matchup.
Navarre (4-3) snapped a three game losing streak with their win over Tate (1-5), and the win marks Navarre's first win in district play for the 2019 season.
"I hope our guys realize that we can win and that we can be successful," head coach Jay Walls said. "We came and won a good game on the road and we worked hard, so I hope they learned that hard work pays off."
Navarre started the night by forcing Tate into a three-and-out and then following it up with a long drive of their own.
That drive featured two catches and 24 yards for senior receiver Tyler England as well as a rushing touchdown on fourth-and-goal for senior quarterback Marlon Courtney.
England finished the game with an (unofficial) stat line of seven catches for 61 yards.
Navarre came close to scoring its second touchdown of the night just moments later after Courtney found sophomore receiver Trenton Hall for a 63 yard gain.
The Raiders followed that up with a reverse to Hall, but the handoff was fumbled and ultimately recovered by Tate.
A missed field goal erased Navarre's last chance to score in the first half, but the Raiders still took a 7-0 lead into the break.
Navarre opened the second half with a similar drive, taking over six minutes off the clock before making a field goal to give them a 10-0 lead.
Tate responded, driving the ball all the way to Navarre's 10 before senior defensive back Kobe Johnson stepped in front of a pass at the one and intercepted it.
Navarre ended up punting on that possession, but that trip to Navarre's goal line would be Tate's last.
Tate did get the ball inside Navarre's 20 yard line late in the fourth quarter, but Navarre's defense forced a field goal that Tate would miss.
Navarre was able to ice the game after that behind senior running back Jaydin Antonio's and Courtney's efforts in the run game.
"We're still in the race district-wise," Walls said. "We're gonna enjoy this one and then next week we'll focus on Chiles."
Navarre will host Chiles this coming Friday for Navarre's homecoming.
Chiles is 3-3 on the season and will be coming off of a 26-14 loss against Lincoln when they take on Navarre.
Kickoff is scheduled for 7:30PM in Navarre.