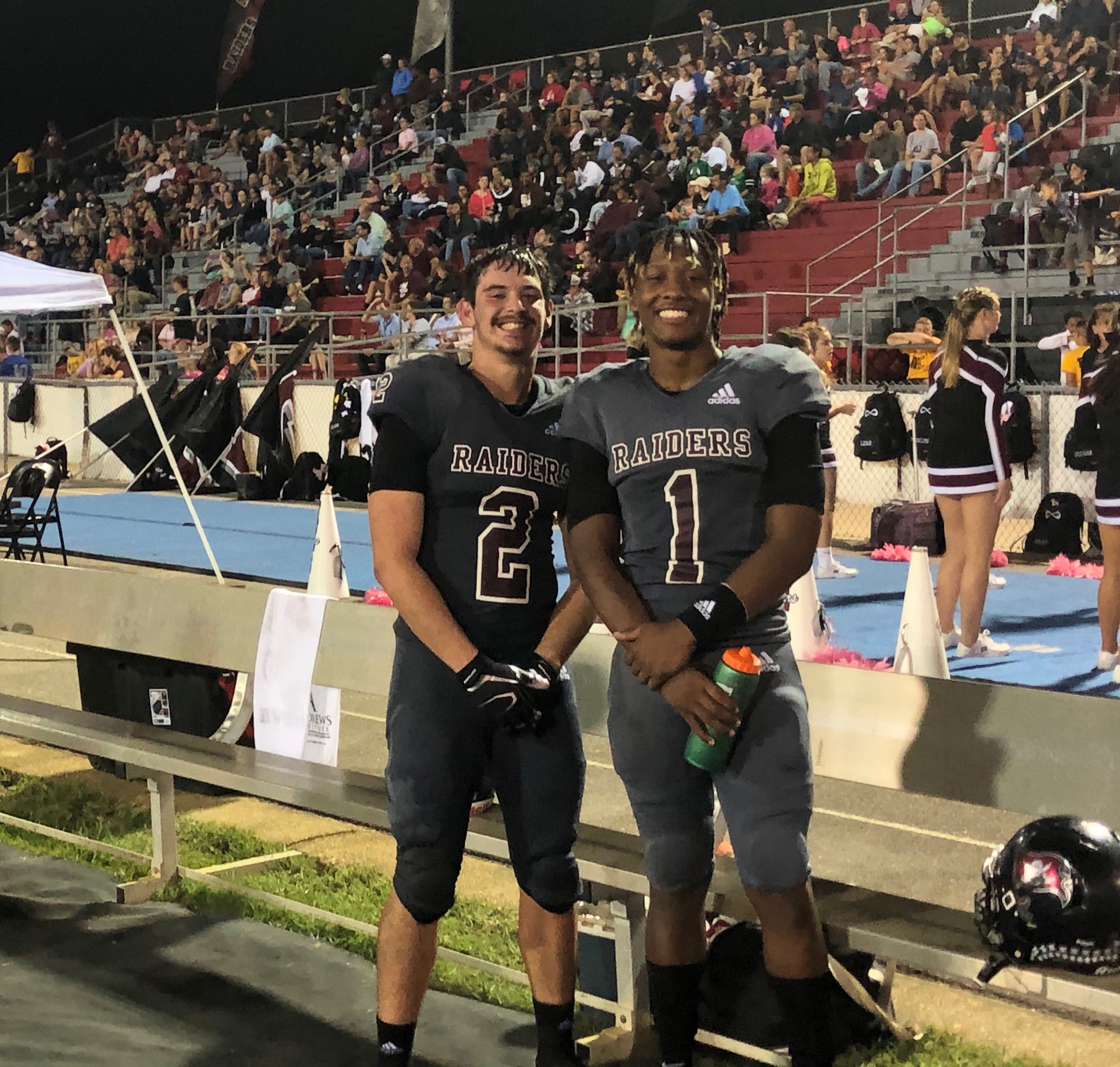 Seniors Marlon Courtney (1) and Tyler England (2) were all smiles after picking up a big win (photo by Jay Phillips)
Navarre hosted Crestview for senior night on Friday and beat the Bulldogs 52-14.
Both Crestview (5-4) and Navarre (6-4) played teams from Tallahassee last week, with Crestview beating Lincoln 39-16 and Navarre beating Leon 31-28 in Tallahassee on Monday, just a few days before the Raiders played Crestview.
"I'm proud of the way the kids responded," head coach Jay Walls said. "Playing on Monday and getting that win, and then turning around and having a great week. This was the best game for us this year."
Crestview stopped Navarre on their first possession of the game and then marched the ball down the field where their senior running back, Taylor Scarbrough, would punch in a one yard touchdown.
However, Navarre, with the taste of last year's playoff loss to Crestview still fresh, didn't let the Bulldogs hold the lead for very long, as the Raiders jumped out to a 45-14 lead by halftime.
"We always talk to our players about stuff from the past. We just told them it's a big rivalry game and a chance for some payback, and the team responded," Walls said.
That big Navarre lead had a lot to do with senior receiver Tyler England and senior quarterback Marlon Courtney.
England made his presence felt on both sides of the ball, by intercepting three Crestview passes and scoring three touchdowns on offense in the first half alone.
England added another touchdown to that in the second half and finished with four touchdowns and three interceptions.
"[Tyler England] finally put it all together," Walls said.
Junior wide receiver AJ Arno also played a big role for Navarre early on, finishing the first quarter with a receiving touchdown and a rushing touchdown.
Senior receiver Xayvion Thomas also caught a touchdown from Courtney.
"Spreading the ball around was big. All of those guys have been working so hard," Walls said.
Crestview had been beating Navarre with the Bulldogs's quick passing game and outside runs until senior defensive back Kobe Johnson blew up a Crestview screen pass.
Crestview tried to test Navarre's defense deep, after Navarre slowed down their short pass game, and that's when England and sophomore linebacker Devin Wright started to pick off passes and pick up fumbles.
The second half featured less fireworks than the first half, with England's touchdown being the only score of the half.
That touchdown came thanks to Wright's interception. Wright also recovered a fumble late in the fourth quarter to help shutout Crestview through the final three quarters.
Navarre has this coming week off, but the Raiders will be waiting to find out if they made the playoffs when the brackets are announced next Saturday.
Navarre was ranked no.8 in the last regional playoff poll, so a win tonight should give the Raiders hope that they'll make it in.
The playoffs are set to begin November 8.