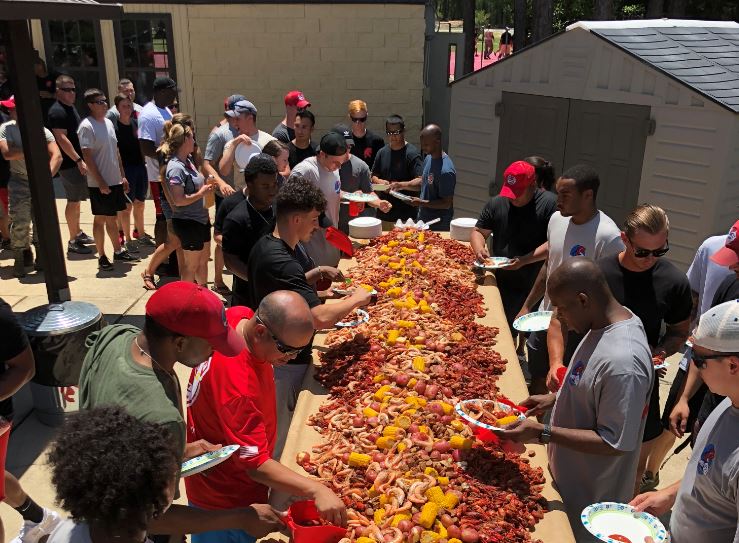 Navarre business owner Paul Ruiz makes sure military heroes returning from deployment are welcomed back home with a freshly cooked seafood buffet. Pictured are members of the RED HORSE Squadron at Hurlburt Field. Ruiz is gearing up to provide another feast on December 13 (photo courtesy Paul Ruiz).
Local generals have bragged about patriotism in the Navarre community, but Paul Ruiz, owner of Where Y'at Seafood and Mudbugs Express, takes it to the next level, donating and preparing a delicious buffet to welcome home service members following deployment.
Ruiz since 2018 has provided freshly cooked seafood, including shrimp, crawfish and other tasty treats. He's teamed up with sponsors like Emerald Coast Harley Davidson and volunteers who help raise money to make sure the heroes receive a hearty welcome home meal.
"It's wonderful to see Paul team up with Gus and the crew at Emerald Coast Harley Davidson, a member of our chamber, to honor returning heroes with these feasts," said Greater Navarre Area Chamber CEO TJ Goulet.
When planning an upcoming December 13 welcome home event, Ruiz sent out notice that he was looking for supporters. Within 24 hours had received enough money to sponsor the celebration.
He said to cover the cost it's about $1,500. If he catered the event it would be a $5,000 event. But he does his part for free in appreciation to service members.
"I spent 26 years in the Air Force and retired as a Chief MSgt. When I returned from deployments as active duty, it meant a lot that local businesses would donate pizzas and hamburgers for our parties," Ruiz said.
Paul's parents were in the catering business, so when he retired he opened up the restaurant in Navarre. "My parents are great cooks, and I've been throwing good parties for a long time," he said.
Ruiz started off giving free meals to customers returning from deployment and catering small military events. Then in April 2018 he hosted his first large-scale event when the RED HORSE Squadron returned from deployment. 350 attended.
"I figured this would be a great way I could show my appreciation, but on a grander scale. It also helps keep me connected to active duty personnel, and the camaraderie that goes along with it," Ruiz said.