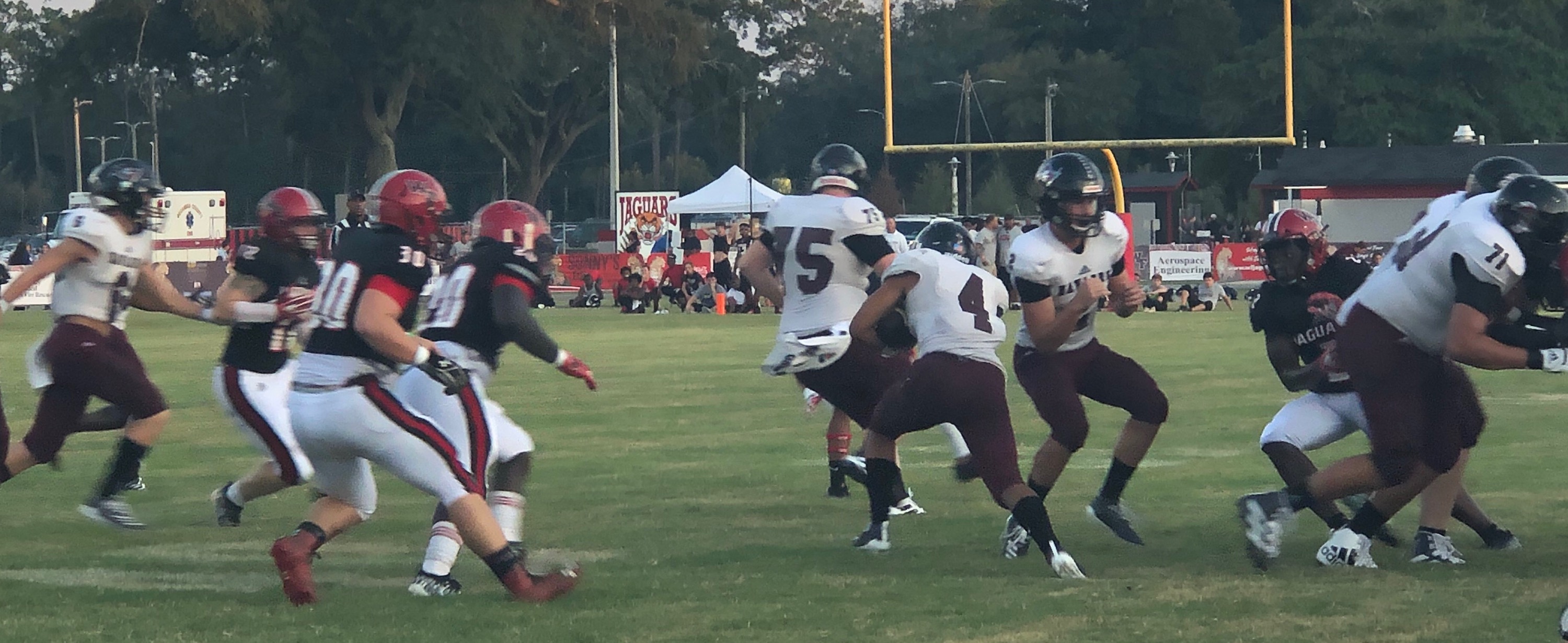 Jaydin Antonio catches a screen pass and picks up Navarre's first first down of the season (photo by Jay Phillips)
Navarre traveled to Pensacola and tied West Florida Tech 7-7 in the varsity-only half for the 2019 season's Kickoff Classic, and won the junior varsity half 14-0.
Navarre did not play West Florida last season, but the Jaguars compiled an impressive 6-3 record that included upset wins over Crestview and Pine Forest.
Navarre went 11-2 last season and won the district title, but lost a few key players to graduation this off season.
However, head coach Jay Walls and his staff have reloaded the roster, and tonight's effort starts the 2019 season off the way Navarre hoped it to, especially with Gulf Breeze looming next week.
"It was a really tough camp," Walls said. "To play somebody else and do some good stuff against them is certainly good. That's what I have to talk to [the team] about."
Defense was one area that Navarre did well in.
Navarre forced a turnover on downs on West Florida's first possession of the game, and then senior quarterback Marlon Courtney picked up two first downs through the air for Navarre before having a defensive back pick off his pass on West Florida's 30 yard line.
However, Navarre stopped West Florida on fourth down, again, on the following drive.
The teams continued to trade similar blows, ending the first quarter tied at zero.
Courtney was able to get the Raiders in scoring position once in the first quarter and then again to start the second quarter, but a missed field goal and a failed fourth down conversation left Navarre scoreless
James Simmons Jr scored the game's first touchdown for West Florida after running in a 70 yard screen pass.
Navarre responded with Courtney evading a few tackles in the backfield and throwing a bomb into the end zone that was caught by senior receiver Tyler England.
That catch tied the varsity-only half at seven, and was the last score of the first half, but the defensive battle carried on into the second half.
Navarre's offense got stopped quite a few stops in the second half, courtesy of West Florida's defense, but the Raiders were able to find the end zone on two separate occasions.
Some of the key factors in Navarre's win were also key factors in Navarre reloading.
Jabari Mitchell and Grady Kelly both made big plays for the Raiders after scarcely appearing in varsity action last season.
Other key factors in Navarre's win were players who return from last season and are looking to take on bigger roles in the absence of last year's senior class.
One of those players, Courtney, was Florida 6A's fourth leading passer last season and will look to continue that trend in Navarre's new classification.
Senior running back Jaydin Antonio is another one of those players, and Antonio made multiple big plays in the first half, including two huge catches.
"It's important that we have big play guys," Walls said. "Not just at wideout, but at running back and quarterback too. We want to be able to spread the ball around on offense."
Navarre's move up to the 7A classification not only gives Courtney a new leaderboard to climb, but it gives the Raiders a tough schedule that includes trips to Leon and Lincoln and an early season matchup with Gulf Breeze.
Gulf Breeze will travel to Navarre this coming Friday with kickoff scheduled for 7:30 p.m.
Navarre stomped a crippled Gulf Breeze team 42-14 last year. That win also clinched the district title for the Raiders.
Navarre has won 10 of the last 11 Beach Bowl Cups, and will face a new-look Gulf Breeze team next week that is replacing quarterback Dylon Kelley, running back Tyler Dittmer and others.