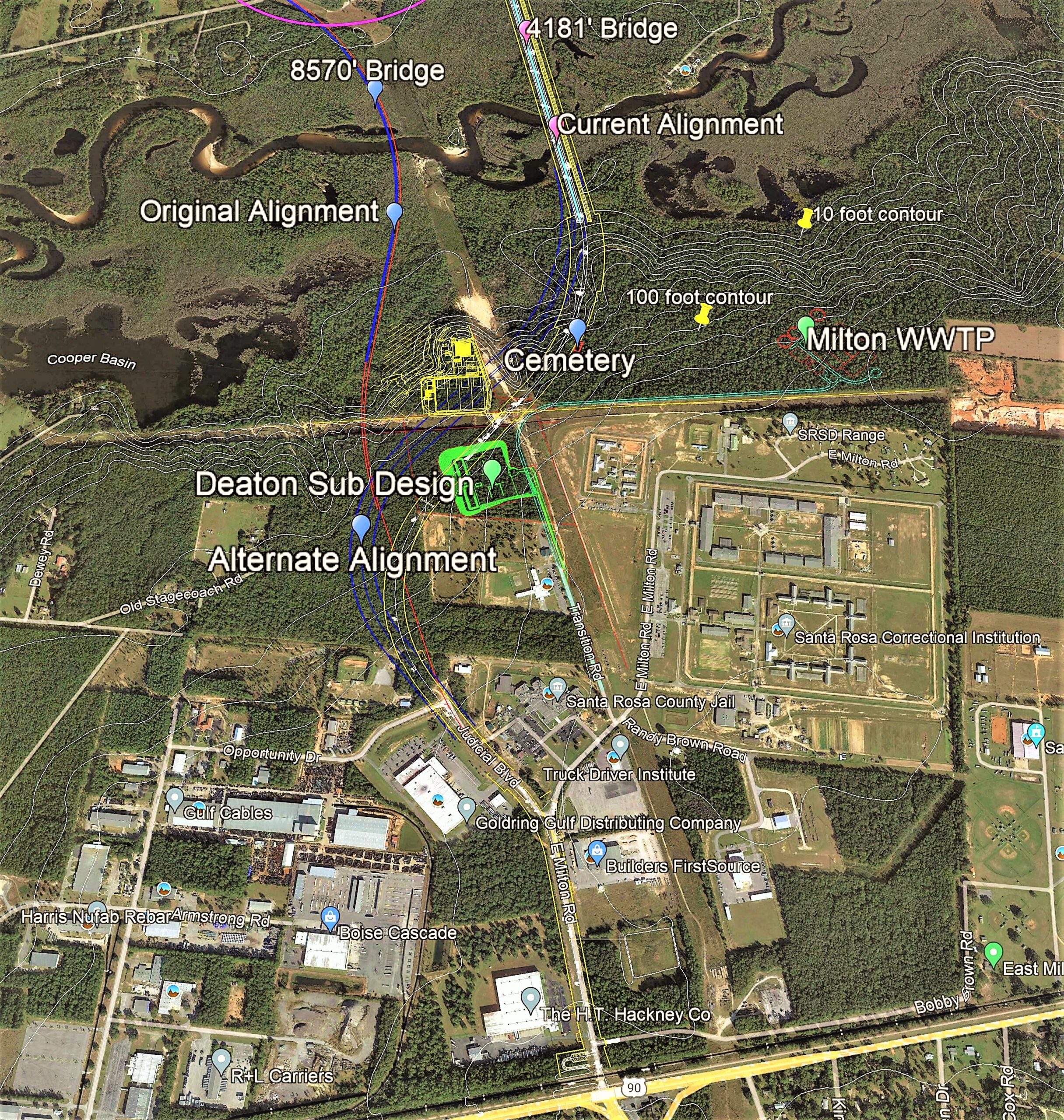 Following a PD&E study, the current alignment for the future 87 Connector bridge was shifted eastward of Big Eddy sandbar on Blackwater River, reducing the required length from 8,570 feet to 4,181 feet. City of Milton graphic.
The Florida Department of Transportation's current alignment for extending Hwy. 87 S requires construction of a new 4,181-foot bridge, roughly 0.8 miles, over Blackwater River.
The 87 S extension will be called 87 A and provide a connection to 87 N, allowing a bypass of U.S. 90 through the City of Milton, which will not only reduce east-west traffic on U.S. 90 but also provide more effective freight movement and hurricane evacuation from the coast.
The original 87 A bridge alignment had called for an 8,570-foot bridge. However, following the project's PD&E study, alignment was shifted eastward, reducing the required length of the span by more than half.
The shift has one local family concerned over the proximity of the proposed new alignment to a historic cemetery.
Nearby Cooper Basin is named after the family who first homesteaded the area, and members are buried at Cooper Cemetery.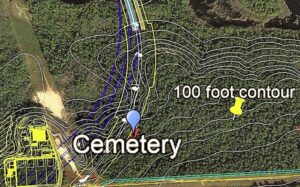 Lauren Cooper says Civil War Confederate and Union soldiers and a full-blooded Native American are buried at the site and that she wishes FDOT would give more consideration to the family. "It sure feels disrespectful and disconcerting to say the least."
The future 87 Connector will shift from four lanes on 87 S to down two lanes on 87 A at approximately 2,000 feet north of Santa Rosa County Jail.
Although 87 A will be an interim two-lane roadway, plans call for right-of-way acquisition to allow future widening into a four-lane divided highway.
The future 87 Connector road will extend 87 S over Blackwater River, crossing Munson Highway and eventually intersecting with Hwy. 87 N south of NAS Whiting Field, creating a bypass of U.S. 90 and the City of Milton. FDOT graphic.
Additionally, the project will include a new traffic signal at 87 S and U.S. 90, a new bridge over Clear Creek and a new connection from 87 N to 89 N (Point Baker).
A multiuse path is also proposed, starting at the intersection of U.S. 90 and ending at a connection to Blackwater River Heritage State Trail on Munson Highway.
However, FDOT does not yet have funding for 87 A's right-of-way acquisition or construction in its 5-year work program.