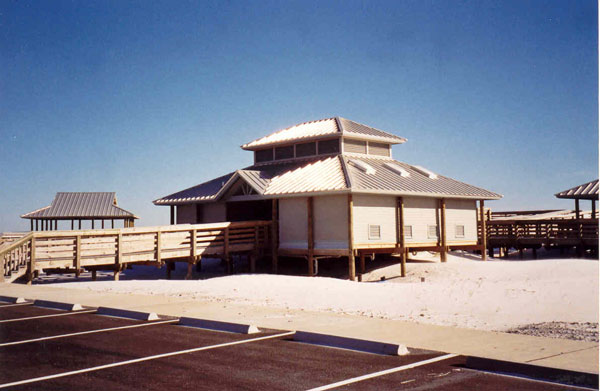 Last week Santa Rosa County received an update on plans for a new pavilions and beach accesses within the county-owned Navarre Beach Marine Park. The $1.8 million construction funded through Deepwater Horizon Oil Spill restoration funds is expected to begin in April 2017.
Pearce Barrett, Natural Resources Damage Assessment Coordinator for the Florida Department of Environmental Protection, told commissioners Oct. 13 that permits for the Phase III Early Restoration projects are expected in December.
Plans include a $1.22 million Gulfside Walkover Complex, which Barrett said would have one group of pavilions on the west side which will "mirror" the existing park pavilion complexes on the east side of the park.
Restrooms, grills, picnic tables and paved entrances and parking are also included in plans along with a platform to view a shore bird nesting site.
"That area that is a very prominent bird nesting area," Barrett said, pointing out crews can work to ensure construction does not interfere with nesting activity.
Additionally, $615,000 in Soundside improvements are planned and include two boardwalks from a pavilion to the water, a kayak/canoe launch and restoration of a roughly one-acre parcel of "degraded" dune habitat.
Barrett informed the board the current plans would be over budget due to increased construction costs since plans were first made roughly 10 years ago. "Construction is now more expensive he said," noting some features may have to be eliminated.
Commission Chairman Lane Lynchard asked Barrett when he would get some answers regarding the funding. Barrett said FDEP is working to see if additional funding could be allocated to the projects.
"We may put this project out with some reduction in alternatives that may bring some of the pricing down…but our preference is to build (it) as presented to public," Barrett said.
"I've worked with Roger and Terry and they've been very helpful" PB can work construction so not to disturb other activities going on
It will "mirror" the current pavilion designs but will have to raise up about three feet. Grills like existing. Picnic table shelters.
Barrett said Genesis Engineering has completed about 90 percent of the design work. He expects that the project will be put out for construction bids in January and the 9-12 month construction would get started around April.