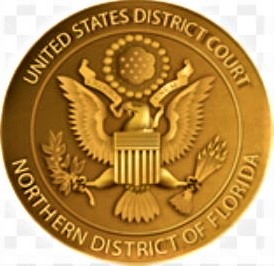 Two more people have been arrested in an ongoing case of alleged public corruption in the City of Lynn Haven, located in Bay County. Additionally, the former mayor now faces additional charges.
A new 44-count federal grand jury indictment announced March 16 supersedes an August 2020 indictment, which resulted in charges against former Mayor Margo Deal Anderson and former City Attorney Joseph Adam Albritton for devising a scheme to defraud the city and its citizens of their right to honest services, alleging both former officials solicited and received bribes or kickbacks from City projects that they approved.
The new indictment alleges David James Finch, 70, a Lynn Haven developer, and Antonium Genzarra Barnes, 55, a former Lynn Haven City Commissioner, also conspired with Anderson and Albritton, to ensure numerous multi-million dollar contracts for infrastructure and construction projects and post-Hurricane Michael debris clean-up activities were awarded to Finch.
In return, Finch allegedly provided Barnes with a $45,000 loan, which wasn't repaid. Anderson and her husband allegedly received travel in a private airplane, lodging aboard a private yacht, meals and entertainment and, in February 2018, a $106,000 motorhome.
Additionally, the new indictment details how Anderson allegedly helped Finch win multiple multimillion-dollar contracts with the city by:
halting progress on plans to permit a city-owned site for disposal of Hurricane Michael vegetative debris, directing the City Manager to use Finch's company, resulting in disposal fees in excess of $2 million to Finch;
signing an August 2017 agreement known as the "½ Cent Infrastructure Surtax Design/Build Contract" with Finch's construction company, making it the contractor or vendor for $5.6 million in projects – without bid procedures;
signing a 30-year promissory note, obligating the city to pay Finch the principal amount of the note, plus millions of dollars in interest;
attempting to thwart a pre-existing rebuilding plan, which would have been predominantly funded by FEMA and insurance, having Finch handle it instead for $15 million, most of which the city would have to finance since FEMA would not approve his design/build proposal.
The superseding indictment also charges Finch with making false statements and submitting false documents to the FBI concerning the terms of the motorhome transfer to Anderson and her husband.
If convicted, Anderson, Albritton, Finch, and Barnes each face prison terms of up to 20 years for conspiracy to commit wire fraud and honest services fraud, substantive wire fraud and honest services fraud, and mail fraud. Anderson and Albritton also face up to 10 years for theft concerning programs receiving federal funds. Both Anderson and Finch face an additional 5 years if convicted for making false statements to federal agents. Albritton also faces a maximum of 20 years for submitting a false invoice to an insurance company.
The August 2020 and March 2021 indictments are follow-ups to the initial indictment returned in November 2019 of five defendants, including former Lynn Haven City Manager Michael White, former Lynn Haven Community Services Director David Horton, and Erosion Control Specialists owner David White related to post-Hurricane Michael clean-up conspiracies. All five of the defendants pled guilty to the initial indictment and are awaiting sentencing.
An indictment is merely an allegation by a grand jury that a defendant has committed a violation of federal criminal law and is not evidence of guilt. All defendants are presumed innocent and entitled to a fair trial, during which it will be the government's burden to prove guilt beyond a reasonable doubt.