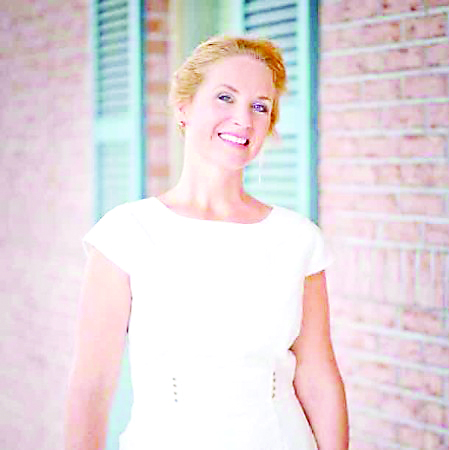 It's been almost 3 months since Deputy City Manager Curt Carver left his throne at the City of Gulf Breeze. And last Friday, City Manager "Edwin" Buz Eddy made a final decision on his replacement.
Samantha Abell, 39, will serve as the new Deputy City Manager for Gulf Breeze starting soon. Abell spent  the last 4 years working as the City Manager for Gautier, Miss. and resigned back in April.
She also worked with the City of Gautier as the Director of Economic Development/Planning two years prior to accepting her job as Gautier's City Manager.
Despite being a Mississippian the last 6 years, Abell has prior ties to the Florida Panhandle. Abell served as the Planning and Economic Development Manager for the City of Fort Walton Beach from 2006-2010.
From 2000-2002, she served as the City Planner for the City of North Little Rock in Arkansas.
Abell, who is a member of the International City Manager's Association, will make $88,000 a year with the city, according to Eddy.
The city advertised the position in national publications to draw in the most qualified candidates.
Over 85 people applied from around the country for the Deputy City Manager position. Eddy said Abell was one of 5 finalists in the running for the position. None of the 5 finalists were local.
"I narrowed it down to five (candidates), and we interviewed the five.  We had a panel of city employees who helped me decide," Eddy said. "Based on input from them and my own reaction to the interview process, I thought 'Samantha is the one we need to hire.'"
Upon announcing her resignation from Gautier back in March, Abell also announced her intentions to spend two months training the new Gautier city manager that was replacing her before she officially left.  But according to media outlets, her resignation was "accelerated" after the Gautier city council voted 4-2 at an April 5 council meeting for her to resign immediately instead of waiting two months to train her replacement through a succession plan that she offered to the city.
"I agreed with her succession plan," said Gautier Mayor Gordon Gollott, who was at the city council meeting on April 5. "However, they (certain council members) did not agree with it, and they did not agree with the man she wanted to appoint to replace her as an interim City Manager, who was the fire chief. She created a succession plan, and I liked that idea. You don't just walk out and leave everybody holding the bag."
According to media sources, despite her wishes to train the new Gautier city manager, her resignation was made effective during that April 5 meeting.
"I told (the council) I would be here to see the plan through that I had offered them. A handful of them did not accept my succession plan," Abell told South Santa Rosa News.
Following her resignation, she was given  30 days of unpaid leave.
Abell said that despite the abrupt call by Gautier's city council back in April, she felt that the council's vote was "appropriate" after they learned that she was eying other jobs in the southeast including a county administrator position with Lauderdale County.
"I was one of three finalists for the Lauderdale County job and I was offered the job with Lauderdale County the same week I applied for Gulf Breeze," Abell said. "The council knew I had applied for the position in Gulf Breeze. The night of the meeting, they decided they did not want to go along with my succession plan. I do not agree with their decision…I was honestly disappointed in it."
Abell served 4-year "terms" as a city manager with Gautier and was more than halfway through what would have been her first full term when she approached the city about her resignation, which she felt could have sparked the 4-2 vote.
"They were upset that I was leaving before my term was up," Abell said. "I even spoke with each of the council members before the meeting that night."
Gollott said he sat down with Abell when he was elected Mayor in 2013 and the two spoke about her future plans.
"When Samantha became the city manager with the city (of Gautier), she had told me that she would probably leave at the end of this term…and the reason she was leaving is she wanted to be settled into a community further south," Gollett told South Santa Rosa News. "She had prior ties down there and she felt it would be beneficial for her to move back."
According to Gollott, one of the many reasons Abell moved to Gautier and accepted a job as the Director of Economic Development/Planning was because she had in-laws in the area and wanted to be closer to them.
"She applied here because they had in-laws in Pascagoula, Miss. who had been there since after (Hurricane) Ivan," Gollett said. "I was hoping she would have stay to the end of this term, but circumstances happened that were beyond my control. The council members just did not agree with her succession plan. She was doing such a great job."
An Alabama Media Group staff reporter told South Santa Rosa News that Abell was making roughly $88,000 as Gautier's City Manager, but was not getting any medical benefits.
Despite the harsh 4-2 vote back in April, Abell said she did not leave Gautier on bad terms.
"While I was City Manager, I received two positive performance evaluations. I also received a raise," Abell said. "I had a good track record with the council. The support for me had always been there."
Gollott told South Santa Rosa News that several government entities around Gautier showed their interest in hiring Abell themselves while she was working for the Mississippi city, showing that she was doing an exemplary job while she was in Gautier.
"I had people walk up to me all the time saying they wanted her, but I told them 'You can't have her. You're not taking her,'" Gollett said. "She was doing such a great job here. And she always told people how happy she was here."
Media outlets reported that Abell managed Gautier's first five-year strategic plan and also headed the city's 15-year capital-improvement plan.
Gautier has a population of approximately 19,000 residents. The City of Gulf Breeze has close to 6,000 residents.
Abell told South Santa Rosa News that she has two children and that her husband is medically retired from the Air Force. Abell said her husband, who is an emergency room critical care registered nurse, has already started looking for  a job in Gulf Breeze.
Abell also told South Santa Rosa News that her 11-year-old daughter, Lorelei, previously had a rare  form of cancer, and is currently in remission, that requires her to see a specialist. According to Abell, there are only 2 specialists in the south that treat her condition, and one is in Pensacola at Sacred Heart Hospital.
"So I will be closer to Sacred Heart to get her the care she needs without having to drive a long way," she told South Santa Rosa News. "It's time to put family first, and this position will allow me to do that since I'll be closer to Pensacola. Our family loves Gulf Breeze…it's the schools, the amenities, the city and the hospital system that make it such a great place to live."
Abell told South Santa Rosa News that her children will be enrolled at Gulf Breeze schools in the fall.
Abell is expected to start working for Gulf Breeze sometime in the middle of August. Eddy will be the party responsible for training Abell once she comes aboard.
Abell will be responsible for assisting Eddy in day-to-day tasks.
Carver, the former Deputy City Manager, left his throne with the City of Gulf Breeze after working for the government entity less than 2 years.
Prior to coming aboard with the City of Gulf Breeze, Carver had nearly 3 decades of government management experience.
Carver moved to the area originally from the outskirts of Chicago with his children and late wife.
Carver announced his plans to retire with the City of Gulf Breeze back in March, but decided to "accelerate his retirement", and left the city the first week of May.