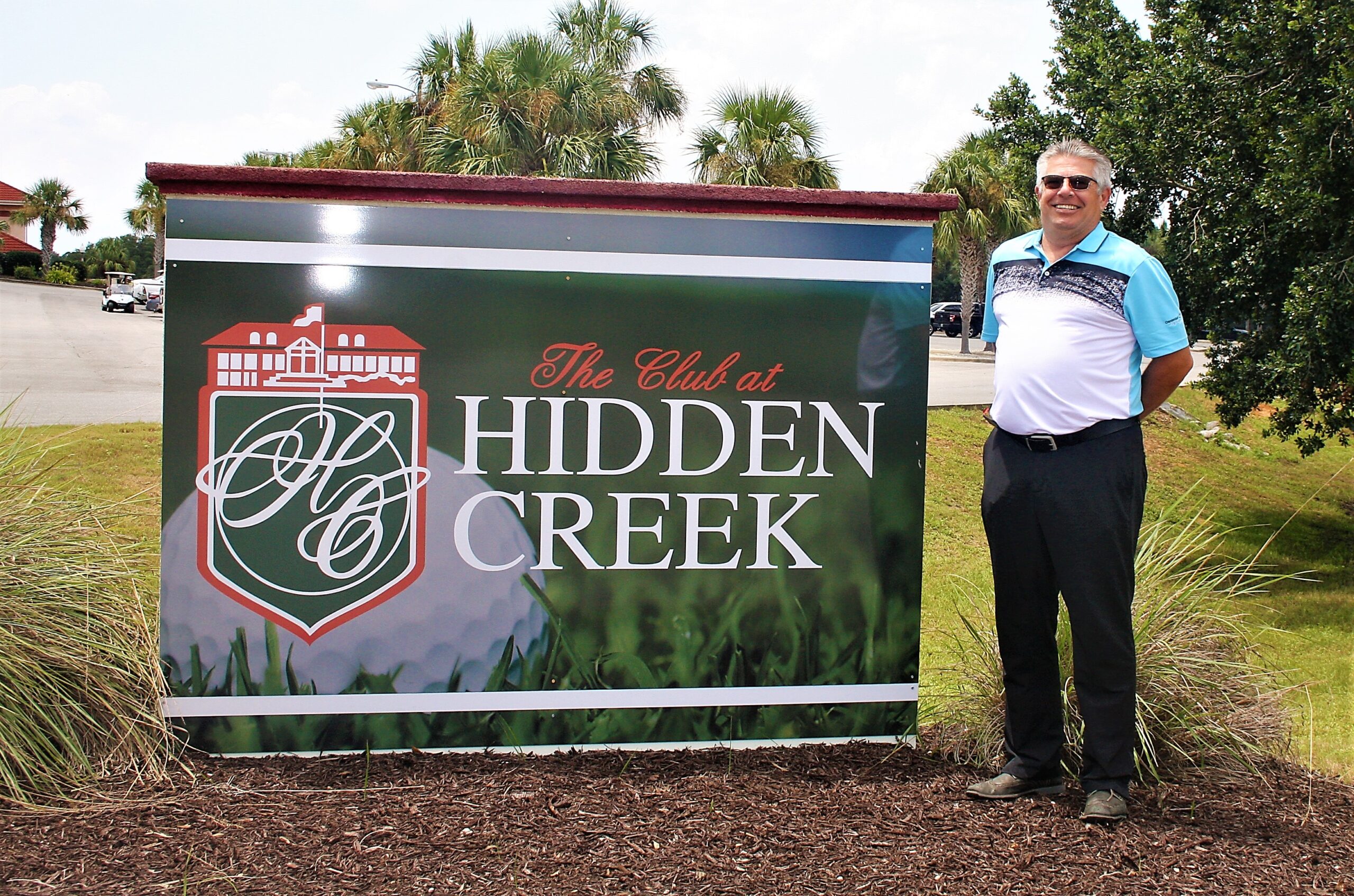 John Miller for the past 14 years has overseen golf courses owned by Miami-Dade County, and now he's bringing his knowledge and experience to The Club at Hidden Creek.
Last week Miller agreed to serve as The Club's new Director of Golf. He'll be leaving his current job as PGA Head Professional at Greynolds Park Golf Club in North Miami Beach.
Subsequently, he and his wife, Rio, who is from Brazil, will be relocating with their three dogs to the area. The couple fosters hospice dogs, helping canines on their last leg live their best lives for as long as possible – often months more than expected.
He said they like the "less crowded" Panhandle area, and he hopes to get started with his new position by Labor Day weekend.
Miller toured the course and facilities August 5 and expressed excitement that a restaurant is being actively solicited to operate in conjunction with the 18-hole course.
He plans to create tournaments to not only lure more locals but also visitors, whom he will target with "Stay and Play" tournaments – in coordination with local hotels and the Santa Rosa County Tourist Development Office.
Miller previously coordinated the Mayor's Cup Tournament for seven years, an event which attracted around 260 players. He said The Club can host around 144 players per tourney.
Additionally, Miller earned a Class A PGA membership, which enabled him to serve as head pro at a PGA-recognized course. "It's basically a master's degree in golf," he said.
Miller was twice named PGA's South Florida Section "Merchandiser of the Year" in 2012 and 2018 in the public category.
He plans to use his merchandising experience, former career in corporate marketing and branding to create products golfers will use and enjoy.
"Golf is supposed to be fun," Miller said, adding that he aims to provide an "exceptional" experience for players at The Club.
Jerry Pavano, who has been a member of The Club for two years, says he's noticed recent efforts to make improvements to the course. "Everybody looks forward to better enhancement with somebody new and fresh ideas."
In recent months, changes in staff and membership structure have enabled the course to turn a profit – something it had struggled to do since it was acquired in 2012 by Holley-Navarre Water System for the purpose of discharging treated effluent.
Bill Crouch, who lives near the course with his wife, Lucy, said he's not a member and doesn't play golf but stresses that nearby homeowners have a vested interest in keeping the course operational and attractive, pointing out that when The Moors golf course on Avalon Boulevard closed, property values in the adjacent subdivision dropped. So Crouch is also optimistic about the recent changes and imminent arrival of Miller.
To book a tee time or sign up for membership visit theclubathiddencreek.com or call 850-939-4604.