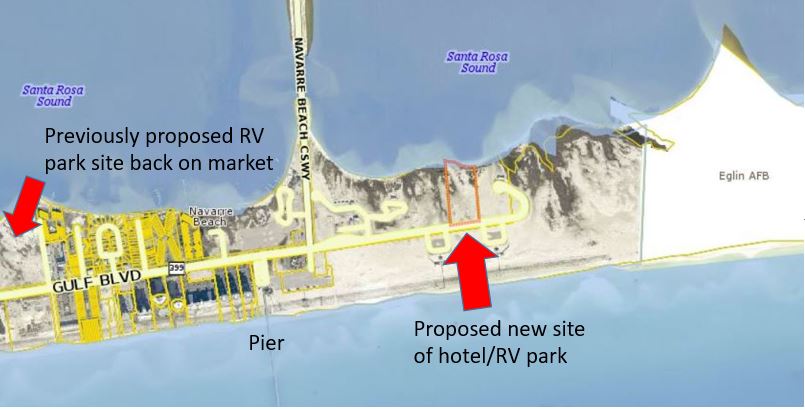 Santa Rosa County Commissioners on October 25 will hear a proposed plan for a new hotel and RV park on Navarre Beach.
Commissioners would have to approve a lease amendment for the requested "full development" of a 5.74-acre parcel located inside Navarre Beach Marine Park which has a current lease that may require a commercial marina with wet slips and a dry storage facility prior to other developable uses, according to Santa Rosa County Planning and Zoning,
A lease amendment would allow construction of a facility other than a three-story, 50-foot by 200-foot metal dry-storage marina, which was written into the preexisting 50-year lease.
Additionally, developers are seeking to utilize two "option" parcels which would total roughly 10 acres.
However, prior attempts to develop the property for commercial use or purchase and preserve the parcel for conservation have failed.
After meeting resistance from locals, previous developers for the current owners in 2016 rescinded a lease amendment request which had sought to develop a 134-unit housing development on the property.
An effort by the Trust for Public Land to purchase and preserve the site for conservation was unsuccessful in May 2018 after a failure to secure funding.
In the latest development pursuit, property owners Shoreline Developers of Florida, LLC authorized new developer NOBC, LLC to act as its agent.
The new proposal seeks clarification of lease conditions precedent to full development of the primary parcel and option parcels.
"Amendment would allow more environmentally sensitive waterfront development with full development of the parcels without full commercial marina and dry storage, therefore amending the legal description for the Navarre Beach Lease. Acreage," stated the request.
Meanwhile, a 23-acre waterfront parcel once proposed for an island RV park is up for sale. Commissioners in August 2016 shot down a lease amendment request which would have allowed construction of an RV park at the site located directly across from Springshill Suites. Current price tag of that property is $14,500,000.