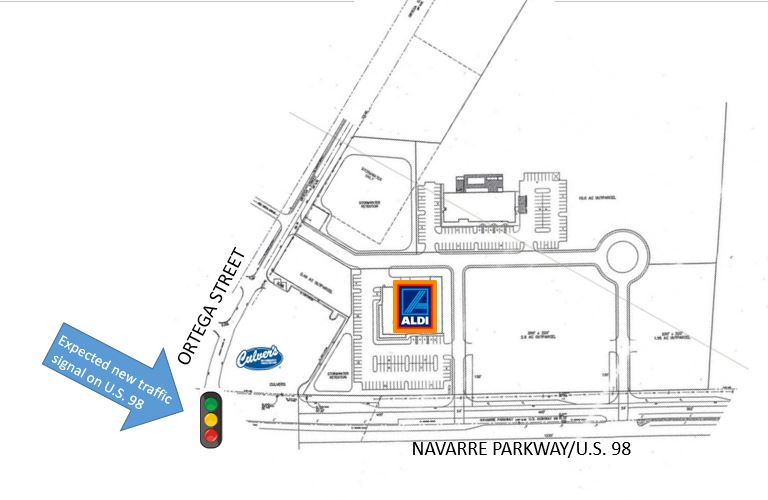 The Santa Rosa County zoning board on Thursday evening will discuss a request from developers who plan to build a retail center, including a hotel and an Aldi supermarket, on U.S. 98 at Ortega Street. However, the development may require installation of a traffic signal — a cost which could add hundreds of thousands of dollars to the project.
Craig Kruse and Chandler Huff, partners in Navarre 19, LLC, last summer purchased a 19-acre Ortega Street parcel adjacent to Culver's restaurant on U.S. 98. Sources say they plan to build a hotel, the roughly 19,000-square-foot supermarket plus at least one more undisclosed project at the site.
The LLC also bought 33 acres adjacent to Publix, where they plan to build a 275,000-square-foot"destination" entertainment venue.
Mark Siner of Choctaw Engineering, Inc. submitted the March 14 zoning board request on behalf of the LLC, which specifically seeks to reduce the corner clearance for a driveway from 440 feet to 130 feet and allow a driveway located on a major access drive aisle. That move would allow future customers to access the businesses from both U.S. 98 and Ortega Street. Current requirements only allow access via Ortega Street.
According to Santa Rosa County District 4 Commissioner Dave Piech, who has been working with the developers and Florida Department of Transportation officials, he would support access via both roadways. "FDOT has approved that, so why wouldn't the county," he said. "Our requirements mirror FDOT."
Zoning board member James Calkins agrees and said he will likely recommend commissioners support the request. "I want to support business," he said. "This will be good for Navarre."
Commissioners will review the zoning board's recommendation and have the final say so in the matter.
Additionally, the increased traffic from the development may require construction of a new U.S. 98 traffic signal at the Ortega Street intersection.
"Per FDOT – The development planned for the north-east quadrant of the intersection may generate enough traffic volume to meet warrants. If so, it will be incumbent upon that Developer to install the signal," Santa Rosa County Planning and Zoning Director Shawn Ward told South Santa Rosa News on Wednesday. "Currently FDOT has not received a traffic analysis from the Developer to determine if a signal is needed."
South Santa Rosa News last year broke the news that an Aldi supermarket was expected to open in Navarre by 2021. Chuck Branch, managing partner of NextSite, an Alabama-based company working with the Santa Rosa County Economic Development Office to recruit businesses, told commissioners on December 13 his firm had been working with representatives from Aldi, an Illinois-based company with about 1,800 locations.
"We also expect that they will have locations in Navarre, in fact all of your four major communities will most likely have an Aldi," Branch told the board, stating construction could start in late 2019 with openings in 2021.