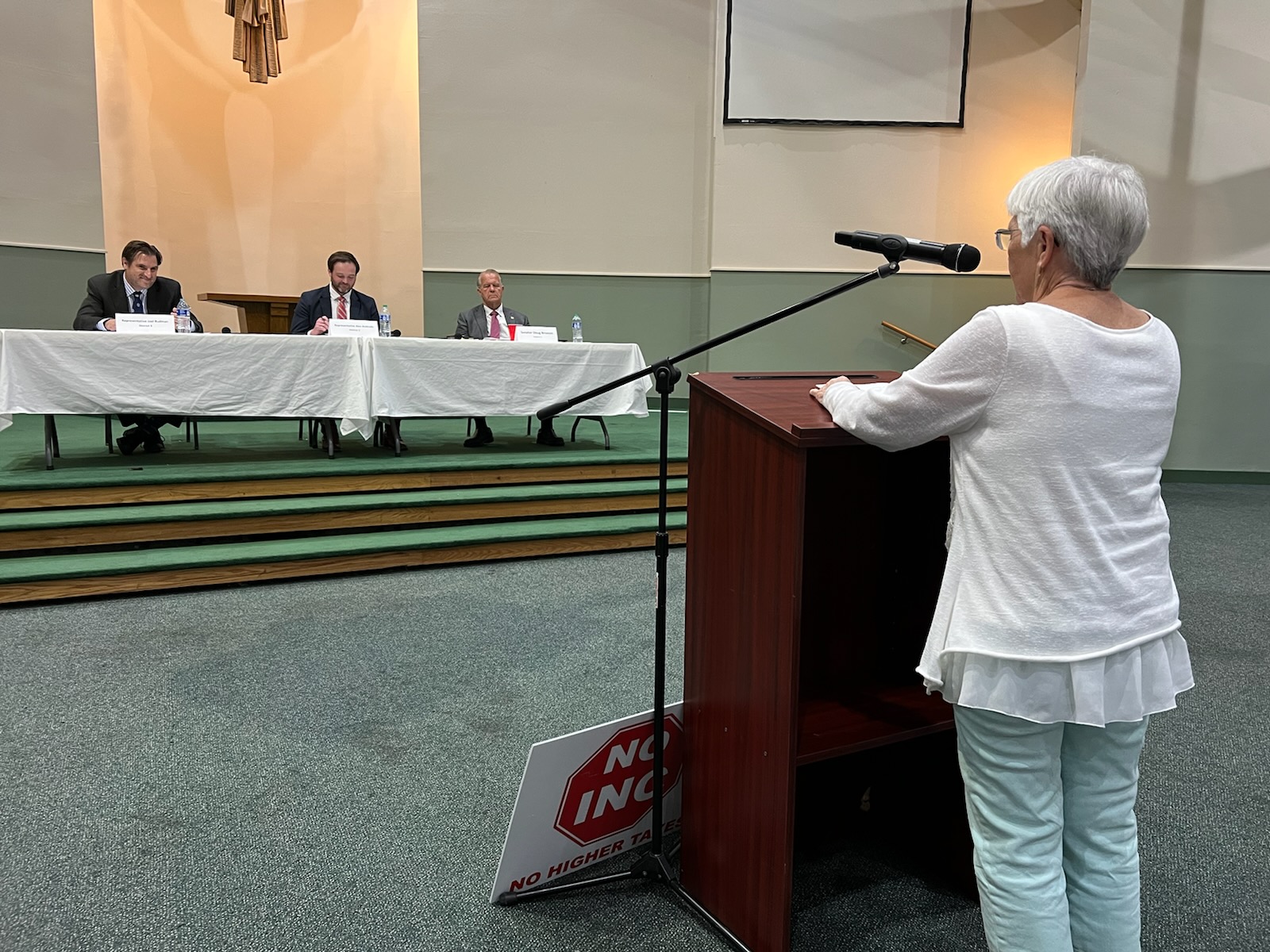 During the Northwest Florida Legislative Delegation's October 23 hearing in Santa Rosa County, Navarre resident Debbie Gunnoe expressed concerns over the additional fees and taxes incorporation would create. Photo by Romi White.
Preserve Navarre failed to get a local bill approved during the Oct. 23 Northwest Florida Legislative Delegation hearing; therefore, a binding vote on incorporation is not planned for November 2024, although the group still hopes to get a non-binding "straw poll" on the ballot. Meanwhile, Protect Navarre, an anti-incorporation group, has announced a new leader.
Debbie Gunnoe gave an impassioned speech against incorporating during the Oct. 23 hearing. "With struggles to pay for basic needs, how are families and those on limited incomes expected to survive in Navarre with all the added costs of incorporation."
On November 6 she was announced as the new leader of Protect Navarre, a grassroots group which opposes incorporation.
"I'm thankful Debbie is stepping up because she can take us to the next level," said Shawn Wildman, who started Protect Navarre earlier this year. Debbie is retired and can devote the time it will take to represent our growing group of 315 members."
By comparison, Preserve Navarre, which formed in January 2021, only has around 170 members.
Gunnoe says she is starting to research the "true costs" incorporation would create, noting that forming a new city government would not only cause increased property taxes but also likely increase cell phone and utility bills, gasoline and sales taxes, and more.
"It will bring about higher taxes and fees, along with another layer of (government), controlling your property and impacting your individual decisions…It will just equal more elected officials making decisions about your property, collecting more taxes, and limiting your liberties."
Per Gunnoe, Protect Navarre will pause for the holidays and start gearing back up early next year, hosting another meeting next spring.
"Since no binding referendum is planned for next year, the earliest we might see an actual vote on incorporation, assuming Preserve Navarre can raise enough money to fund a special election, would be in 2025. But considering their apparent struggles to raise money, it's possible an actual vote may not happen until 2026. In the meantime, we're confident voters will reject incorporation once again during the planned 2024 straw poll."
EDITOR'S NOTE: During a normal election year, additional costs to add a referendum to a ballot are not expected, unless the verbiage for that referendum requires an additional ballot page. "There would only be an additional cost passed on if the non-binding referendum caused an additional ballot page to be added for those precincts," said Santa Rosa County Supervisor of Elections Tappie Villane.