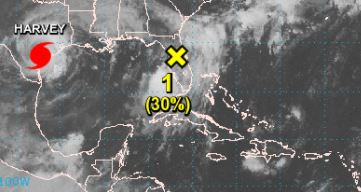 In addition to monitoring Hurricane Harvey, the National Hurricane Center is watching an "elongated area of low pressure," stretching across north-central Florida.
Per NHC, the system producing a large area of disorganized cloudiness and thunderstorms, extending from the southwest coast of Florida northeastward into the western Atlantic.
"Although some development of this system is expected when it moves northeastward near the southeast United States coast, it is becoming more likely that the low will merge with a front before significant tropical or subtropical development occurs," stated today's NHC update.
The storm is not expected to impact our area.