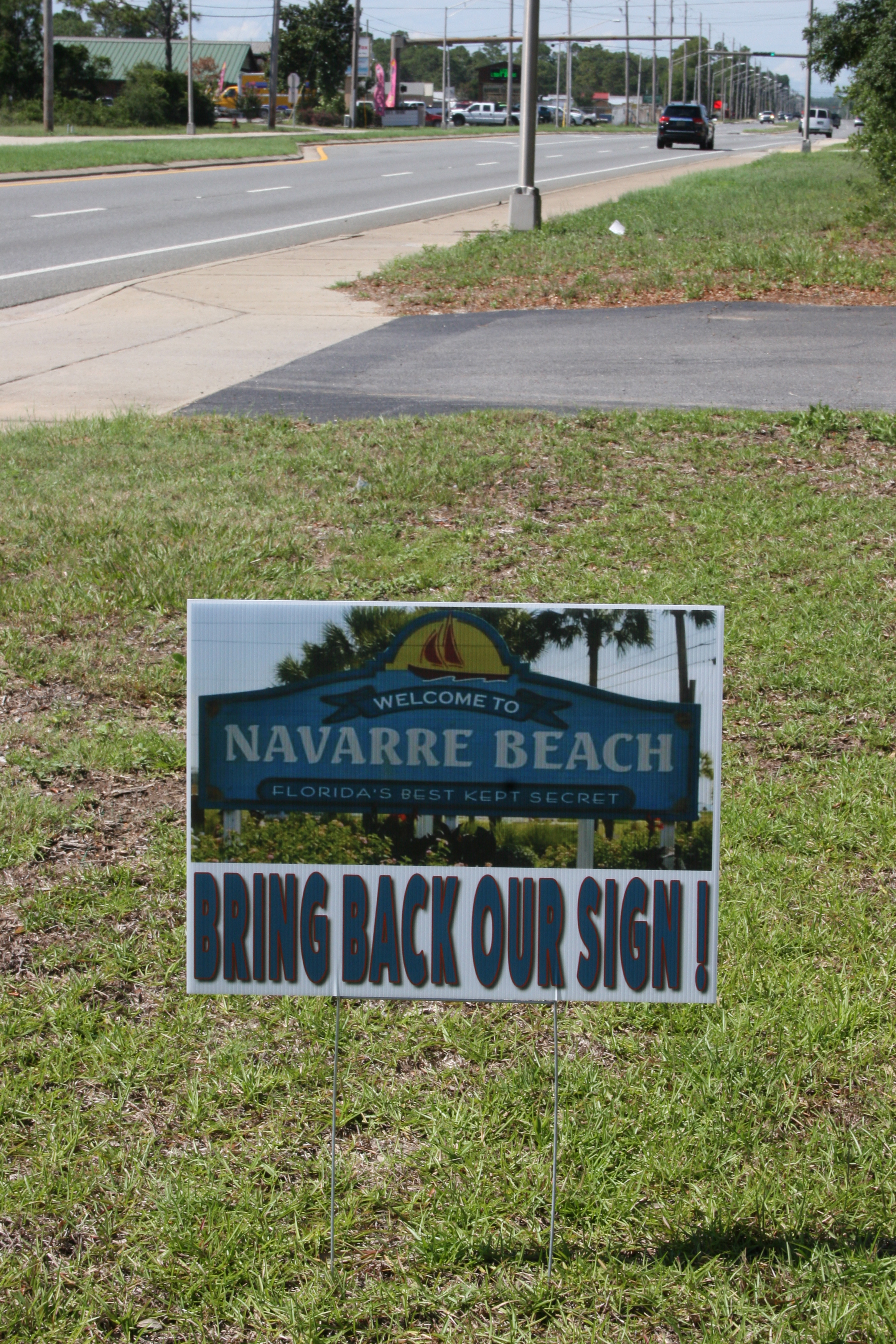 Despite public outrage on social media, Santa Rosa County Commissioners this morning decided not to change plans to install two new welcome signs at U.S. 98 and Navarre Beach Causeway. In response, protesters have planned a demonstration Friday at the site.
Additionally, some residents are erecting yard signs around the community. Those signs depict a picture of the old welcome sign with the words "Bring Back Our Sign."
The welcome sign issue escalated following removal of old signage, which was temporarily replaced at the bridge by two flat, metal signs after the permanent, three-dimensional signs intended for that site were damaged during transport.
In total nine new signs were produced, costing roughly $33,000 funded through county tourist taxes charged to overnight guests.
The other seven permanent signs were undamaged and erected May 25 at spots including the Navarre Beach Boat Ramp, Navarre Beach Fishing Pier, Navarre Beach Marine Park. Old signs nearly identical to the former ones at the bridge were replaced with new permanent signs at the western entrance to Navarre Beach on Gulf Boulevard.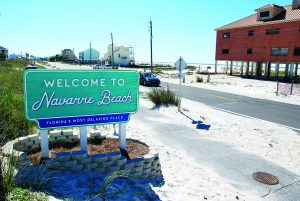 At its own expense, D & G Graphics, a Fort Walton Beach company which produced the signs, quickly fabricated makeshift signs for the bridge site. And installation of those two temporary signs sparked hundreds of complaints from locals, prompting Commission Chairman Rob Williamson to remove them, stating they looked "cheap."
During today's board meeting, Commissioner Sam Parker criticized Williamson for removing the signs, saying his fellow commissioner had "undermined" the board by unilaterally deciding to remove the temporary signs.
Commissioner Lane Lynchard said it was important to keep the county's rebranding "consistent." The old welcome signs displayed a previous tagline which read "Florida's Best Kept Secret."
The permanent signs for the bridge are expected to be installed later this week and include the new tagline "Florida's Most Relaxing Place."
According to Santa Rosa County Tourist Development Director Julie Morgan, the county's new marketing tagline was tested in targeted areas like Atlanta and Birmingham before her office worked with the county's advertising agency, Paradise Advertising, to develop the new signage.