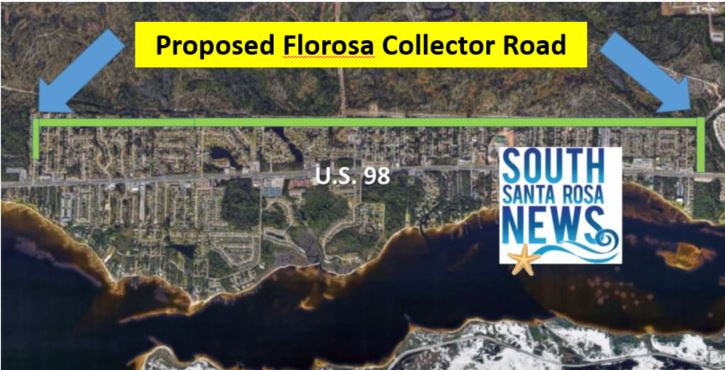 The Florosa Collector is a roughly three-mile, two-lane road proposed for local traffic north of U.S. 98, starting east of Solar Drive (near Arby's) and ending at Green Drive (La Casa Blanca restaurant). Graphic by Romi White.
Florida Senator Doug Broxson and other local and state leaders on Monday met with military and state transportation officials to discuss potential solutions to alleviate traffic on U.S. 98. Talks included two proposed new roads: a military-use only road between Hurlburt Field and Navarre plus and a Collector Road just across the Okaloosa line in Florosa.
According to Broxson, Hurlburt Field officials said 80 percent of their staff live in the Holley-Navarre area and it is crucial to have a more expedient route to and from the installation.
"We discussed ways we could help accommodate them," Broxson said, noting Okaloosa County's Florosa Collector Road project has the potential for quick improvements to traffic congestion. "Okaloosa County is ready for Eglin to release the property to them and willing to invest whatever it takes to support the military."
Okaloosa County Commission Vice Chairman Nathan Boyles says the Florosa Collector would not only take some local traffic off U.S. 98 but also remove the Florosa Elementary School zone, a bottleneck along the busy thoroughfare. "(The Collector) is not going to be a project that will take thru traffic off 98, but it will take more local traffic off 98."
Boyles says the county intends to fund the collector through a blend of surtax and other in-house resources, like partnerships with the Florida Department of Transportation on grant opportunities. "TRIP grants are there for this type of roadway with appreciable impact to state roadway."
Santa Rosa County Commission Chairman Colten Wright said another option discussed on Monday was a military-only road connecting directly to Hwy. 87 S, creating a west entrance to and from Hurlburt Field.
"State and local governments could construct the road much cheaper than the Air Force," stated Wright, noting Intergovernmental Services Agreements (IGSA) with the military contracting and funding the overall cost plus an administrative fee is common in other regions." Simply taking all of those airmen off U.S. 98 would relieve much of the congestion during peak times."
Wright said he's had preliminary discussion about such an IGSA at the local level and in Washington, D.C.
Additionally, Wright noted the military already has some existing roads north of U.S. 98 between Hurlburt Field and Navarre. "Seems they could be upgraded significantly and worked into their daily operations."
Broxson said the local and state stakeholders will start meeting on a regular basis with the military officials. "It was an honest discussion. They want to meet about every 60 days and see what develops."
READ MORE – HERE'S A LINK TO OUR OCTOBER 2022 STORY ABOUT THE FLOROSA COLLECTOR ROAD