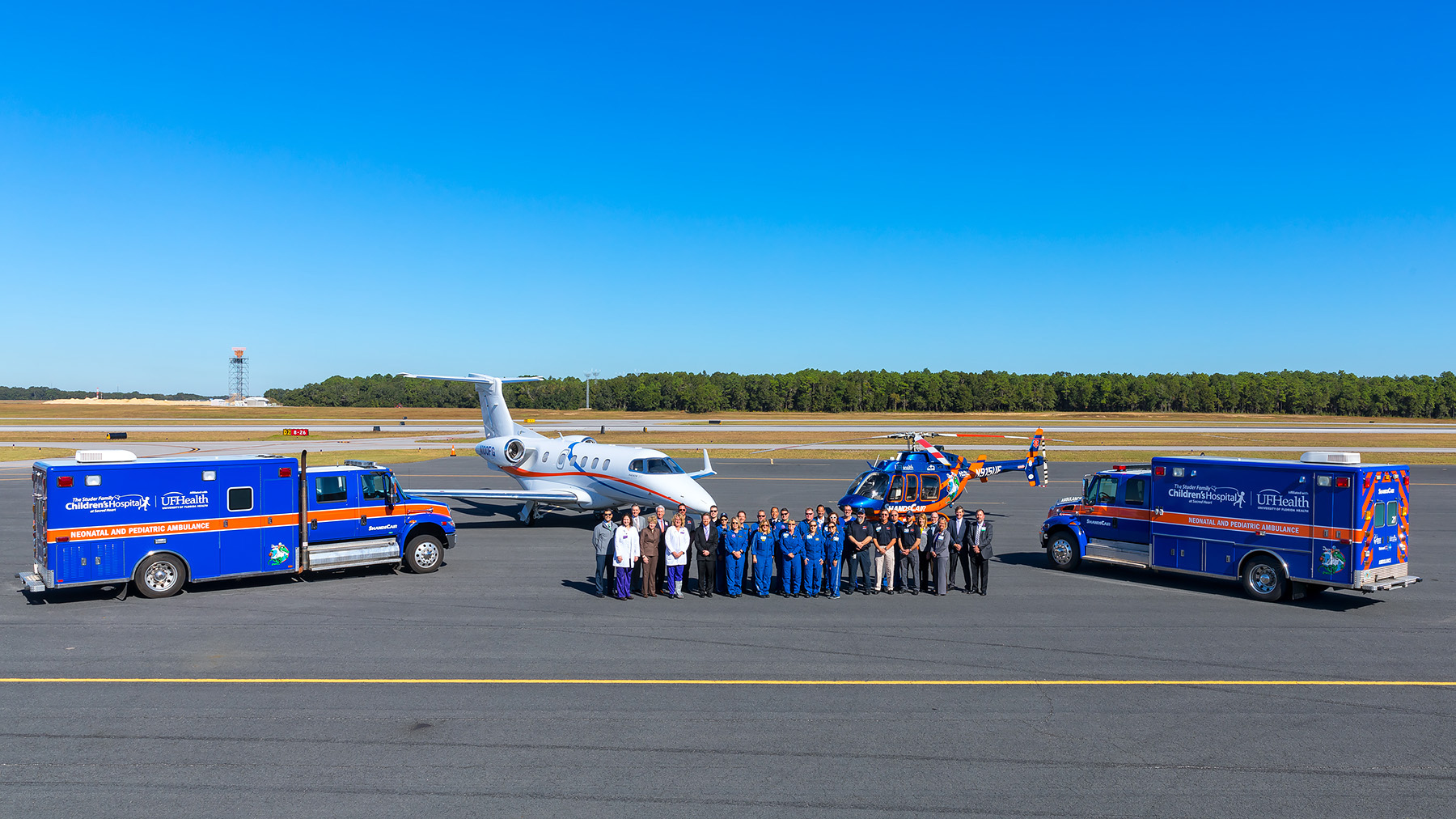 Sacred Heart Health System has launched a new collaboration with UF Health ShandsCair — the critical care transport system of UF Health Shands Hospital — to provide air and ground transportation for critically ill neonatal and pediatric patients.
As a Level II Adult and Pediatric Trauma Center and Northwest Florida's only children's hospital, Sacred Heart Hospital Pensacola uses helicopter and ground transport units to accept transfers from other hospitals across the region of patients needing a higher level of care.
Collaborating with ShandsCair will enable Sacred Heart to provide high-quality, advanced care to more critically ill patients with faster response times and an expanded geographic reach.
"For the most severely ill children, fast access to the most specialized level of health care is vital and can truly save lives. That is what this relationship with UF Health brings us," said Henry Stovall, president of Sacred Heart Hospital Pensacola and The Studer Family Children's Hospital at Sacred Heart. "Collaborating with ShandsCair gives Sacred Heart access to a highly regarded clinical transport system. The patients and families we serve can take comfort in the fact that the care Sacred Heart offers locally is backed by the most comprehensive academic health center in the Southeast."
ShandsCair is a nationally recognized leader in critical care transport, with its highly trained, specialized teams capable of transporting the most complex patients using ground ambulances, fixed-wing aircraft and helicopters. Currently in its 35th year of service, ShandsCair transports more than 7,200 patients annually.
"We are excited to be able to make a difference by transporting patients in the Pensacola region," said Ed Jimenez, CEO of UF Health Shands. "We look forward to working with Sacred Heart to enhance this crucial service."
ShandsCair's fleet — including one of the nation's largest emergency medical services civilian helicopters — will provide an integrated emergency transport network for Sacred Heart. Growing the fleet provides Sacred Heart with maximum flexibility to transport patients in need during medical emergencies. This is especially important in disaster situations to have staff and helicopter availability for transporting more patients between health care facilities.
ShandsCair's helicopter fleet is faster than the current Sacred Heart fleet and can fly between Gainesville and Pensacola without stopping to refuel. This is important because in emergency situations, minutes matter and can make a long-term difference in a patient's recovery. Providing faster access to care enables Sacred Heart to improve outcomes for patients and ultimately save lives.
ShandsCair's ground and air fleets are equipped with the latest technologies. Helicopters use night-vision goggles, instrument flight rule infrastructure and satellite tracking to safely navigate fog and marginal weather conditions in order to avoid critical delays. For the safety of the crew, ground ambulance units also include GPS tracking so the transfer center can monitor the team's location at all times.
Sacred Heart currently serves patients transported to the hospital from across Northwest Florida — east of Santa Rosa County through Tallahassee — as well as pediatric and neonatal patients from a three-hour radius across Northwest Florida, South Georgia and South Alabama. By growing the fleet of available helicopters with ShandsCair, Sacred Heart will be able to serve a larger number of patients and extend its reach west to Mississippi, east across the Florida Panhandle, and north as far as Atlanta and Birmingham.
All ShandsCair transport units are dispatched out of Gainesville from a center that uses the latest aviation and GPS technology. The transfer center is available 24/7 to coordinate the patient transportation process.
As part of this agreement, medical teams at Sacred Heart and UF Health are working to standardize protocols so that patients sent to either facility can benefit from continuity of care between the organizations.
With the launch of this agreement, air and ground transport associates of Sacred Heart will transition to employment with UF Health Shands. Sacred Heart Hospital Pensacola will continue to accept and treat patients transported to the hospital by other ambulances and helicopter services.
In the past, The Studer Family Children's Hospital at Sacred Heart has used ground and air transportation to serve approximately 60 critically ill patients each month, including about 30 pediatric patients and 30 neonatal patients. With this new collaboration with ShandsCair, Sacred Heart will continue to offer specially trained staff and equipment to provide fetal monitoring, cardiac balloon pumps and high-risk obstetric care.
In addition to ShandsCair, Sacred Heart and UF Health have collaborated to launch a new kidney transplant program to benefit the thousands of individuals across the Southeast currently awaiting a lifesaving transplant. Sacred Heart and UF Health are also collaborating on pediatric subspecialty care, which will expand the scope of specialized pediatric care available to children across Northwest Florida and South Alabama.
Sacred Heart has also begun construction of a new, four-story children's hospital. The hospital will be connected to the front of the existing children's hospital and will include a pediatric emergency room and trauma center, new operating rooms dedicated to pediatric surgery, an expanded neonatal intensive care unit, a pediatric intensive care unit, a pediatric oncology unit, a medical/surgical unit, observation beds and a pediatric rehabilitation gym.