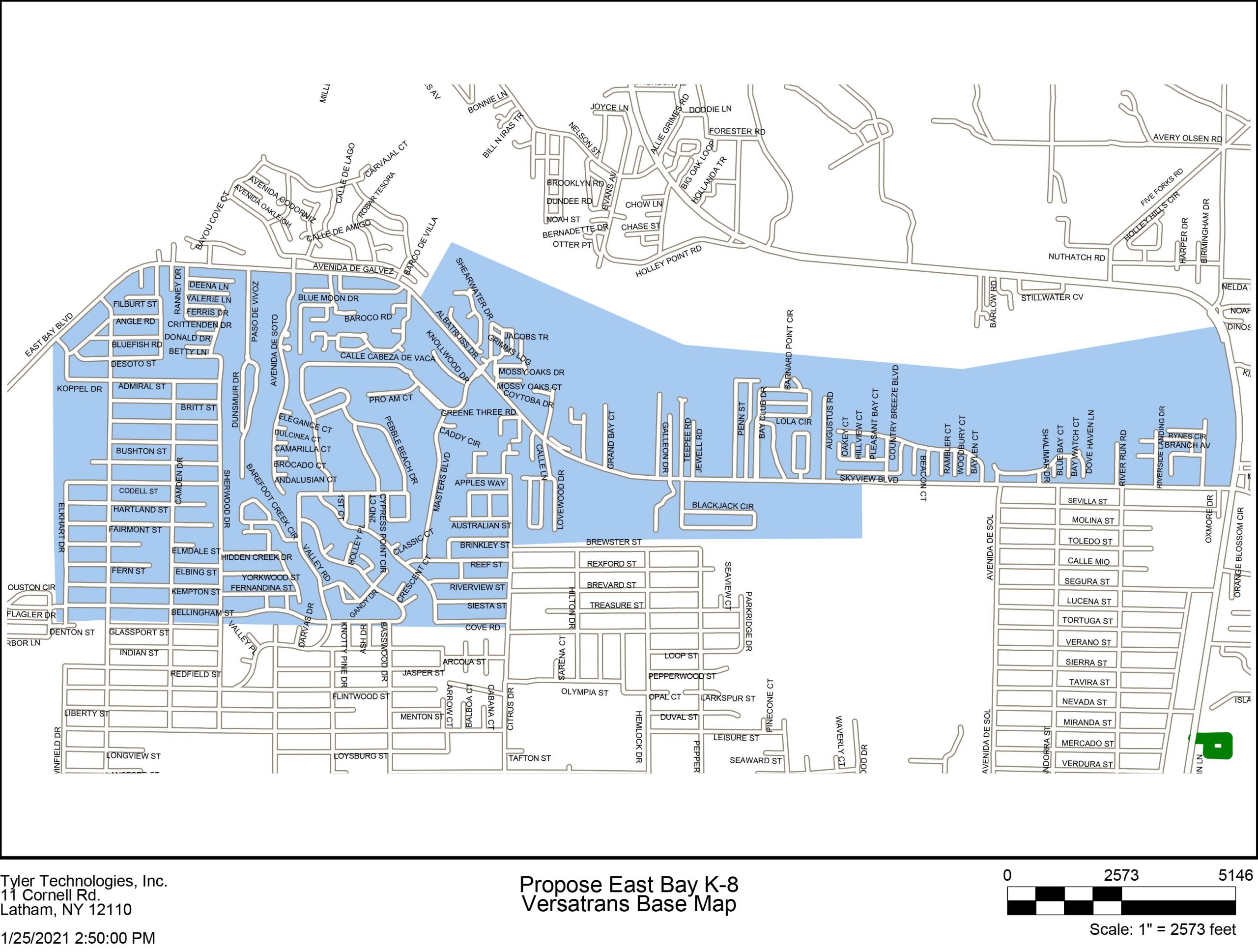 Map depicting the proposed zoning for the new East Bay K8 school (Graphic by Santa Rosa County District Schools)
The Santa Rosa County School Board will hold a public hearing to revise school boundaries on March 9, 2021 at 6:30 p.m. at the Santa Rosa County School Board Room, 5086 Canal Street in Milton. The following schools will be affected: Holley Navarre Intermediate, Holley Navarre Middle, Holley Navarre Primary, West Navarre Intermediate, West Navarre Primary and Woodlawn Beach Middle Schools.
The East Bay K8 school will provide service for up to 680 elementary and 476 middle school students. The proposed rezoning would impact students living north of East Bay Boulevard from Hwy. 87 S west to Pelican Point Drive. Also, students on the south side of East Bay Boulevard, from Blackjack Circle west to Koppel Drive are proposed to attend the new school. Additionally, students living in Holley By The Sea from Citrus Drive north of Cove Road and Edgewood Drive north of Glassport Street as well as those living between Edgewood Drive and Elkhart Drive are also proposed to attend the new school
By February 11, each school listed will have copies of specific maps and legal descriptions of the zones that would be implemented, if the proposed boundary revisions are passed.
If the proposed rezonings are approved, students within the East Bay K8 zone would attend that school, starting with the 2021-2022 school year.
Copies of the rezoning information will also be available by February 11 on the school district's website and at the Office of the Superintendent of Schools, Dr. Karen Barber, at 6032 Highway 90, Milton, Monday through Friday, through March 9, 2021 from 8 a.m. to 3:30 p.m.