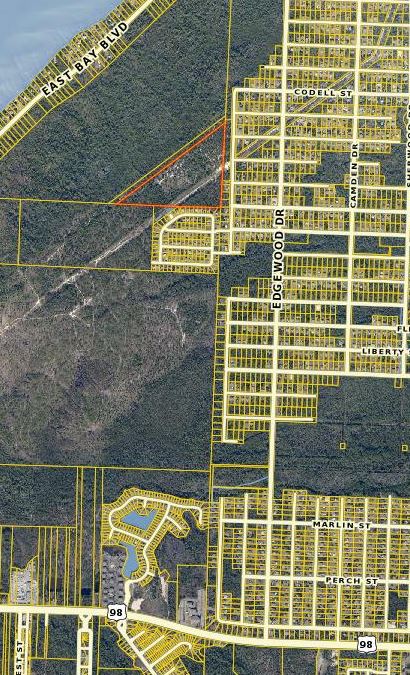 The school district owns roughly 46 acres just west of Edgewood Drive in Navarre (outlined triangular parcel). The site could be the future home of a new school facility, although Wyrosdick said no site determination has yet been made.
Santa Rosa County District Schools Superintendent Tim Wyrosdick told attendees at yesterday's Greater Navarre Area Chamber of Commerce breakfast that two new schools are needed to serve south Santa Rosa County.
Wyrosdick told South Santa Rosa News the "most immediate" need is a new high school between Navarre and Midway. He said two K-8 schools on the south end and north end of the counties are also needed.
All three schools are in the district's five-year capital plan. However, Wyrosdick said it could take up to eight years for the new facilities to come to fruition. He pointed out the state Department of Education has to approve all three projects.
And although the school district owns around 46 acres on the northwest side of Holley By The Sea just west of Edgewood Drive, Wyrosdick said "no location has been determined," regarding the future sites of the schools.
"We have several options, including property we are currently negotiating to purchase," Wyrosdick said.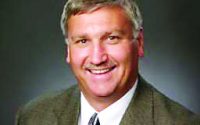 Wyrosdick spoke about student population growth and the "crucial" need to renew a half-cent local option sales tax designated for the district's capital projects.
That measure will be the sole vote on a special March 28 election ballot. Wyrosdick said the district pursued the special election ahead of the Janaury 2019 effective date of the potential renewal. "It gives us some times if the referendum fails," he said.
"It's not about building buildings, it's about educating students," Wyrosdick said, noting the student population increased by 920 students last school year and 120 new students enrolled during 2016 Christmas Break alone.
The Greater Navarre Area Chamber on Friday issued a statement supporting continuation of the tax.
"Top rated schools, world class educators and best-in-state learning environments all play a role in ensuring a vibrant future economy and educated workforce – the Greater Navarre Area Chamber of Commerce stands firmly in support of the capital outlay half-penny tax and the Santa Rosa District Schools," stated Chamber CEO Tony Alexander.
Voters initially approved the half cent tax for school capital outlay in 1998 and supported its renewal in 2008.
According to Wyrosdick, revenue generated by the tax provides roughly 33 percent of the district's annual capital outlay budget, which is used for new construction, maintenance, technology upgrades, remodeling and restoration, security cameras, HVAC, paving, playground equipment and other improvements.