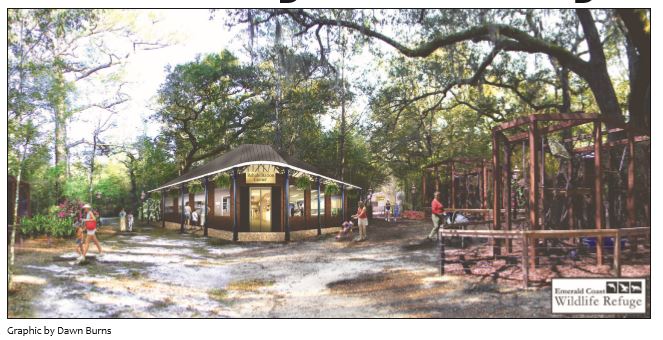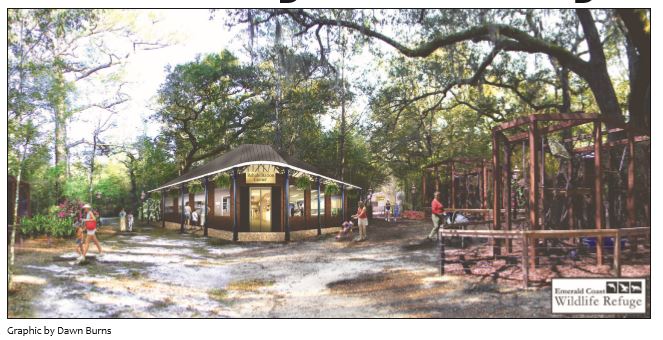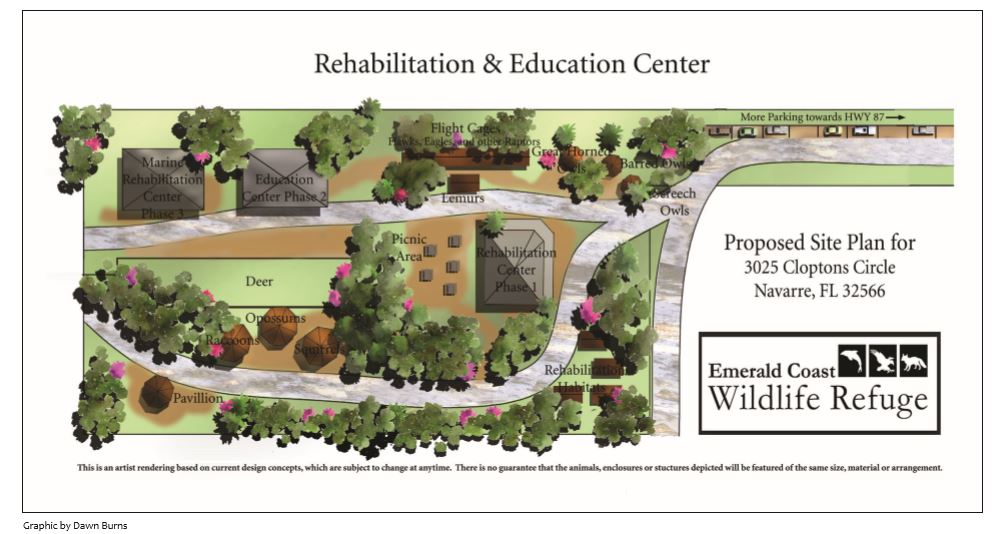 A mid-2018 project completion date has been set for the Emerald Coast Wildlife Refuge's new facility in Holley, and the first phase of development includes an Education and Visitors Center and Wildlife Rehabilitation and Treatment Center.
Santa Rosa County Commissioners in April 2017 unanimously approved rezoning to park land 2.2 acres of property on Highway 87 S which was donated to the Emerald Coast Wildlife Refuge, paving the way to begin development and fundraising efforts for the organization to build a new and permanent home in Santa Rosa County.
"The Refuge plans are centered around successfully treating animals with the goal of rehabilitating and releasing them back into the wild," Bill Andersen, president, said.
Per Andersen, last year the group treated over 1,500 animals from over 50 species, including bobcats, bald eagles, deer, raccoons, opossums, gopher tortoises, songbirds and osprey.
Additionally, the refuge rescued a female manatee and her young calf stranded in Perry, Florida.
The Refuge also has a robust educational program for local children and young adults, ranging from school classroom visits with animal ambassadors to intern programs with students from veterinarian programs at universities across the country.
"One of the main goals of Refuge educational efforts is to educate youth on the importance of our local native species, how to minimize human adverse impact on wildlife, and how to help protect that wildlife," Andersen said.
Through construction of the Education Center, the Refuge will for the first time have its own facility dedicated to educational efforts, enabling the group to host school visits, summer camps, public-interest wildlife lectures, and other educational events.
Toward that end, the organization last week hired local engineer Paul Semmes of Florida Building Consultants in Navarre to lead a team of engineers and architects in planning the site layout and facility design in conjunction with Refuge staff to ensure the purpose-built facilities can meet not only current and future needs but also state and local building codes.
Andersen has been seeking bids on the proposed facilities from local contractors. "We are actively seeking general contractors, tradesmen, and sponsors who want to help fund or help construct this facility for our community and the surrounding area," he said.
Since Refuge operations are completely donor funded, the organization is exploring cost-effective options for the facilities.
With planning efforts well underway, and a projected completion date of construction in mid-2018, the Refuge is actively seeking supporters for this project. Those interested in contributing to the Refuge's construction fund or tradesman willing to donate their skills can contact ECWR Director Susan Leveille at (850) 650-1880 or sleveille@ecwildliferefuge.com. Further information is available at www.emeraldcoastwildliferefuge.org.