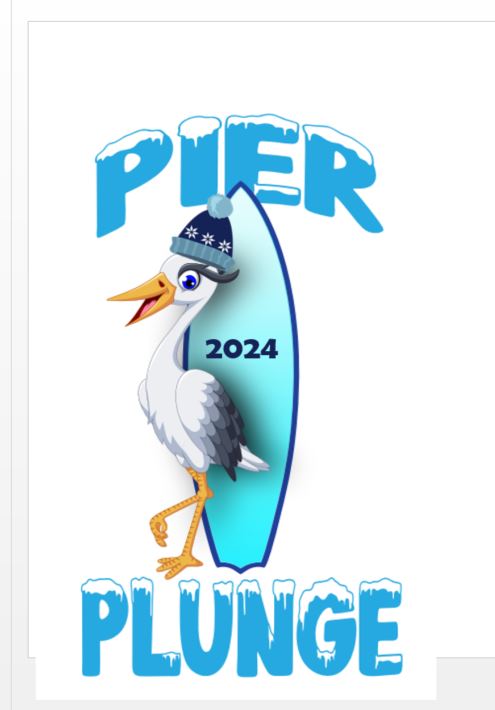 Navarre will celebrate its 100th Anniversary in 2025, and 2024 Pier Plunge organizers aim to help raise money toward the Centennial Celebration without charging those brave enough to take the New Year's Day plunge into the Gulf of Mexico.
The pier plunge will take place Monday, January 1, 2024 at 12 noon. Popular local band Tribe Zion will perform live, starting at 1 p.m. There will be no cost to plunge and no cover charge for the event. However, commemorative t-shirts will be on sale, and New Year's food and drink specials will be available.
Tamara and Ken Fountain, who own Windjammers on the Pier and operate Navarre Beach Pier, say they chose the Navarre Beach Area Chamber of Commerce's non-profit foundation's Centennial Celebration Committee as beneficiary of this year's event in order to celebrate Navarre's rich heritage. The couple plans to donate proceeds from t-shirt sales as well as make a contribution from Windjammers on the Pier.
"We're a coastal community connected by and to the water. Over the past century our quiet little beach town has grown into a tourist destination known for spectacular beaches, world-class fishing and the longest fishing pier on the Gulf of Mexico," Tamara said. "Navarre Beach lures people here to live, work, and play because it's such a special place. So I'm eager and honored to help our community share and celebrate its heritage throughout 2025."
Bart Pullum, whose grandfather was a founder of the Navarre Beach Area Chamber of Commerce, will officiate the 2024 Pier Plunge. He's one of about 10 volunteers working on the Chamber's Centennial Celebration.
Long-time chamber member Frankie Gibbs, who is also serving on the Centennial Celebration Committee, says the foundation is seeking donations and sponsorships to help toward the effort. "We're extremely excited and consider ourselves very fortunate," he said of being selected as the 2024 Pier Plunge beneficiary.
Gibbs went on to say the Centennial Celebration Committee is planning a March 2025 gala at St. Sylvester Church, a festival-style event on the mainland with live music and vendors as well as smaller events throughtout 2025. "We're trying to make sure to involve the entire community."