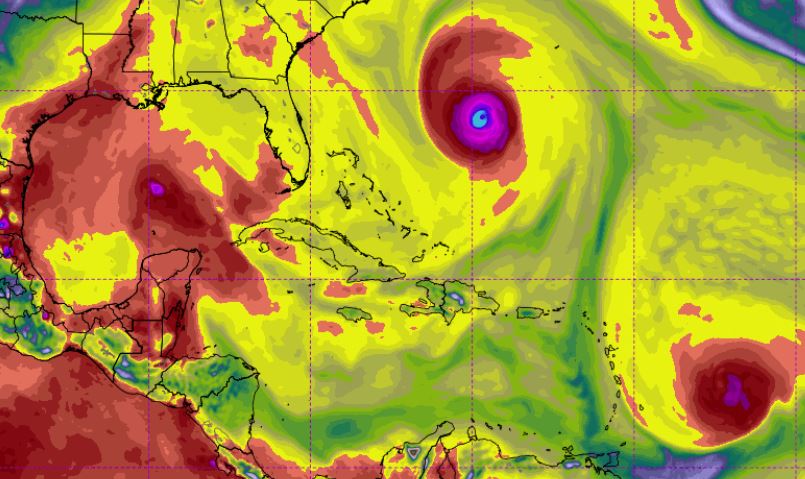 THIS TROPICAL WEATHER UPDATE SPONSORED BY CARPENTER INSURANCE

While most weather reports are circulating around Category 4 Hurricane Florence as it moves toward the Carolinas, a newly formed disturbance in the southeastern Gulf of Mexico is taking aim at the Texas Gulf Coast.
The National Hurricane Center in its 7 a.m. CDT tropical weather outlook reported that limited development is expected today but a tropical depression could form in the Gulf of Mexico Thursday or Friday.
"Interests across northeastern Mexico and the coasts of Texas and Louisiana should monitor the progress of this system," stated NHC Forecaster Lixion Avila.
Weathermodels.com Meteorologist Ryan Maue said the system could bring 3-5″ of rain to the Texas Gulf Coast.
Meanwhile, Category 4 Hurricane Florence barrels toward the Carolinas with sustained winds of 130 mph. Some fluctuation in strength is anticipated before landfall late this week, per NHC.
Currently a hurricane watch is in effect for Edisto Beach, South Carolina to the North Carolina-Virginia border.
"Florence is expected to be an extremely dangerous major hurricane through landfall," stated Forecaster Stacy Stewart in the NHC's 10 a.m. CDT advisory. "Life-threatening storm surge possible along the coasts of North and South Carolina."
Additionally, Hurricane Isaac has been downgraded to a Tropical Storm. The NHC's 11 a.m. CDT advisory reports that presently maximum sustained winds are 70 mph.
"On the forecast track Isaac is anticipated to move near or over the central Lesser Antilles on Thursday and move into the eastern Caribbean Sea Thursday night," stated NHC Forecaster Eric Blake.
Computer models indicates Isaac will make landfall in Central America.
Hurricane Helene is expected to lose strength after encountering cooler water as it continues to move northward in the Atlantic Ocean.