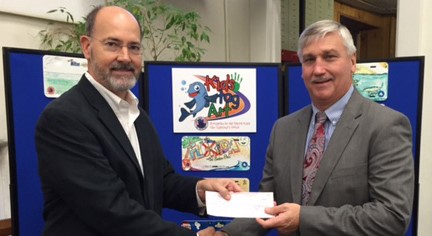 Santa Rosa County Tax Collector Stan Colie Nichols, left, makes the check presentation to Santa Rosa County Schools Superintendent Tim Wyrosdick
This past week, Stan Nichols had the honor of presenting the school board with a check just under $8,000.00 to be split between our county elementary schools, thanks to the Kids Tag Art program.
Each distribution will go to the 5th grade art program at the fourteen Santa Rosa Elementary Schools to be used to purchase art supplies, etc. The Tax Collector's office has raised more than $46,600 since the Kids Tag Art program inception in 2013.
Kids Tag Art is a school fundraising project for Santa Rosa County that inspires fifth grade art students to design their own specialty plate art, learning the practical application of license plate art to support worthy causes. This is fashioned after Florida's 100+ specialty license plates. Santa Rosa County fifth graders proudly create unique designs, and as a result, much needed funding is raised every year for classrooms and art supplies.
"I am proud to have developed and introduced this program to our educators here in Santa Rosa County. " says Nichols, "If you would like to become a corporate sponsor in our Kids Tag Art program, please contact us at 850.983.1800."