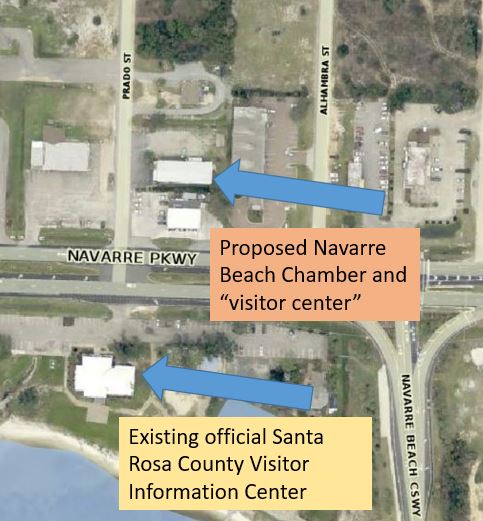 The Navarre Beach Area Chamber of Commerce this morning asked the Santa Rosa County Tourist Development Council for $120,000 to make a down payment on a building located across the street from the existing county Visitor Information Center in Navarre. But TDC Chairwoman Liz Horton described the move as competitive and instead directed the chamber to "go through the process" to formally request tourism funding.
"We are here this morning to ask for financial support," said Gail Acosta, chamber chairwoman, who provided a hand-drawn sketch of how the organization proposes to use office space in the roughly 3,700 square-foot building located behind TC's Front Porch in Navarre. "We will also be giving the Navarre (Beach) Chamber Foundation a home," she said, noting they would also rent out space to others on a non-monthly basis.
Acosta admitted tourism is not the sole focus of the organization but said the chamber plans to expand its scope of work and "revitalize" its tourism committee. She said the chamber plans to work with TDC staff to host workshops on topics such as how to use hashtags on social media. "We also want to host workshops on providing excellent customer service."
Santa Rosa County Tourist Development Director Julie Morgan told TDC members that to be able to get such funding, per Florida State Statutes, the county's tourism money would need to be spent toward something zoological or enhancing for tourists.
Acosta argued that the chamber would work to keep tourists here after the TDC gets tourists to the area and their office would serve as an additional information center.
"I see it as competition," Horton said, asking why the chamber didn't start a capital project campaign when they moved into temporary office space last March. "Do you think you should have started that process before," she asked.
Acosta said the organization was focused on "making our chamber solvent again" but is now ready to find a permanent home. "We don't normally put the cart before the horse…but this location is unbelievable," Acosta said.
"It would be perfect for any organization," Horton said.
Former Chamber CEO Tamara Fountain, whose in-laws own the building the chamber currently occupies, left her job at the chamber in March.
TDC Appointee Lynne Meyers expressed concern that providing money toward one chamber could set precedent to fund similar requests from other chambers.
Morgan said two previous $60,000 allocations to the Santa Rosa County Chamber's building campaign in the Milton/Pace area were made to provide a visitor information center in the north end of the county — not to provide an additional VIC in that area.
Acosta told the TDC that other parties are interested in the building, which she said is under contract for $550,000. "We are kicking off a capital campaign." So far, according to Acosta, the chamber has raised $50,000 toward the effort.
Morgan stated that any such funding request, even if granted, would take at least 60-90 days. "Government is just slow."
Santa Rosa County District 4 Commissioner Dave Piech said he needed to see numbers and advised Acosta to put together a plan with a timeline. "There is going to be a host of questions," he said.
"I don't think this is anything that needs to be brought forward," Horton said, moving to the next agenda item.