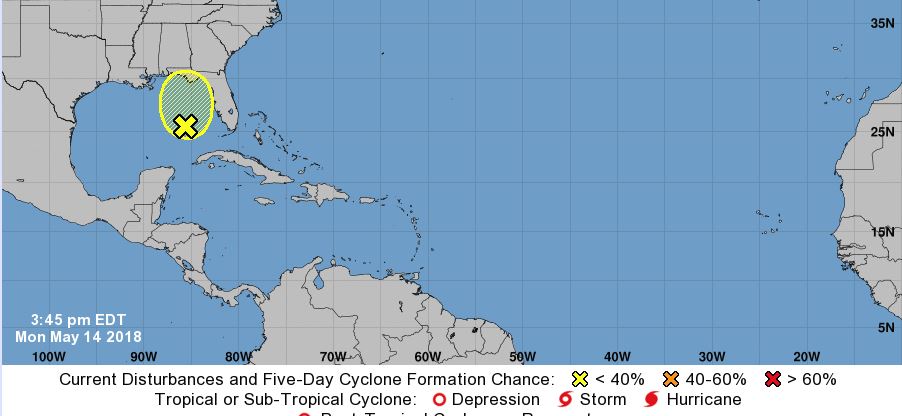 The National Hurricane Center's latest advisory hows that a low-pressure system has not shown signs of increased organization during the past 24 hours. 
However, Governor Rick Scott is urging Floridians to monitor the storm.

The 3:45 p.m. EDT update from NHC reduced the chance of formation over the next five days from 40 down to 30 percent.

"A deep-layer non-tropical area of low pressure located over the eastern Gulf of Mexico continues to produce widespread cloudiness, showers, and thunderstorms
across much of Florida and southeastern Georgia.  Although this system could still acquire some subtropical or tropical characteristics while it moves slowly
northward across the eastern Gulf of Mexico during the next few days, the low has not shown signs of increased organization during the past 24 hours.
Regardless of subtropical or tropical cyclone formation, this system will produce locally heavy rainfall and possible flash flooding across portions of 
Florida and the southeastern United States during the next few days," stated the NHC update.
Governor Scott was briefed this afternoon by state emergency management officials while traveling back to Florida from Israel.
"In Florida, we know how to prepare for storms, and even though hurricane season hasn't begun, we should never let our guard down. It's encouraging to know that the National Hurricane Center doesn't expect this system to become a tropical storm, but we should never underestimate the potential impact of severe weather. I urge every Floridian to take this opportunity to revisit their emergency plans. Also, Floridians should stay tuned to local news reports as this weather system moves north. As with any storm, our main concern is safety, and Floridians across the state should take the proper steps to keep themselves and each other safe," stated Governor Scott.
For additional updates, follow the Florida State Emergency Response Team on Facebook at www.Facebook.com/FloridaSERT and on Twitter at www.Twitter.com/FLSERT.