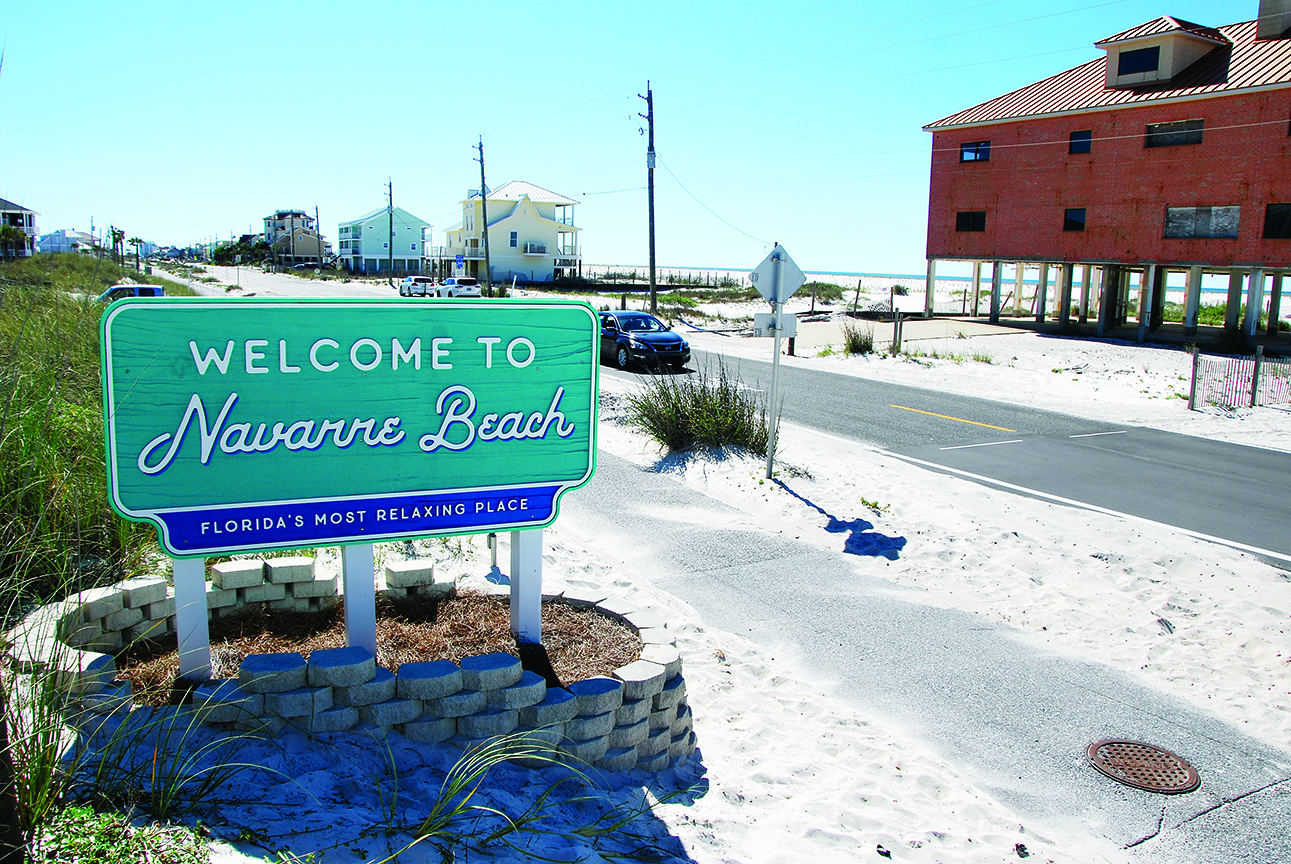 UPDATE #2: See our Facebook page for a link to Commissioner Williamson's video, explaining why, following, public outcry, he now plans to reinstall the iconic "Florida's Best Kept Secret" sign at the foot of Navarre Beach Bridge. The new "Florida's Most Relaxing Place" signs planned for that one location will instead be placed elsewhere. The other new signs have been installed, and the county will continue with it's new "Florida's Most Relaxing" branding in its advertising.
UPDATE #1: Some of the new permanent, three-dimensional signs were damaged during transport and quickly replaced by flat, temporary signs. However, due to a multitude of complaints regarding the quality of temporary signs, they were removed overnight and the higher-quality replacement signs will be installed as soon as possible after production is complete.
Just in time for Memorial Day weekend, traditional start of the local tourist season, new welcome signage is being installed around Navarre, replacing the former "Florida's Best Kept Secret" signs.

Record-breaking growth in county tourist tax revenue over the past decade supports the change – with income generated by overnight visitors to the county shooting up from $886,000 during the 2009 fiscal year to $2.4 million in 2016.

"We're certainly not 'Florida's Best Kept Secret'," said Tourist Development Director Julie Morgan, who said her office has been working the county's new tourism advertising agency, Paradise Advertising, to re-brand the area.

According to Morgan, they brand tested several taglines in research facilities located in the target market areas of Atlanta and Birmingham before selecting "Florida's Most Relaxing Place," which appears on the new signage and in new television and social media advertising.

Morgan said a $700,000 contract with the ad agency is funded through tourist tax revenues paid by overnight visitors and aimed at marketing non-local visitors.

"We market to out-of-state visitors," said Morgan.

Toward that end, earlier this week the county's tourist development council, an advisory group comprised of tourism stakeholders, such as hoteliers and beach property managers, voted to recommend county commissioners reduce funding some local events with tourist tax dollars.

The move came on the heels of the revelation last year that the Navarre Beach Chamber Foundation board member Sandi Kemp, owner of Sandpaper Marketing and Navarre Press, received $2,170 from the foundation's Navarre Beach Fishing Rodeo, which had applied for and received $10,000 through the TDC for its 2015 event.

However, the foundation's 2015 post-event report listed the number of hotel room nights generated by that event as "unknown."

Commission Chairman Rob Williamson stated at the time, "Tourism funds cannot be used as a pass-through to support a charity or business of your choosing."

The TDC this week recommended commissioners eliminate funding for the Navarre Beach Fishing Rodeo for 2017.

Additionally, the Navarre Beach Chamber's Scarecrows in the Park and Christmas in the Park were also among the list of local events rejected for funding recommendations.

Other events which received funding recommendations included the Navarre Beach Snowbirds Club, the Panhandle Butterfly House's Monarch Madness and the chamber foundation's Run for the Reef.