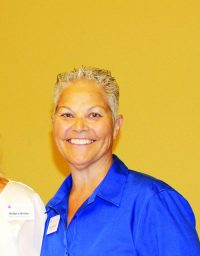 No agreement was reached last week in an amended settlement offer proposed by Beach Community Bank President & CEO Tony Hughes to the Navarre Beach Area Chamber of Commerce and its former CEO Judy Morehead.
"I was honestly very surprised and disappointed. We made a very fair offer, really just a retraction of the lies Judy told about me and what amounted to a reimbursement for my out of pocket attorney fees to date," Hughes told South Santa Rosa News.
Hughes served the Amended Proposal for Settlement on May 24 to both the Chamber and Morehead.
"My offer was good for 30 days and was to expire on Friday, June 23rd. Of course, that turned out to be the day the news broke that Judy had been indicted in Alabama back in March. I gave them an extra five days because I thought they may want to reconsider their position given the situation with Judy. They told us Wednesday (June 28) they were rejecting my offer," Hughes said.
Morehead resigned June 22 as the chamber's CEO, citing family medical issues.
However, it was also revealed by prosecutors June 20 that she, her husband and her son in May had turned themselves in to Henry County Jail after a grand jury indicated them in March on securities fraud charges in Alabama. The trio is currently out on bond and facing an October 2 trial.
Hughes filed his defamation lawsuit last year with the Santa Rosa County Clerk of Court for one count each of defamation of character against Morehead and the chamber and an additional count against the chamber of negligent supervision of Morehead.
"On April 6, 2016, Ms. Morehead made false accusations regarding Mr. Hughes to an unknown number of (the chamber's) board members. Ms. Morehead falsely asserted that Mr. Hughes had taken money out of (the Navarre Beach Area Chamber's) Military Affairs Council's bank account, held the funds personally and had been forced to return the funds upon their discovery," states Hughes' complaint for defamation.
The complaint states that one of Beach Community Bank's officers and a customer, who were also board members of the Navarre Beach Area Chamber of Commerce at the time, were present and heard Morehead's statements.
A motion filed by the Chamber and Morehead to dismiss Hughes' lawsuit was denied by Circuit Court Judge John Simon on December 5, 2016, according to public court records.
The chamber has not yet responded to South Santa Rosa News' June 23 request for information. But in a June 22 letter to its membership regarding the resignation quoted Morehead, stating, "This decision made was made with considerable personal reflection…My mother has dementia and I plan to take this time to be with her, as much as possible, during this stage of her life and help relieve some of the stress being felt by other family members." The statement also said that "In addition to her mother's condition, Morehead's father-in-law's health has deteriorated to a point where he is unable to care for himself, requiring her immediate attention."
Hughes said the next steps in his lawsuit are depositions. "The Chamber is taking my deposition later this month. We will also be taking depositions from all board members who were present at the April 6, 2016 meeting."
Additionally, Hughes said depositions are also planned for Morehead, current Chamber President Mike Sandler, former Chamber President Linda Fusco and Chamber Foundation Board Member Sandi Kemp.