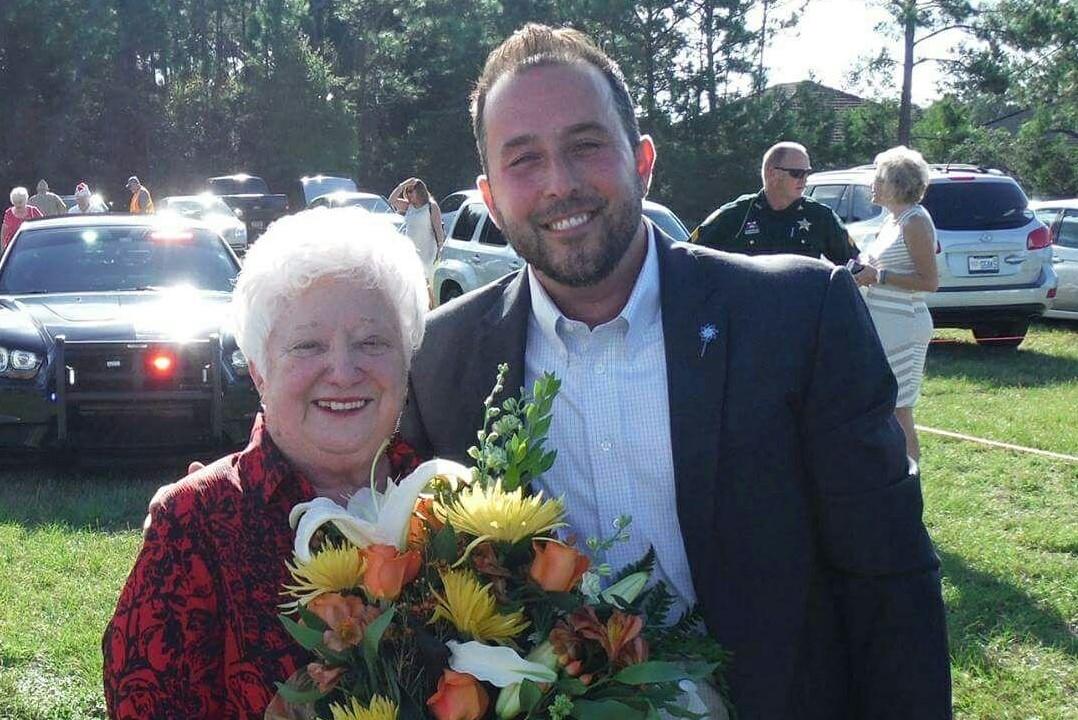 PHOTO: "Mama Shirley" pictured with Greater Navarre Area Chamber of Commerce CEO Tony Alexander, one of her many adopted sons.
Santa Rosa County Commission Chairman Rob Williamson has taken the first procedural step toward adding the late Shirley Lee Brown's name to the portion of U.S. 98 previously designated the Warren E. "Charlie" Brown Memorial Highway in honor of her late husband.
Williamson added the request to the Santa Rosa County Commission's January 6 board meeting agenda. If his fellow commissioners support the action, Florida Senator Doug Broxson and Florida Representative Jayer Williamson plan to co-sponsor the required legislation to bestow the rare honor.
"Shirley was one of those servant leaders who put the needs of others ahead of her own needs. She cannot be replaced," Commissioner Williamson said.
Newly elected Congressman Matt Gaetz told South Santa Rosa News "Northwest Florida lost a lioness…Shirley Brown represented the best among us because she reflected what was best within us. She was the most loving, faith-driven community builder we had."
At her memorial service last week, a standing-room-only crowd paid their respects to the beloved volunteer, who for more than three decades helped build up the Navarre community, serving as a warm, friendly ambassador for the area.
Brown was active with many local organizations, including the Navarre Senior Center, Navarre Garden Club, Santa Rosa County Clean Community System, Friends of the Navarre Library, First Baptist Church of Fort Walton Beach and Baptist Medical Park of Navarre's advisory board.
She also worked alongside her late husband of 55 years, who was a 27-year veteran of the U.S. Air Force, supporting the local military and business community.
Charlie passed away in 2011, and in 2014 the Florida Senate and House of Representatives renamed the stretch of U.S. 98 Rosewood Drive to Sunrise Drive in honor of his tireless dedication.
During their 55 years of marriage, Shirley and Charlie became a political powerhouse. The couple didn't have children of their own, so they adopted many elected and community leaders as their sons, including former Sheriff Wendell Hall and Beach Community Bank President Tony Hughes, who both provided loving eulogies of "Mama Shirley" at her funeral.
Another one of her adopted sons was Tony Alexander, CEO of Greater Navarre Area Chamber of Commerce, an organization which Shirley took great pride in helping start during the final months of her life.
"As she laid in the hospital bed, Shirley told me she knew the day would come when I regretted her adopting me as a son. I told Shirley that day would never come because I, like so many others, had adopted her as my Navarre Mama," said "There will never be another Shirley Lee Brown. Her selfless dedication to the Navarre Community lives on through the success of the many organizations she touched, new and old."