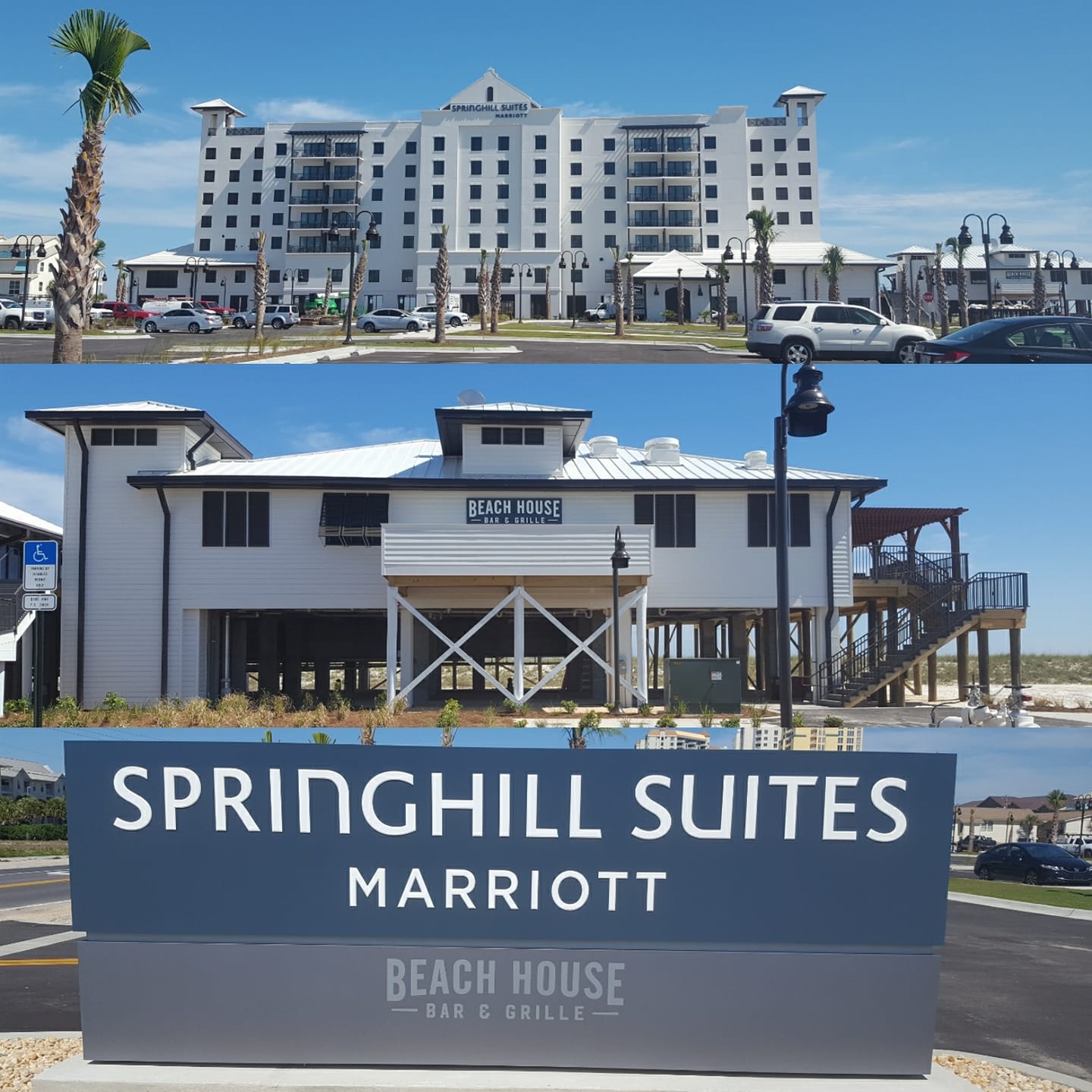 The area's business community is celebrating tomorrow's opening of the 161-room Springhill Suites on Navarre Beach. The hotel features a waterfront ball room, gift shop and "lazy river" pool overlooking the Gulf.
Additionally, there is a full-service restaurant adjacent to the hotel. Beach House Bar & Grille overlooks the Gulf and can accommodate 130 patrons.
Hotelier Marilyn Hess told South Santa Rosa News that former Commissioner Jim Melvin is "the reason" a hotel was rebuilt on the site, where the former Holiday Inn was razed in 2005 after sustaining damage during Hurricane Ivan in 2004.
"All I did was try to create a business-friendly environment," said Melvin, who said he simply urged Hess to consider rebuilding and helped her navigate county procedures.
Hess' company, Holi Corp, still faced several delays during construction of the new hotel, including redesign of the foundation, avoiding nesting shorebirds and removal of 400 pilings left from the former structure.
Although the delays pushed back the anticipated April 2017 opening, it's now full speed ahead. Sales Manager Angie Lee is already fielding inquiries about booking meeting spaces.
According to Lee, the hotel has roughly 3,100 square feet of meeting space. The 1,700-square-foot ballroom overlooks the Gulf and can be divided into three smaller spaces, and a 1,400-square-foot meeting area located opposite from the ball room can be divided into two smaller areas.
Greater Navarre Area Chamber of Commerce CEO Tony Alexander said the $30-million project will not only add 50 jobs to the local economy but also has the potential to increase the county's tourist tax revenue by $500,000 per year.
"Ms. Hess made a tremendous investment in Navarre Beach and Santa Rosa County and we should all be thankful. The hotel is a showpiece on the beach. It adds lodging options we desperately need and will have significant economic impact," said
Santa Rosa County Tourist Development Director Julie Morgan said the opening is a "huge turning point" for local tourism. "This hotel is great for our economy in general," she said, pointing out that other local businesses, such as gas stations, retail shops and restaurants, will also reap the benefits of having additional visitors at the beach.
OTHER BEACH DEVELOPMENTS
Local restauranteur Bob Benaquis is still moving forward with his vision for reopening the former Rocco's Restaurant on Navarre Beach. According to a May 31 email from Erskine Funderburg, an attorney representing the current facility leaseholder, a lease is being drafted.
Although there has been talk about development of a 23-acre parcel located on Gulf Boulevard directly across from the Springhill Suites hotel, listing agent Bobby Parrish says it's "premature" to discuss the potential transaction. "They're doing their due diligence," Parrish said of developers who are eyeing the property.