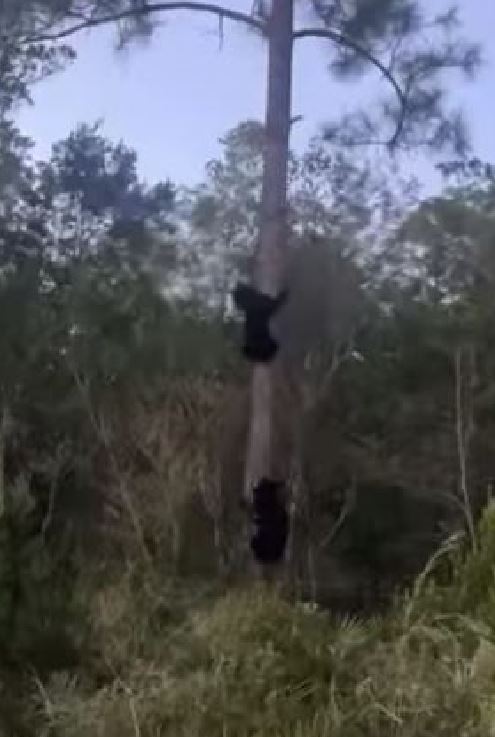 Recent photo of bear cubs on Gordon Evans Road in Holley. Residents along the roadway tell us they see this family of bears daily and have to deal with them wandering into their garages.
Problems with Florida Black Bears in Holley have been escalating in recent years, and the Florida Fish & Wildlife Conservation Commission doesn't seem to be taking the issue seriously.
A family living off Levi Street lost their beloved pet to a bear attack while the dog was relieving itself under the owners' supervision. The husband tried hard to save the small dog while his wife watched in horror. The family was so traumatized by the killing that they sold their home.
Another family living not far from Gordon Evans Road lost their goats to an attack by a family of bears a couple of years ago. "It was a blood bath," the father told South Santa Rosa News.
Holley residents question what FWC is going to do about it. But FWC doesn't seem to be taking complaints about fatal attacks seriously.
Instead of taking action, like removing a family of bears who have been entering garages in residential homes off Gordon Evans Road, the agency just likes to offer "tips" on living with bears, such as secure food, grills and garbage.
FWC once against distributed their "Be Bearwise" tips on September 14, stating:
"While black bears generally are not aggressive, they can injure people and pets. Female bears with cubs can be particularly defensive and protective of their offspring. Dogs can trigger defensive behaviors from bears; 60% of incidents where bears injured people in Florida involved dogs. When walking dogs, keep them close to you – preferably on a non-retractable leash and be aware of your surroundings. Before letting your dog out at night, flip lights on and off and bang on the door to give bears and other wildlife a chance to flee."
Another FWC "tip" is for children who have a long walk to and from a bus stop to "carry a whistle or small air horn with them in order to scare a bear away." Is it going to take a small child getting mauled or killed for FWC to finally take Holley's bear problem seriously?
I have a "tip" for FWC. START TAKING FATAL ATTACKS SERIOUSLY! Relocate bears who are wandering into garages. Get out from behind your desk and do something.
Have you had a problematic bear encounter or do the fatal attacks concern you? Call FWC Regional Director Jon Creamer at 850-265-3676 and ask him to start taking action other than suggesting "tips."