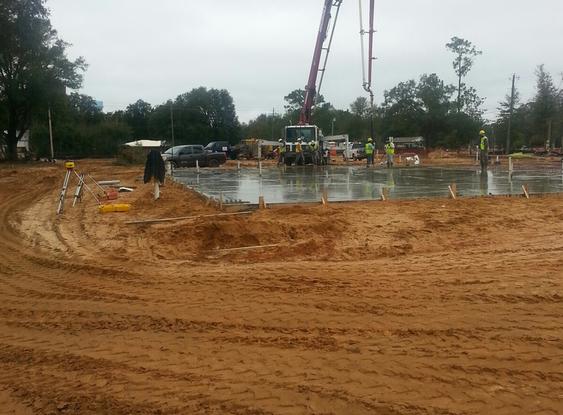 We currently own and operate dirt pits, aka barrow pits, in Santa Rosa County and we and we are hoping to educate the public on the differences between dirt pits and landfills. The differences being dirt pits are where dirt, sand, and clay are dug from the ground to be used in everything from yard fill to foundation fill for homes and businesses, to base material for roadbeds. It is a staple of every type of construction and, therefore, a necessity to our economy. Landfills, on the other hand, are where land is being used to receive waste, whether it be household, construction, medical, or the likes. These types of pits are necessary as well but come with a whole different set of rules and regulations (as they should) because of the potential to negatively impact our environment.
However, in recent years, these two very different operations have become clumped together. We are seeking to set the record straight on a couple of very important points.
The act of digging dirt, sand, and gravel from the earth poses no threat to the environment or groundwater – there are no EPA, DEP, or Water Management studies that indicate there is.
Reclaiming the land after it has been dug out by backfilling it with land debris (which is trees, leaves, limbs, grass & mulch) is not a threat to the environment or groundwater. Again, there are no studies by our environmental protection agencies that show cause for concern. In fact, common sense would tell you that just the opposite is true. If all dirt pits were allowed to backfill their property with land clearing debris, many acres would be reclaimed for future land use.
We ask that the people here in Santa Rosa County, as well as surrounding counties, think this through for themselves and support those businesses that support you by employing many local families, pay a great deal in property taxes, sponsor youth sports, and help build a more beautiful northwest Florida.
Layers of Protection & Inspections
Our land clearing debris disposal pit is not open to the public, it is under fence and gated with locks. There is not opportunity for hazardous waste to be dumped there.
Dirt pits, aka barrow pits, are regulated by the county in which they are located and by the state DEP.
First, we are required to do continuing education, called Spotters Classes. The course is designed to educate owners and employees on what items are and are not accepted at their facility.
Secondly, all sites to be cleared by our company are visited prior to work beginning. This would be the first opportunity for garbage to be spotted. If garbage is onsite, it would be noted and considered for its cost of disposal to be included in our price to do the job.
Third, when work begins on a land clearing job, the employee has been educated on what is and is not considered land clearing debris and will separate on site any items that need to go to the dump (landfill).
Lastly, if somehow unacceptable debris makes it to our facility, it is easily "spotted" because every load brought in is "pushed" by an educated employee. The item(s) would then be placed aside to be disposed of properly.
Again, it is our position that dirt pits and the backfilling of them with trees, limbs, leaves, and the dirt that comes from clearing land should not even be included in Wellfield Protection Study's list of "potential" threats to underground water; and actually, was not originally included, but was hastily added in order to silence a few activists.
For the record, we have lived (as well as our son, granddaughters, and our parents) in the area now labeled as Wellfield Protection Area, some of us all our lives, others most of our lives. We would never intentionally sacrifice our ground water for any reason.
We truly believe when given the facts of the differences between landfills and dirt pits, garbage and land debris, the citizens of Santa Rosa County will realize this issue has been used as a political ploy much more than a legitimate concern over the operations of dirt pits. It is very disheartening to see the level of personal attacks on local leaders and local businessmen over the "created potential" of groundwater contamination with no history, no EPA or DEP studies, no scientific evidence (as it pertains to dirt (barrow) pits and backfilling them with land debris) to back such claims up.
There is a need to protect our groundwater, but there is a greater need to keep small groups from deciding what is and is not good for Santa Rosa County. We would like to see our commissioners send out notices to businesses asking for their input on all issues before them so that they can hear or read all the pros and cons before making a decision.
Thank you for your consideration.
Three Trades Consulting
Milton, Florida