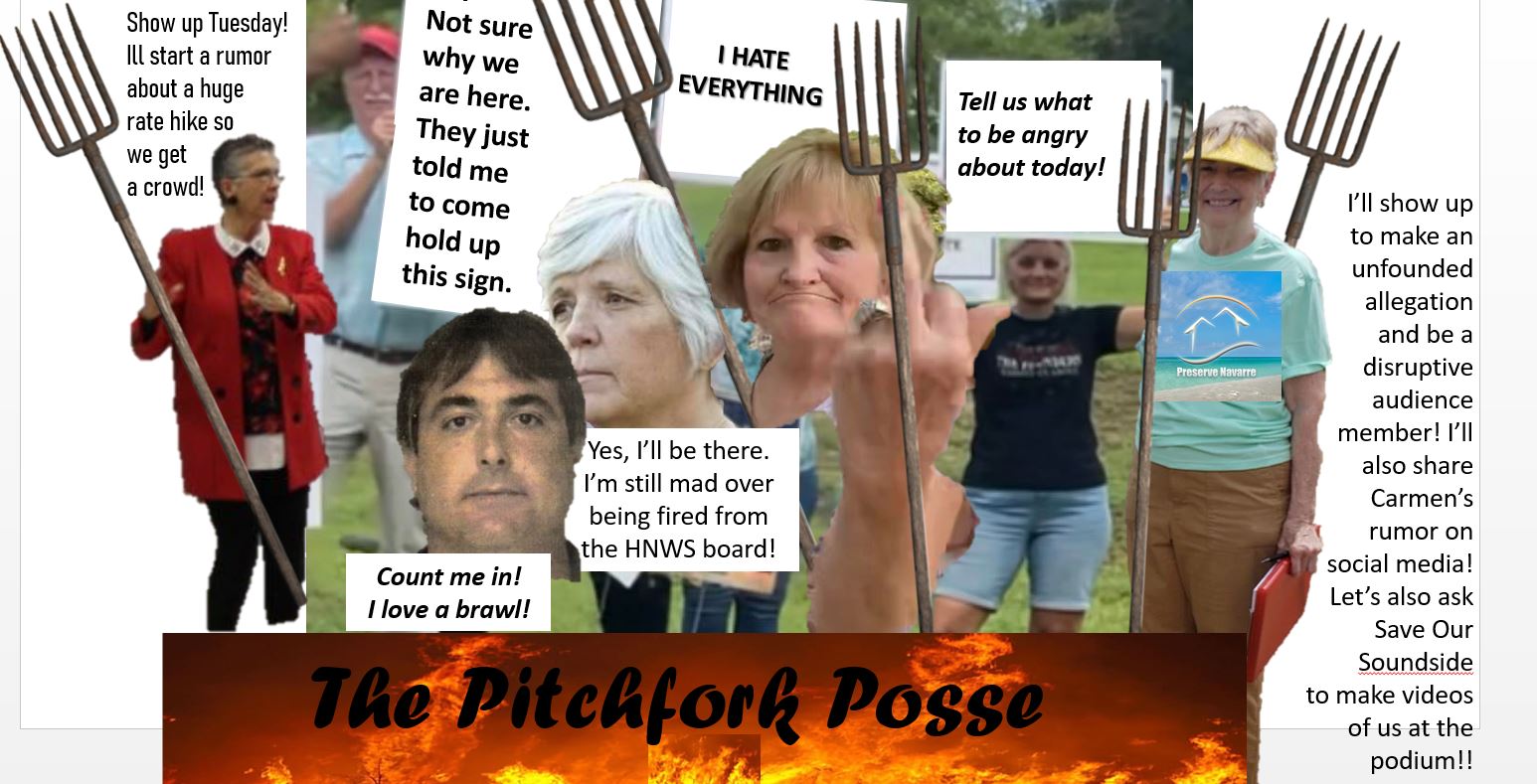 Carmen Reynolds, a Navarre resident pictured in the top left of this satirical graphic, was recently claiming via social media that a 28-47% rate hike was expected to be proposed during Tuesday night's Holley-Navarre Water System board meeting.
A resident of Treasure Street went up to the public speaking podium during the meeting and told the board that many of the attendees showed up after hearing the allegation that a significant rate increase would be proposed for a vote.
"Regarding the (alleged) rate increase that has been floating around, that has absolutely no basis. I don't know who came up with that and who is sharing false information like that, but that number has never even been discussed by this board," said HNWS Director Mark Miller.
Miller went on to say the utility is doing a rate analysis and that due to increased costs there could potentially be a rate increase next year. "But there has been no discussion anywhere near a (47%) increase," Miller said.
The false claim about a proposed 28-47% rate hike was also shared on social media by Preserve Navarre, which for the second HNWS meeting in a row had representatives behaving disruptively, shouting from the audience.
The HNWS Board Chairman on Tuesday called down Chuck Pohlmann for shouting out from the rear of the meeting room. Additionally, Preserve Navarre Vice President Nancy Forester was talking so loudly across the front two rows that those around her were unable to hear important board discussion.
While healthy discourse is a good and necessary thing, when it crosses the line into rude, disruptive behavior it should be nipped in the bud.
Community members who are easily triggered by someone who is not an official representative of the utility should confirm what they read or hear via social media – because it's often inaccurate. Preserve Navarre has established a pattern of spreading such misinformation. But now that group's members' poor behavior, which was mostly taking place online, is now surfacing in person.
Jersey Jerry Foster was the last HNWS member to address the board during public forum. Foster thanked HNWS and went on to say the disgraceful outbursts which took place during the meeting should be "gaveled." We couldn't agree more.
Furthermore, perhaps it's time for the HNWS to make its meetings open for members only. When there is a pitchfork posse, always looking to be involved in a fight, driving down from Milton and Pace to attend and disrupt meetings for a privately owned utility in which they are not members, maybe it's time for a check-in table. Let them watch online so that they don't disrupt the paid members with their lack of decorum.