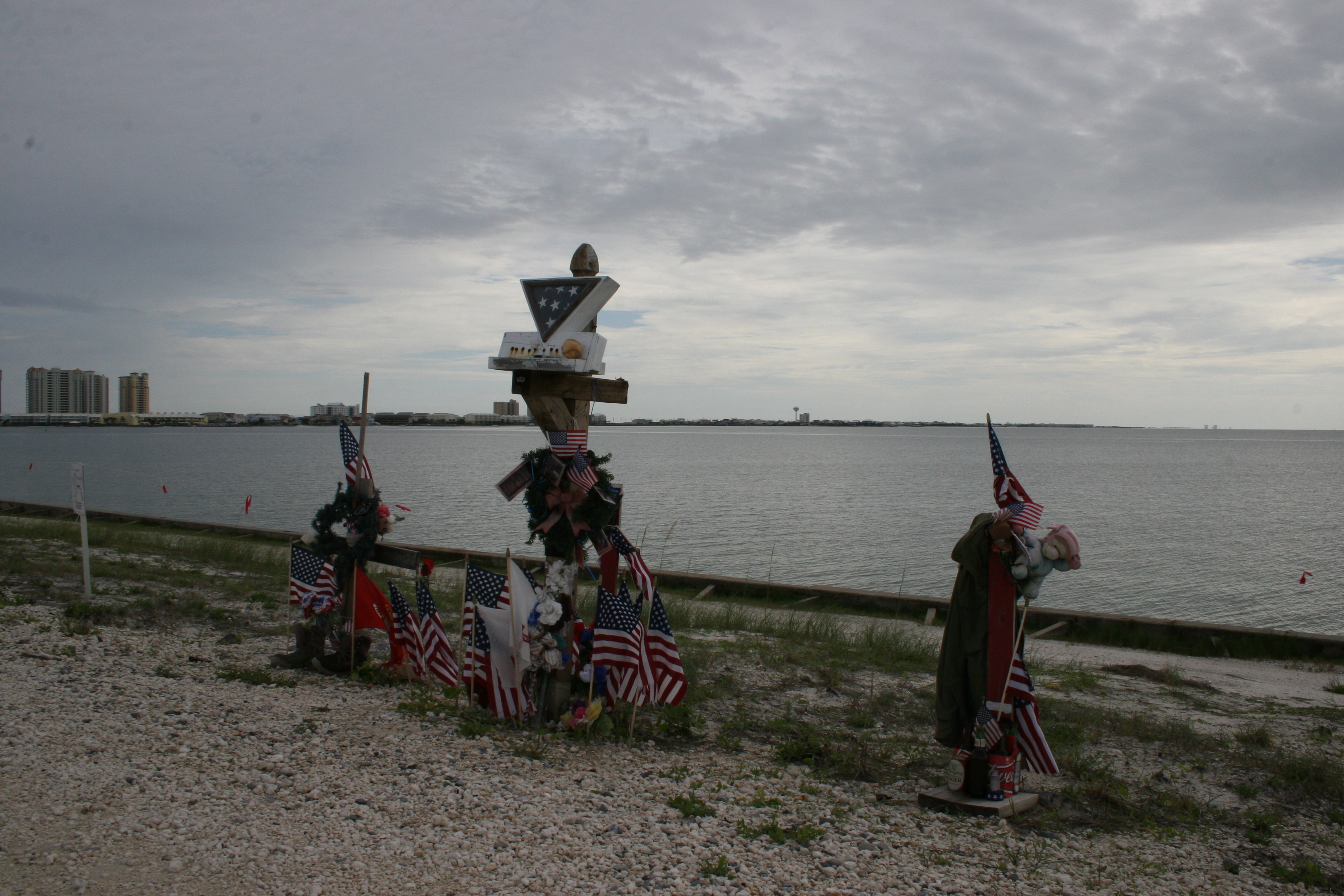 Charges have not been filed against a man who told cops he felt he "had the right to remove" a makeshift memorial on Navarre Beach Causeway honoring eleven servicemen who died during the 2015 Black Hawk helicopter crash in Santa Rosa Sound.
"I believed it has been there too long," Charles Michael Randall, 72, of the 2200 block of Prytania Circle in Navarre, told police, admitting he had removed one of the memorial's markers.
An eyewitness stopped a Santa Rosa County Sheriff's Office deputy Monday morning, stating she took photos and recorded the tag number of a male subject whom she observed "tearing and throwing" memorial items into an area roped off for nesting shorebirds.
In a sworn written statement, the witness described a green newer model minivan near the site and a male suspect later identified as Randall. A female later identified as Randall's daughter, Kimberly, was observed inside the van.
A passerby also provided a sworn statement, detailing how she and two friends were walking past the memorial and observed all three memorial markers and flags were knocked down and beer bottles broken and thrown across sand approximately 30 feet into the protected shorebird nesting area.
According to the statement, the friends did their best to put the markers and items back in place.
Deputies observed a broken glass candle holder and broken beer bottles broken with the neck of the bottles inside the roped off nesting area approximately 30 feet away.
Additionally, an officer reported seeing a thick glass mug with a laminated photo of a young boy inside which had also been thrown in the same area. "I observed two black beaded necklaces and a baseball thrown to the edge of the sea wall," stated the officer, who took photos and collected evidence.
The offense report states the necklaces, mug with photo and baseball were placed with the memorial and the broken glass was thrown away.
Officers drove to Randall's residence, and he admitted to being on Navarre Beach earlier that day.
"I felt it was within my rights to remove the memorial as I believed it has been there too long," Randall told police.
When asked about throwing items into the protected shorebird nesting area, officers report that Randall said the "only thing" he did was remove one of the markers by pulling it up and placing it down on the ground.
Randall told police he is a retired U.S. Army veteran.
An officer also spoke to Randall's daughter, Kimberly, who reported she was with her father during the incident. "She advised she was inside the van and she had not thrown or broken any items at the memorial," stated the report.
Officers forwarded the incident information to the Florida Fish & Wildlife Conservation Commission and the First Judicial Circuit State Attorney's Office. But as of June 14 no charges had been filed.
A permanent monument honoring the Army UH-60 Black Hawk helicopter that fatally crashed in heavy fog during a March 10, 2015 night-time training mission has been erected in Navarre Park. Seven Marines and a four-man crew from the National Guard lost their lives in the crash.