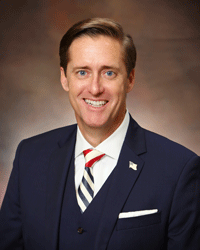 Free summer concerts are slated to continue in Navarre, but due to public safety concerns they will no longer take place at Navarre Park on U.S. 98. Instead the series will be moved to Navarre Beach — and different organizations will likely host the events in 2017 and 2018.
The move ignited a heated discussion between Santa Rosa County Commission Chairman Rob Williamson and Navarre Beach Chamber CEO Judy Morehead, who repeatedly called Williamson a "liar" during yesterday's commission meeting.
Williamson expressed frustration with the chamber for "stubbornly" refusing to relocate a summer concert series, which for roughly ten years has taken place at Navarre Park.
Following last year's concerts, Santa Rosa County Sheriff Bob Johnson and other officials informed the chamber that Navarre Park was no longer a suitable concert venue due to safety concerns over pedestrians crossing the busy U.S. 98 corridor.
But according to Williamson, the Navarre Beach Chamber up to a few weeks ago was still pursuing Navarre Park as a 2017 concert venue.
"I began coming to you last year, saying what's the plan for moving the event," he said, noting he offered to help explore other county-owned venues. "At no time did you want to do that."
"You're a liar…you're a liar…you're a liar," Morehead said, interrupting Williamson.
Williamson said the "only reason" the chamber reapplied Feb. 14 to relocate the 2017 concert series to the beach was because the newly formed Greater Navarre Area Chamber of Commerce applied Feb. 10 to host a 2018 summer concert series on Navarre Beach.
"You and your board did not move the event. Accept some responsibility…instead of trying to blame me or the board or someone else. Own it. When I make a mistake I own it," Williamson told Morehead.
Although Commissioner Sam Parker initially expressed concern about two chambers vying to host the same concert series in different years, he stated the "competition" could have a positive outcome if it produced better events which lure in more tourists. Parker also suggested the county develop a long-term policy for reserving county parks.
Ultimately commissioners approved moving forward to Thursday's agenda a vote to approve a 2017 Gulf side concert series hosted by the Navarre Beach Chamber and a 2018 Sound side concert series hosted by the Greater Navarre Area Chamber.
Other items moved forward to Thursday's commission agenda include:
A request by St. Sylvester Catholic Church to use county right-of-way for a Flag Day 5K Run/Walk the morning of June 10, 2017;
Approving a $115,000 per year contract for the newly established Assistant County Administrator Position offered to Dan Schebler;
Sponsorship of the Santa Rosa Education Foundation Golden Apple Awards Dinner;
Acceptance of a $250,000 agreement with the Florida Department of Transportation for a Hwy. 87 S landscape project;
Extending the contract with Atkins North America for that firm to perform activities related to the 2010 Deepwater Horizon Oil Spill;
Eliminating Downtown Milton as a potential site for a future county courthouse.
Replays of Monday's commission meeting are available at www.santarosa.fl.gov. Click on the calendar, and select the 9 a.m. commission meeting. Thursday's meeting starts at 9 a.m. at the County Administrative Complex, located at 6495 Caroline Street in Milton.