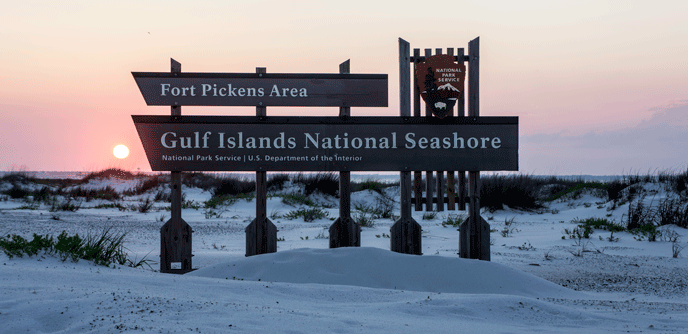 Gulf Islands National Seashore will welcome Subaru / Leave No Trace Traveling Trainers and Ocean Hour for a special day of learning about outdoor ethics and citizen science.
The event will take place on Saturday, November 17, from 10 a.m. to 2 p.m. at the Fort Pickens Discovery Center.
The family friendly event will include workshops and presentations on outdoor ethics and a beach cleanup. Outdoor enthusiasts of all experience levels will have the opportunity to learn the latest Leave No Trace techniques and practices, along with tools and tips for teaching friends and family. Throughout the day tables and booths at the Fort Pickens Discovery Center will offer information about citizen science, outdoor ethics and community engagement. Park rangers will offer special Junior Ranger activities for children.
There will also be special offers on reusable items for participants in the day's activities at the Fort Pickens Bookstore, to help guests on their way to reducing their footprint on the outdoor world.
The Fort Pickens Discovery Center is the heart of the Fort Pickens historic district, just steps away from the historic fort. The center is open daily from 9 a.m. to 4:30 p.m. and offers interactive exhibits on a wide range of park topics. It is a perfect place to start or end a visit to the area with parking and restrooms nearby.
The Fort Pickens Bookstore is located within the sally port (main entrance) to historic Fort Pickens. The store is operated by Eastern National, a cooperating association with the National Park Service. The bookstore is open daily from 9 a.m. to 4:30 p.m. and revenues from the sale of educational and keepsake items within the store provide funding for programs and events at the national seashore.