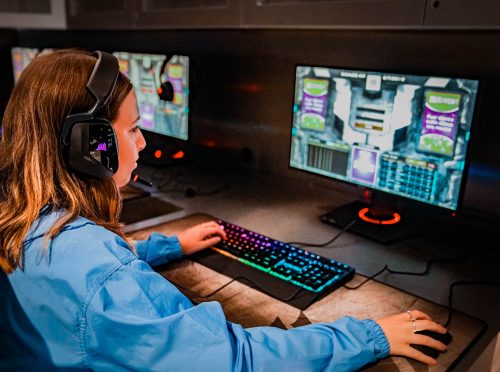 Looking for the best gaming around? OWA's newest entertainment attraction is the place to be! Clash eSports Center (Clash) is a high-end video gaming facility located within Downtown OWA—the complex's entertainment, dining, and shopping area.
Inside the center, visitors will find 26 state-of-the-art PCs, equipped with Corsair chairs, headsets, and everything else needed to complete the ultimate video gaming experience. Grab a group of friends and enjoy Xbox or Nintendo Switch play in Clash's "living room" setup. From cozy chairs to cup holders, it's just like being at home—except with larger TVs, more than 50 total games, and the competitive eSports atmosphere!
"Clash eSports Center has allowed OWA to tap into the ever-growing eSports space," said Kristin Hellmich, OWA's Director of Marketing/PR. "This addition will continue to make OWA the area's go-to entertainment destination. With so many games and affordable pricing, it's a fun and safe place for kids, teens and adults to have fun."
Clash kicks off its Grand Opening party on Saturday, Aug. 17 with free food and drinks, plenty of game time, and an epic tournament with Clint Comer. Known on social media as "Clintus McGintus," he is a Twitch broadcaster and YouTuber with more than 45,000 followers and 760,000 subscribers, respectively.
In addition to the Grand Opening festivities on Aug. 17, Clash will be hosting an Apex Legends Tournament with Clintus. Qualifying Rounds for the tournament will start the day before on Friday, Aug. 16. The Top 24 participants in Friday's Qualifiers will move onto the Finals, where they will compete against Clintus and the rest of the qualifying players during Saturday's Grand Opening.
Tournament participation is open to the public, pre-registration is $10.00 (taxes/fees included) and available online at VisitOWA.com through Aug. 15. Day-of registration on Aug. 16 is $20.00 (taxes/fees included) per player and subject to availability. Prizes for the tournament are: 1st place – $300; 2nd place – $150; 3rd place – $50.
Saturday's Finals will begin at 11am inside Clash. Guests are encouraged to come out and watch, hang out, or even hop on a console and play a few games, too! Prices for Clash's PCs and Playstation 4s start at just $8.00 for 1 hour. Living room and console play starts at $15 an hour for a group. More information on Clash, its Grand Opening, or how to sign up for the Apex Legends Tournament can be found at VisitOWA.com/Events and ClasheSportsCenter.com.