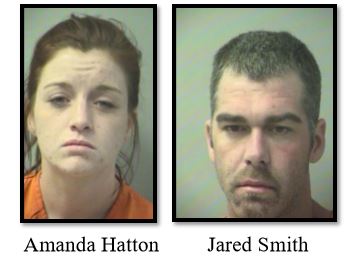 Deputies with the Okaloosa County Sheriff's Office found a man and woman passed out in a truck at a gas pump in Crestview last night, while a three year old child had syringes, methamphetamine, and Oxycodone within easy reach.
23-year old Amanda Hatton of Holt and 31-year old Jared Smith of Baker are charged with child neglect, possession of a controlled substance without a prescription, and possession of drug paraphernalia. Member of the OCSO Street Crimes Unit were on patrol in the Crestview area when they spotted a white pickup truck with Mississippi tags that had been the subject of an earlier "Attempt to Identify" bulletin in reference to a theft.
The truck was parked at a gas pump at a Tom Thumb store, 1992 West James Lee Boulevard.
An OCSO Sgt. spotted Smith and Hatton unresponsive in the front seats with drugs and uncapped needles on the center console in plain view.
A search of the truck turned up methamphetamine and a powder form of Oxycodone. A three year old child was sleeping in the back seat, within easy reach of the items.
Deputies say the pair had been passed out for nearly two hours.