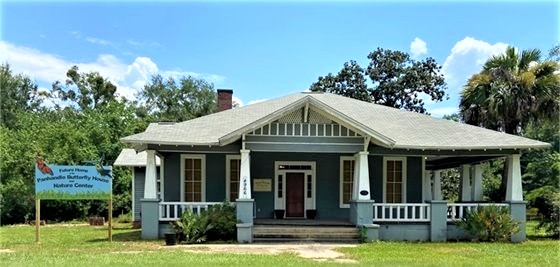 The Panhandle Butterfly House has relocated to a nine-acre property at 4966 Henry St. in Milton. The property is home to the historic Jones House which has been restored to commercial standards by the previous owner, the Blackwater River Foundation. The larger building and property will allow many more visitors, schoolchildren and tourists to connect with Florida's native butterflies and the care they need to thrive.
"We are reaching out to individuals and businesses to help us move forward," said Residential Horticulture Agent Mary Salinas. "The more help we have, the sooner we can be open and ready to serve our community."
Phase one improvements include:
– Funding and constructing the 1800 square foot vivarium (butterfly enclosure)
– Gardens and landscaping
– Enhancements to the Jones House
– Courtyard, entry, exit and parking area
Volunteers are needed for tree/shrub removal, landscaping, minor brick work, minor building repairs, refinishing of benches, and painting.
Donate through GoFundMe or send a check payable to the Panhandle Butterfly House to 6758 Park Street, Milton FL 32570. For information on becoming a volunteer or contributor, contact Mary Salinas, 850-623-3868. For information on the relocation, contact Jenny Weber.