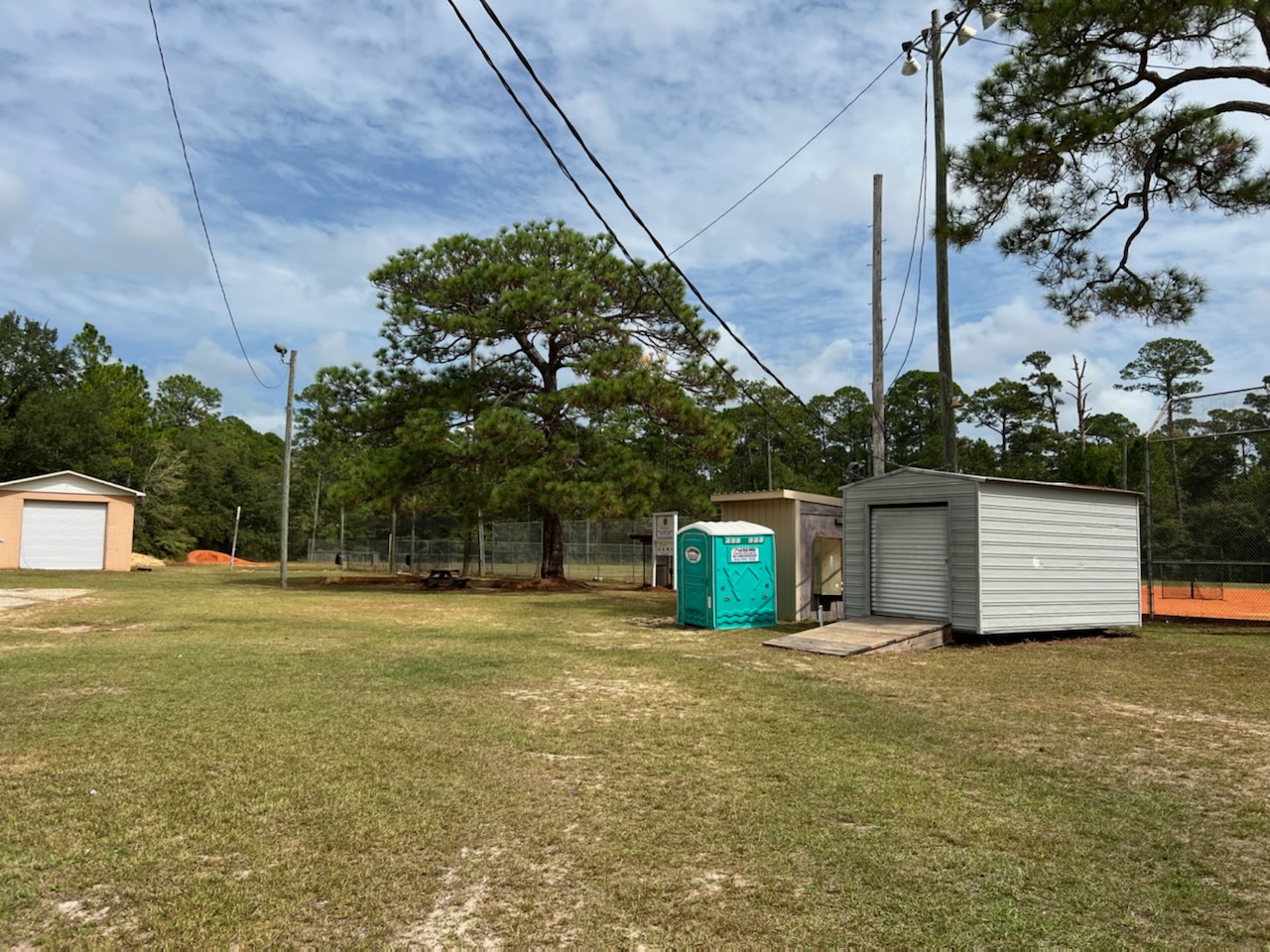 Holley Ball Park on Bob Tolbert Road is named after the late Lenny James Tolbert. Recently Holley-Navarre Fire District signed a Quit Claim Deed, reverting a portion of the park land containing a cinder-block storage building, back over the county. ADA bathrooms are planned for the park, which currently utilizes one portable toilet. Photo by Romi White.
Santa Rosa County District 4 Commissioner Ray Eddington, who represents Navarre, has been working on park improvements, including new amenities such as ADA bathrooms, a pump park and pickle ball courts.
Eddington has been working with senior county staff, a local property owner and others to make the improvements at little to no cost for taxpayers, utilizing donations and grant funding when possible.
According to Eddington, Santa Rosa County Commissioners recently acquired a small parcel of land at Holley Ball Park on Bob Tolbert Road. That small strip of land adjacent to the ball field contains a cinder-block storage building. He said there are also plans for construction of ADA bathrooms at the park.
At nearby Holley Boat Ramp, which is called the "steep ramp" by locals, public safety improvements, including a lighted parking lot, have been planned for years but are finally coming to fruition. Those improvements will be discussed at the county's October 12 zoning board and October 26 rezoning meetings.
Additionally, Eddington has been in talks with a local real estate broker about the possibility of a conservation land donation near the county-owned sports park on High School Boulevard, which is managed by Navarre Youth Sports Association facilities. That new park area could potential be the future site of a pump park and pickle ball courts.
"I'm open to meeting with anyone," Eddington says, encouraging the public to reach out to share their concerns or wishes with him.
Eddington hosts regular office hours from 8 a.m. until 4:30 p.m. every Tuesday at the Navarre Visitor's Center, located at 8543 Navarre Parkway. He can also be reached via district4@santarosa.fl.gov.