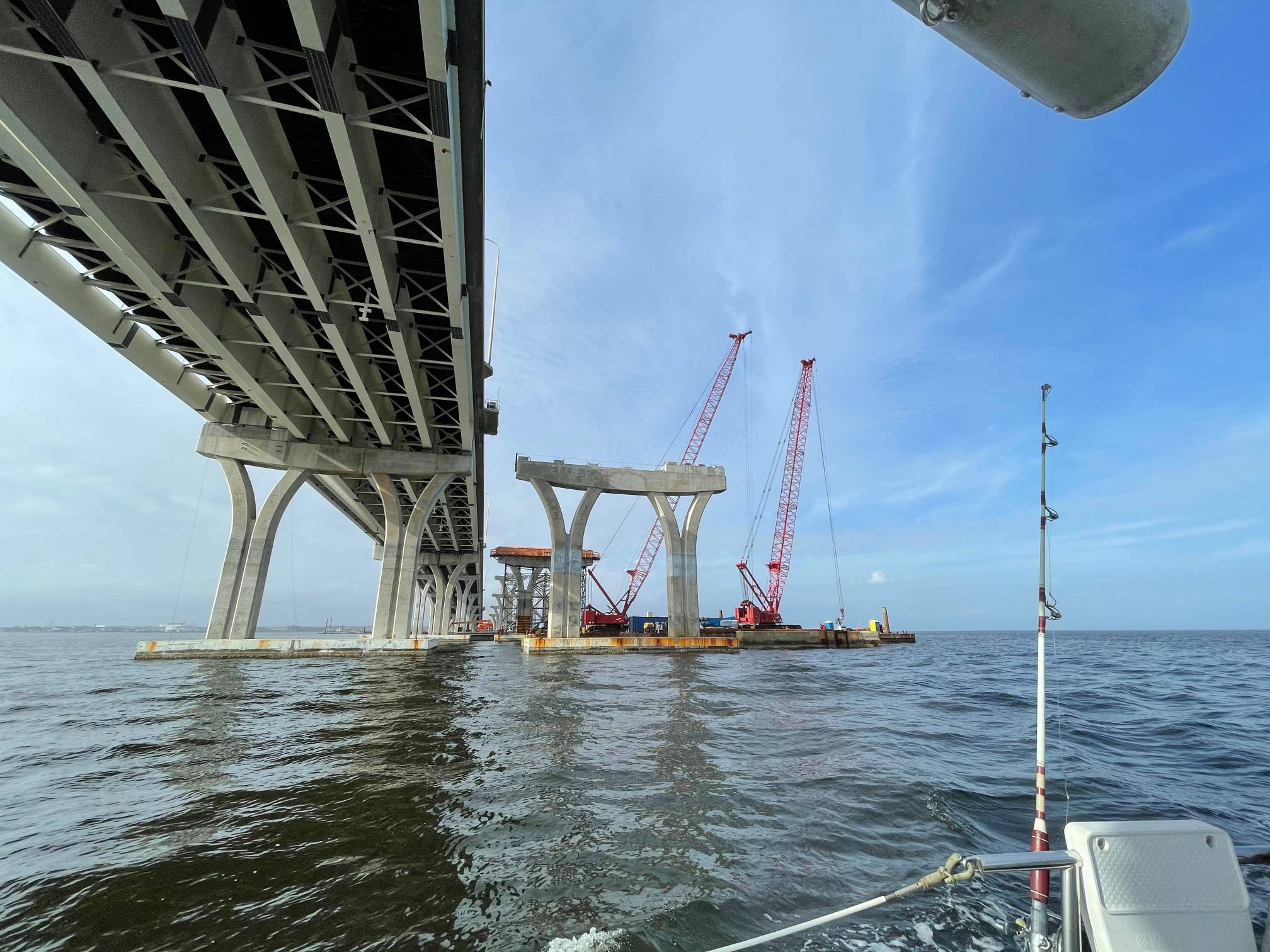 Photo taken February 28 by Jon Becker
Despite Florida Department of Transportation Secretary Kevin J. Thibault, P.E. hosting a recent press conference to confirm the Pensacola Bay Bridge would reopen to two lanes of reduced speed traffic by the end of March, it will not reopen to any traffic this month and possibly not at all before Memorial Day, as confirmed by Florida Senator Doug Broxson.
"I'm very upset," Broxson told South Santa Rosa News. "This is just a delay to some people but to others its the end of their business. They can't make it through spring without being open."
During a conference call this afternoon with FDOT, Broxson was informed that during demolition a pier with a fissure was missed and that while placing a trophy piece on top of it, that pier pivoted.
"Now they have to go in, remove the pier and re-drill the piling," he said, pointing out that he made it clear to FDOT that he was extremely upset about the situation. "I'm sure they're not happy with our response."
Broxson said FDOT would not provide a new date for reopening the bridge to any limited traffic.
"It worries me that they won't tell us," Broxson said. "They did say four lanes would reopen by Memorial Day."
The City of Gulf Breeze issued a statement on the matter: Today's update by FDOT regarding a delayed reopening of the Pensacola Bay Bridge is disheartening to the City as we sympathize with the continued impacts on our businesses and residents; however, we understand FDOT's commitment to safety must be of greatest priority.
"FDOT has assured us that the Memorial Day opening is still on track," said Mayor Cherry Fitch. "We are hopeful that one of the Pensacola Ferries will be back in operation next week and that dock repairs on Pensacola Beach will be complete soon, allowing for some relief."
The bridge has been closed since September 15 due to damage caused when loose barges belonging to Skanska, the contractor building the new bridge, struck the span during Hurricane Sally.
Following is today's update from FDOT:
For Immediate Release
March 4, 2021
Contact: Ian Satter
FDOT's March 4 Updates on the Pensacola Bay Bridge Recovery Efforts
PENSACOLA, Fla. – As Florida Department of Transportation (FDOT) contractors were conducting repairs to the Pensacola Bay Bridge, it was determined that additional repair work was needed for one of the bridge's trophy pieces. The full replacement of the trophy piece will uphold FDOT's commitment to provide the safe and efficient reconnection of the communities of Gulf Breeze and Pensacola and the delivery of a bridge that has a 75-year design life.
Trophy pieces, when placed atop piles, constitute bridge piers that are mounted at the end of each span to support the superstructure and transfer loads to the foundations.
FDOT is currently conducting a comprehensive assessment of the replacement to determine how it will affect the current re-opening schedule. FDOT previously announced its goal to re-open the Pensacola Bay Bridge in phases beginning with restoring two lanes of traffic by the week of March 22.
Multiple crews are working around the clock to complete repair projects critical to the opening of the Pensacola Bay Bridge. Completed repairs are:
30 piles driven.
Five trophy pieces installed.
Twenty of 36 beams set.
Five of eleven partial decks replaced.
One of two full decks replaced.
FDOT's phased approach will open two lanes of traffic (one in each direction) for the first 4,000 feet on the Pensacola side. The remaining approximate two miles of the bridge will be open to four lanes of traffic (two in each direction). During this initial phase, the speed limit will be temporarily set at 35 mph and emergency refuge areas will be available on the bridge. The second phase consists of opening the remaining 4,000 feet to four lanes of traffic.
Motorists should continue to use all available detour routes, which include the Garcon Point Bridge and State Road 87. Commuters can also use the Escambia County Area Transit's (ECAT) temporary bus route travel between Pensacola and Gulf Breeze.
Details on the detour routes, including graphics, FAQs, and regular updates can be found online at fdot.gov/PensacolaBay.